Starting a business: When to buy business insurance
Last updated on November 25th, 2022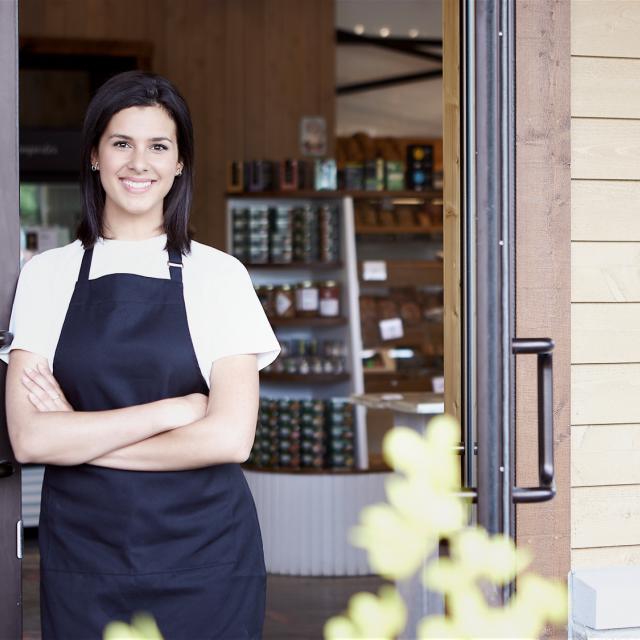 Many new entrepreneurs have questions about business insurance, also known as "commercial insurance." Insurance is obviously a must for covering damages and losses in the event of a claim, but do you absolutely need it to run a business?
Thinking about starting a business or just did? Wondering whether you need a commercial insurance policy? Look no further! We've got the answers to your questions about business insurance right here: A treasure trove of essential information for businesses large and small.
So what exactly is business insurance for? 
It's no secret that there are risks involved in starting a business. Fortunately, business insurance exists so that you can focus on the job at hand—getting your new venture up and running. How? First and foremost by protecting your assets: not just inventory, but also facilities, equipment, material, and so on. Depending on the coverage you choose, you'll be covered against losses due to fire, theft, water damage, and other perils, subject to the limitations and exclusions of your policy.
Business insurance also covers you for third-party liability, i.e., damages or bodily harm caused to other people at your place of business or in the course of your business activities.
What does business insurance cover?
Different businesses face different risks. That's why business insurance offers a variety of coverage options in addition to civil liability, including:
Buildings
Equipment
Equipment breakdown
Operating losses
Crime and embezzlement
Transportation
Contractor equipment
Cyber risks
Company vehicles
Most insurers have a range of coverage options available to suit your industry or business sector. Some, like Promutuel Insurance, also offer custom policies tailored to your specific needs.
When is business insurance a must?
The short answer is easy: as soon your business undertakes activities of a "commercial" nature. Purchasing production equipment, renting space, selling products, providing services—these are all "commercial" activities. So regardless of the size of your inventory, the value of your assets, or your revenue stream, you need business insurance to cover you for any civil liability stemming from your business activities.
When to take out business insurance
When is the best time to insure your business? From day one! Insuring your business from the get-go lets you devote your energy to your project without worrying about risks to your assets and revenue. Business insurance may also be a requirement for business loan financing from your bank. That's why it's important to secure insurance early on in the startup phase.
What happens if your business changes or evolves? Then it's possible (and important) to change your coverage to suit your new business needs. Remember, you can make changes to your policy at any time, not just at renewal.
Business insurance and working at home
Did you know that your home insurance doesn't cover business activities? If you have a workshop or home office, you need to take out business insurance to cover your equipment and inventory. This will prevent unpleasant surprises in the event of a claim for damages to your home.
Looking for a policy specially designed for homeworkers? We've got just the insurance product you need to keep you covered!
Passion projects vs. business activities
Do you spend your free time refurbishing used furniture or making recycled clothing for resale on classified ad sites? You may think of your side hustle as a hobby, but in the eyes of insurers the line separating a passion project from a business venture can sometimes be thin to nonexistent. If your project involves any kind of commercial activity, your insurer may even consider all the equipment you've acquired to be business equipment. To avoid confusion or the risk of having a claim denied, contact your property and casualty insurance representative to discuss it with them.
How to choose business insurance
Business insurance is not a one-size-fits-all solution. Every business has its own specific needs! That's why it's important to choose your business insurance carefully. The most important step for finding ideal coverage for your business? Identify your needs. And the things to avoid when shopping for business insurance? Falling for the lowest-priced option, underestimating the value of your business assets, and minimizing certain risks. In case of doubt, the best course of action is to talk to a property and casualty insurance representative.
Promutuel Insurance, partner in your success
At Promutuel Insurance we value the hard work of entrepreneurs like you. That's why we're so committed to protecting your work and your success. And that's why we provide custom insurance solutions with all the coverage you need for your business and sector of activity. Our products are highly competitive too, especially when you combine your business, car, and home insurance with us.
Choosing Promutuel Insurance also provides you with exclusive benefits like Beacon, our free Legal Assistance and Identity Theft program. Get access to experts who can answer your questions, explain legal issues in clear language, and inform you about your rights.
Make us part of your business plan. Request a business insurance quote today!