Why (and how) to choose the right business insurance
Last updated on November 25th, 2022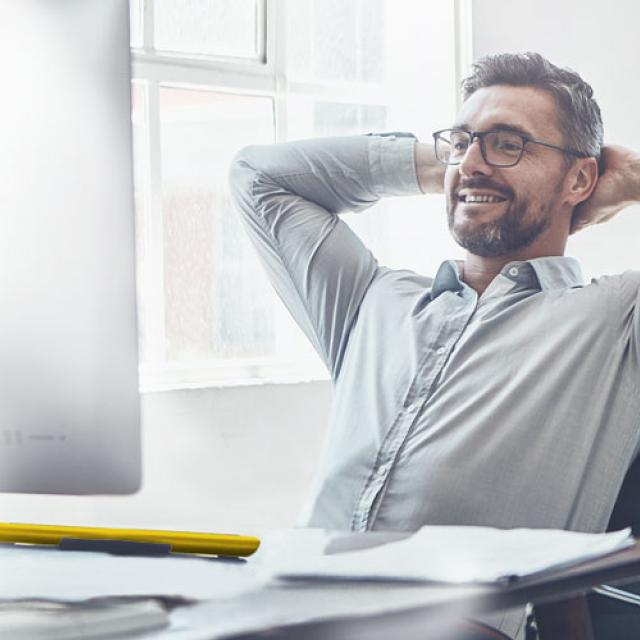 You work hard to keep your company sound. So hard that you almost forget the risks that threaten its assets and revenue: physical damage, fire, theft, and so on. That's where business insurance comes in. To make sure nothing is left to chance and give you the peace of mind you need to focus on working towards success. From why to how, we give you the basics on business insurance.
Why take out business insurance?
To protect your assets, of course. No matter your industry or the size of your company, you always have more assets than you realize: revenue, computer hardware, equipment, inventory, office space, cars and trucks, etc. An insurance policy that's tailored to your needs can cover you in the event of damage due to an accident, theft, fire, or simple negligence.
What are the different types of coverage?
There are many types of business insurance coverage. You can choose from common options or work with a broker or directly with an insurer to design a custom solution. Insurance products for companies usually involve the main features discussed below.
For buildings, facilities, assets, and revenue
Just like houses, commercial buildings and facilities are subject to risks of physical loss. If an accident, fire, water damage, flood, theft, or another loss occurs, you need to be able to cover any costs that arise, including lost revenue. That's where the various insurance products that protect your facilities come in.
Building insurance
This coverage may seem obvious, but it's often overlooked in terms of the insurance amount. An office, shop, garage, factory, or any other building owned by a company must be insured for its actual value. The property value and risks involved must be reassessed regularly to adjust the amount of coverage.
Equipment insurance
This is essential for all companies. In addition to being required by banks, it is vital in many cases. Damage to your facilities will affect furniture, equipment, supplies, decor, and even inventory. In short, equipment is valuable and must be properly appraised and protected. Companies that lease their premises must properly evaluate improvements they have made and take them into account when appraising their property.
Equipment breakdown
This coverage is important for all companies. It covers equipment that is excluded in the event of breakdown, including machinery, pressure equipment, electric equipment and electronics, and production equipment. These include air conditioning systems, telephone systems, compressors, boilers, water heaters, etc.
Business interruption insurance
We think about insuring goods, merchandise, and buildings, but all too often we forget to protect our business's revenue. In the event of a loss, revenue can be heavily affected over a long period of time. The result? You can't pay your employees, suppliers, mortgage, commercial rent, and more. Business interruption insurance is designed to help you avoid that kind of situation. Needless to say, it has saved many companies that never thought they would have to deal with this unpleasant surprise!
Insurance against crime and embezzlement
This coverage often rounds out a company's property insurance. It is designed to protect money, equipment, goods, and any other assets from embezzlement by employees. It also covers crimes related to the good faith acceptance of counterfeit bills and money orders and the counterfeiting of cheques issued by the insured. All these risks do indeed exist. But many companies have to learn about them at their own expense. Ask your damage insurance representative to help determine if this coverage is right for you.
Transportation insurance
Do drive around with your tools and equipment to do repair and installation work? Do you deliver products or equipment? Is equipment often delivered to you? If so, this insurance applies to you. It protects the value of your goods during transport, whether en route to your office or your customers. It's valuable coverage when you think about the risks on our roads year round.
Insurance for company vehicles
Will you be purchasing trucks to make deliveries across the country? Are your reps on the road all week long? Do you use your personal car to visit customers? Any time you get behind the wheel for business purposes, you need this insurance. Regular car insurance isn't enough. Think about whether it applies to you!
Civil liability
You own an active business, so you could be held liable for physical or material damage caused to others. That's why civil liability insurance is a must.
General civil liability
An unstable display case falls on a customer, a defective product causes one or more customers to lose money, a passerby slips on ice in front of a shop... These are all real-life examples that involve civil liability.
Civil liability insurance protects your company against bodily injury or damage to property that it may cause without even realizing it. And if an individual or company sued you for this type of "negligence," you could be held liable for all resulting damage.
As you can see, a wide variety of useful coverage options are available to companies. You'll need to choose wisely based on your activities, needs, and business objectives. We strongly recommend contacting a damage insurance representative for assistance. A representative is the best person to guide you and answer your questions.