What are the mistakes to avoid when choosing business insurance?
Last updated on November 25th, 2022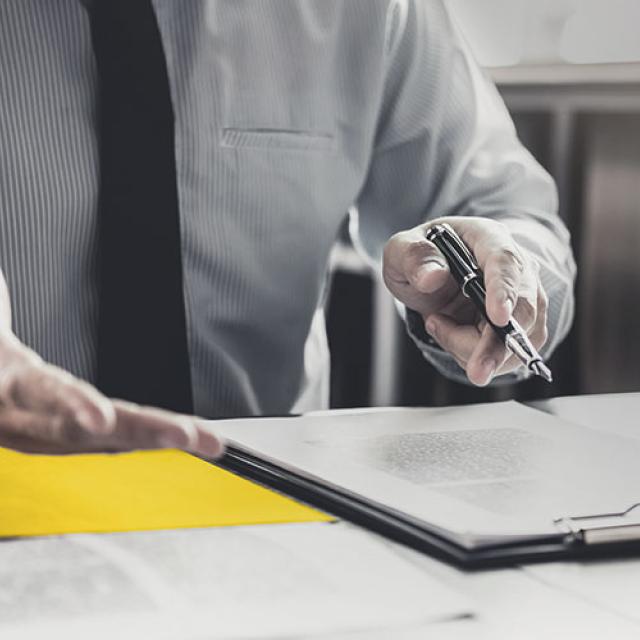 You work hard to make sure your business succeeds—that's why it's important to protect it. But since shopping around for business insurance isn't something you do every day, we've compiled a list of mistakes that every entrepreneur should know to avoid.
1. THINKING BUSINESS INSURANCE ISN'T NECESSARY
Why take out business insurance?Think of things like your facilities, inventory, furniture, and equipment. Keeping it all protected is a basic precaution, whatever the size of your company. And commercial property insurance is also a requirement for getting a business loan.
But that's not all! Business insurance, commonly known as commercial combined insurance, can also cover things like employee theft of property or cash and loss of income. It includes civil liability coverage too.
If you work from home, chances are you have equipment at home that you use for your work. Think home insurance is good enough? Think again. Best look into business insurance—home insurance can leave a lot to be desired when it comes to your gainful employment. Talk to an insurance agent to get the facts.
2. HAVING TUNNEL VISION: CHEAP, CHEAPER, CHEAPEST
It's normal to shop around for the best deal. But your search for business insurance shouldn't be about bargain-hunting. The point of the process is to protect your company's assets from things that could hurt them—to secure them against risk.
So the first thing to consider is what will be covered in the event of a loss. Low premiums might save you money up front, but they can also go hand in hand with inadequate coverage. Your first priority should be making sure your policy covers what you need covered.
3. CHOOSING A DEDUCTIBLE THAT'S UNCOMFORTABLY HIGH
Accepting a higher deductible can be a good way to reduce your premiums. But don't let it be too high, because you never know what might be going on when disaster strikes. If something happens when cash is tight, your company will still be on the hook for that deductible. Make sure it matches your company's financial capacity.
4. PLAYING DOWN CERTAIN RISKS
Think you're safe from sewer backup? Figure earthquakes are so rare you can just forget about them? It's human nature to think the worst things only happen to other people, but that kind of thinking can be extremely costly. Take the time to consider coverage for events you deem unlikely.
5. UNDERESTIMATING THE WEEKS AFTER A LOSS
Think about what might happen after a loss: customers or employees are shut out of your facilities for weeks. It takes time to get equipment replaced. It's the most profitable time of the year, or a crucial period for your company in other ways. What kind of losses would be looking at? How would it affect sales? It's important to know that complete business insurance can include business interruption coverage.
6. MAKING A MISTAKE IN YOUR PROPERTY APPRAISAL
Get your company's building appraised by a professional before you insure it, especially if it's not new. Neither the price you paid nor your municipal assessment are of any use in determining what it will cost to rebuild. And that's what your insurer needs to know.
It can also be worthwhile to get an assessment of your materials and equipment, since it will cost more than the pro-rated book value to replace whatever breaks down. And if, for instance, your old equipment is no longer available and has to be replaced with more recent models, that can be more expensive still.
7. NOT BEING FORTHRIGHT WITH YOUR INSURER
Be upfront when you request a quote. Transparency is a duty, and it's also to your benefit to answer questions honestly. Just be conscientious and open, and include any known circumstances that might enter into the insurer's decisions.
Even after taking out business insurance, you're required to notify your insurer if there are any changes that might affect your company's risk assessment.
8. NOT BUNDLING
It's not in your interest to spread your insurance coverage around, for various reasons. It pays to bundle your insurance with a single insurer. This is particularly true for homeworkers. If, for example, something happened to your business and your home at the same time, it would be much easier to have just one insurer handling everything. And you might even have only one deductible to pay (instead of two) for both.
Even if you don't have a home-based business, you can often get substantial discounts by bundling business and personal insurance with one insurer.
So steer clear of those common mistakes and you'll be all set to find business insurance that gives you peace of mind at work. At Promutuel, in addition to basic coverage (commercial property, business interruption, wrongful acts, civil liability), we automatically offer coverage for equipment breakdown, with additional coverage selected to meet your needs. Ask one of our agents for advice.