How to prevent kitchen fires
Last updated on April 29th, 2021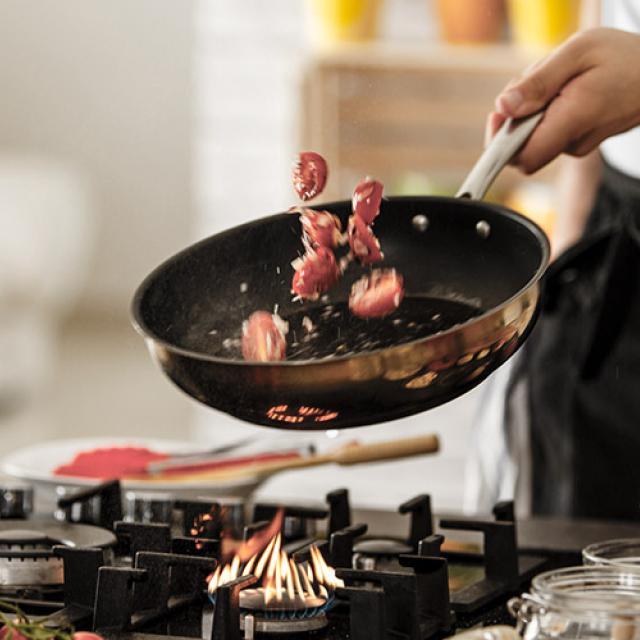 Did you know that in Québec more than a quarter of household fires start in the kitchen? Every year, some 1,250 kitchen fires are reported, causing serious damage and putting the lives of thousands in danger. In 84% of these devastating fires, cooking tools are the culprits.
That's why it's so important to be extra careful whenever you cook to reduce the risks of fire. Let's take a closer look at the main causes of kitchen fires and what you can do to avoid them.
Kitchen fires, a real and present danger
Whether you're a beginner cook or a seasoned chef, no one is immune to kitchen fires. They're the cause of many household fires in Québec. According to Sécurité publique du Québec, cooking appliances (stove, fryer, microwave, etc.) are the heat sources responsible for the highest number of household fires, accounting for more than 25% of all fires reported by the fire department. That means one in four household fires is caused by a cooking appliance (not including chimney fires).
In addition to putting thousands of people at risk, household fires are a huge financial burden for society. Every year, the property losses caused by household fires are estimated at over $540 million. Moreover, the home insurance claims paid out for losses caused by these fires account for over 30% of the total claims filed by insurers every year.
Human error to blame
What causes kitchen fires? Québec public safety data shows that about 40% of kitchen fires are caused by human error, specifically distraction. Improper use of flammable products (fondue fuel, cooking oil, etc.) and flames is one of the most common ways kitchen fires get started.
Cooking dos and don'ts
Since many cooking fires come down to human error, you can play a big role in preventing kitchen fires by avoiding bad habits and putting safety first. Here are some mistakes to avoid and good habits to get into when cooking your meals:
Don't:
Leave food unattended while cooking
Try to do too many things at once
Turn burners up too high
Fry food in a pot or saucepan
Leave flammable substances and objects near your stove
Move burning pots and pans
Underestimate the danger of hot oil
Try to put out an oil fire with water (water actually feeds and spreads oil fires!)
Forget to turn off your burners after cooking
In addition to avoiding the mistakes above, here are some good habits to get into when cooking:
Use a timer.
Always have a pot lid and oven mitts within reach.
Use a high quality fryer equipped with a thermostat and turn it off as soon as you're done.
Keep your cooking surfaces clean and clear of any clutter.
Clean your hood regularly to avoid grease buildup.
Wear appropriate clothing (avoid long sleeves, dangling strings, etc.).
Use a pot or pan whose diameter is the same size as or bigger than the burner and don't overfill it.
Choose the right pot or pan for the job.

Stovetop: To reduce the risks of kitchen fires, opt for an induction range. Induction cooktops do not get hot and the elements only work when your pot or pan is in place.
Fryer: Choose a CSA- or ULC-certified model equipped with a thermostat and heat the oil slowly.
Microwave: Don't cook food for too long or use metal (packaging, aluminum foil, staples, etc.) and be careful when microwaving combustible materials (paper or plastic containers, etc.).
Raclette grills and other portable cooking appliances: Secure the power cord to a table leg and let the appliance cool off completely before putting it away.
Fondue burner: Place it on a stable surface and never fiddle with the burner (lit or unlit) when there's still liquid inside. Don't move the fondue pot when it's hot. Make sure the burner is completely cool before adding fuel and use a metal cover to extinguish it once you're done.

Keep a portable fire extinguisher in the kitchen and learn how to use it safely.
A good kitchen setup reduces the risk of fire
Having a good kitchen setup not only makes it easier to prepare meals, but also helps prevent fires and the injuries and property damage they bring.
Rule of thumb: You need to have 450 millimetres (18 in.) of clearance between your stove and adjacent walls. Any walls within 450 millimetres (18 in.) of the stove must be protected by a non-combustible covering extending up at least 450 millimetres (18 in.) above the cooktop.
What to do in the event of a kitchen fire?
If, despite your precautions, a kitchen fire occurs, follow these steps:
1. Do not try to move a burning pot or pan.
IMPORTANT: Do not use water to put out a kitchen fire. Water and oil don't mix!
2. Shut off all heating sources (turn off burners or unplug power cables) and the hood.
3. Using oven mitts, cover the flaming pot with a lid. This will cut off the supply of air and hopefully extinguish the fire.
4. If the fire is still going, use your portable fire extinguisher, following the user instructions.
Regardless of whether you manage to put out the fire, call the fire department. The flames may have gotten into the ductwork of your hood.
If the fire is out, open windows and doors to clear out the smoke from your home.
If the fire is spreading, block air flow by closing windows and doors if it is safe to do so and evacuate your home.
Home insurance, your last line of defence against fires
Whether you're a renter, co-owner or owner, it's very important to buy home insurance so you're covered in case your property is damaged. That way, if a fire breaks out and destroys your property, your home insurance will compensate you for the losses (up to the limits set out in your policy). Plus, this type of insurance also includes third-party liability, which covers you in the event the fire causes bodily injury or property damage to others (e.g., if the fire spreads to a neighbour's home).
Unfortunately, renters all too often overlook this crucial coverage, which can lead to some very unpleasant surprises should disaster strike. If a fire breaks out in a rental unit, any loss of or damage to the tenant's property will not be covered by the landlord's building insurance. It's up to renters to make sure they have sufficient coverage.
As you can see, although taking out home insurance does offer peace of mind, the most important thing is to avoid kitchen fires altogether by being careful and avoiding distractions when cooking. By ditching bad kitchen habits and following our tips, you'll reduce the risk fires, injuries, and burns.