Getting scooter insurance for your ride
Last updated on November 16th, 2022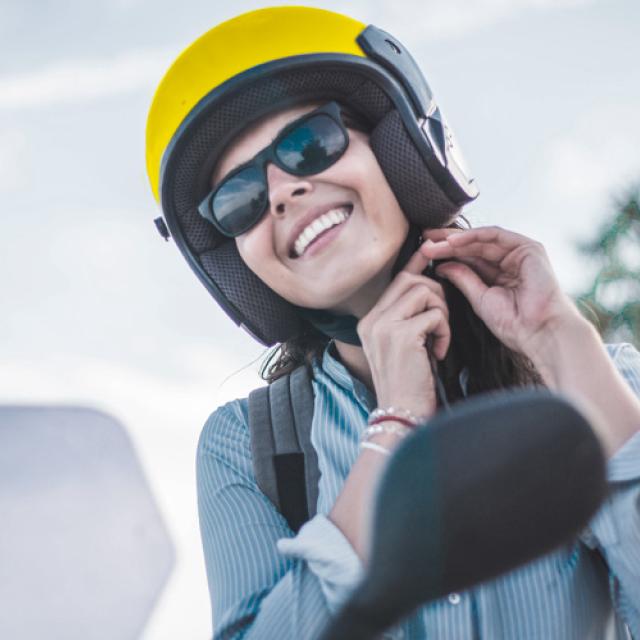 For a lot of teens, that first scooter brings a sweet burst of freedom. If you're planning to buy one, be sure you've got everything lined up. You'll need to know what to do in advance and what the specific laws are for scooters. To find out how to scoot around safely, read on.
What are the laws on scooters?
Scooters (mopeds) aren't regular motorcycles, but like all vehicles, they're subject to a strict set of laws. Under the Highway Safety Code, a moped is "a passenger vehicle having two or three wheels and a maximum speed of 70 km/h, equipped with an electric motor or a motor having a piston displacement of not more than 50 cm3 and with an automatic transmission."
In other words, under the legal definition, it's a two- or three-wheeled vehicle that goes up to 70 km/h. It can have an electric engine or a combustion engine with a maximum capacity of 50 cc. If your engine doesn't fit that description, it's a motorcycle. The rules for motorcycles are different.
Even if your scooter perfectly fits the legal definition of a moped under the Highway Safety Act, that could change if any modifications are made to the vehicle. Any modification that increases the maximum speed is prohibited by law.
Necessary paperwork
If your scooter (or moped) fits the definition under the Highway Safety Code, there are certain documents you'll need before you can use it. First of all, unlike for motorcycles, the legal age for driving a scooter is 14.
As with all vehicles, you'll need a Class 6D driver's licence at a minimum. If you have anything above, you can drive one. And of course, you'll need to register your scooter to drive it. You'll be asked for your driver's licence when you go in to register the vehicle.
If you don't have a licence yet, you'll find all the necessary information for registering your vehicle and getting your licence on the official SAAQ webpage. To get your licence, you'll need to take a course and then pass the theory exam and the vision test. With your licence and registration in hand, you'll be able to hit the road!
What else do I need to do to drive safely?
Even though there are fewer legal requirements for driving a scooter than for a motorcycle, some rules still apply. Generally, all of the safety rules for motorcycles and scooters are the same. For starters, you'll need to make sure you're comfortable steering a vehicle with handlebars before you head out on the road.
If you're 14, the law gives you two years to master that skill before driving with a passenger. In other words, if you drive with someone riding behind you before the age of 16, you'll be fined $100. As for any illegal modifications, you could be fined anywhere from $300 to $600 and have your vehicle seized for 30 days. You'll also pay for having your vehicle impounded.
To keep young adults safe, there's a zero-alcohol law for drivers under the age of 22 or with less than five years' experience. Other rules: You have to wear a helmet and a reflective article of clothing to meet the safety requirements. The other rules for motorcycles also apply, such as the ban on winter driving.
Protecting your scooter
The laws for your scooter are clear. Now what else do you need to do to take care of it? After all, if you buy a scooter you really like that ticks all your boxes, like comfort and cost, it's worth taking care of. (For more on that, check out this article on (buying a scooter). You might spend more time shopping around, but those efforts will be rewarded because you'll end up keeping it longer.
General rules
As mentioned above, the rules for motorcycles also apply for mopeds. Whatever type of leisure vehicle you drive, there's always a risk of theft, vandalism, or a hit-and-run while your vehicle is parked. That's why it's so important to protect your scooter from other people and natural disasters.
The first thing you'll want to do, wherever you go, is to choose the right parking space. Always park your scooter in a lit area, or at least within sight. The smaller the vehicle, the more chances there are it will be stolen. Buy an anti-theft system and when it comes time to store your scooter, choose a safe place that you can lock.
Before you hit the road
Most vehicles need to be winterized. Your scooter will need to go into storage. After winter, you can't just take it out of your garage and hit the highway. You'll need bring it back to life one step at a time, just like you would a motorcycle.
Stay calm and inspect your bike carefully. If you didn't charge your battery during the winter, you'll need to slow-charge it now using a trickle charger. If you just can't wait, buy another one while your old one is charging.
Check the body, brakes, tires, fluids, and electrical system. Inspect it just as you would when buying it. If everything's working properly, you can take it out for a spin. Just make sure you have all the necessary documents with you, including your proof of insurance.
Insuring your scooter
If you follow our advice once you buy your scooter, you'll be well on your way to keeping it safe and in good condition. Nevertheless, to make sure you're covered in almost any situation, you'll need to take out scooter insurance. Before you buy, read on to learn about the various types of coverage available and how to get the best coverage.
The various types of coverage
Scooter insurance has some of the same coverage you would need for a motorcycle or car. As an absolute minimum, you have to be insured for third-party liability. That covers the injuries and damage you could cause if you're at fault in a vehicle accident. Without such coverage, you could be sued, and the cost would be considerable.
Other types of coverage are optional, such as for:
Collision or upset for any accident involving a collision, most often with another vehicle
Perils other than collision or upset, for incidents unrelated to your driving, such as fire and theft
Specified perils, for specific issues that could cause you more trouble than others, depending on your situation
To get the coverage that's right for you, contact your representative and explain your situation. They'll give you all the advice you need to get the coverage you want.
How to get good coverage
You'll need to ask for a quote before you sign your scooter insurance contract so that you know how much the coverage will cost. Your insurer may recommend bundling all of your insurance needs to get a discount. This is usually a winning combination.
Unlike other vehicles, scooters can be driven by minors. If you're a minor, you'll need parental consent to take out insurance. If you already have vehicle insurance, you can keep things simple by adding your scooter to your existing policy. This works for other types of vehicles as well. It will also earn you a multiple-vehicle discount.
To summarize, once you buy your scooter, you'll need to take good care of it and follow the rules of the road. To avoid the financial fallout of any potential damages, we recommend doing the research to find a scooter insurance policy that's right for you.