Your car hits the water: Is the resulting damage covered?
Last updated on June 28th, 2022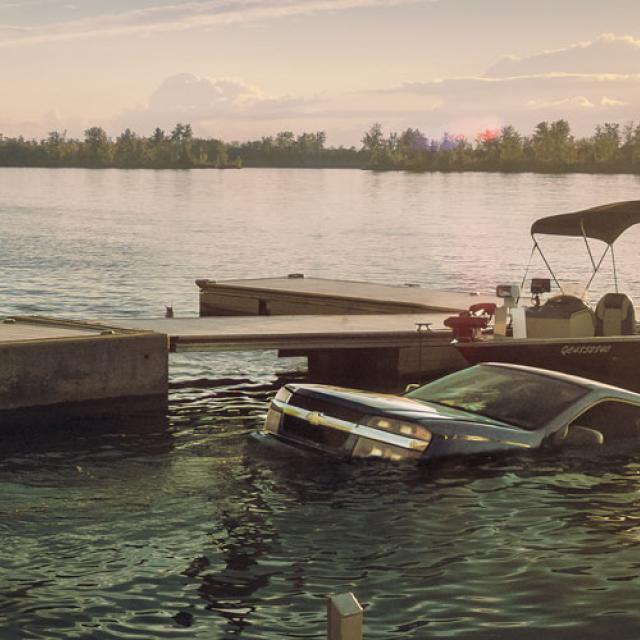 It's time to head home after a much-needed getaway to your favourite lake or river. As you're winching your boat out of the water, your car starts slipping back and is suddenly in the drink. Yikes! So much for that peaceful day on the water!
If this really happened, would you be covered for the damage to your car? Read on to learn more about the protection available for this type of incident.
Car underwater: What auto insurance covers
For car owners, there's nothing worse than seeing their vehicle hit the water. Life is full of surprises and unforeseen events, so this could actually happen to you. Fortunately if you have proper coverage, your car insurance can pay for the damage to your vehicle if your policy includes the proper coverages.
"All perils," "all perils except collision and upset," or "specific perils" coverages protect you in the event of a flood or if your car is submerged. So, if you're using your car to tow your boat, make sure you have one of them in your policy. Your damage insurance representative can make the necessary adjustments to your policy so you can tow your boat without having to worry about this kind of disaster!
Car underwater: What should you do?
As soon as the water level reaches the floor of the vehicle, the situation becomes critical. Be aware that a car damaged by water may no longer be safe and should be inspected before being restarted. Here's what you should do if this happens to you:
1. Don't move the vehicle. It will have to be towed.
2. If you or someone else is injured, call 9-1-1 immediately.
3. Contact your insurer as soon as possible.
4. Follow their instructions and provide all the necessary information.
Good to know
Your insurer will determine whether your car is deemed "irreparable" under the criteria established by Société d'assurance automobile du Québec (SAAQ). In most cases, a submerged car will be considered a "total loss."
What about the contents of your car?
Did your vehicle take your cellphone, camera, fishing gear, and everything else with it? Your home insurance will cover the cost of replacing them. Again, some exceptions and limitations may apply, especially with respect to valuables. Check with your damage insurance representative to make sure you're well protected in case of such an event!
The art of safe towing
Because an ounce of prevention is worth a pound of cure, you should take all necessary precautions when towing your boat to avoid unfortunate incidents. Here are some tips for safely towing a vehicle:
1. Read the towing instructions in your vehicle manufacturer's manual.
2. Don't overload. Remember to consider the weight of the contents of your car and the weight of the towed vehicle.
3. Check that the tongue weight on the hitch between the towed vehicle and the vehicle pulling is less than the maximum capacity of your vehicle.
4. Ensure that hitches and attachments are compatible, properly installed, and functional.
Before winching a boat, apply the hand brake on your vehicle and trailer, turn your car off, and put it in gear.
Boat insurance for worry-free sailing!
Do you have to insure your boat? The short answer is no, but it's highly recommended. Although boating poses a number of risks, there is no legal obligation to insure a boat in Québec. However, you should take out boat insurance to cover your civil liability when out on the water and provide comprehensive protection in case of unpleasant surprises such as damage to your boat and other damage caused by an accident.
For example, if your car damages your boat during towing, boat insurance would compensate you for the cost of repairs.
Looking to protect your valuable investment? Simply contact your damage insurance representatives.
Promutuel Insurance, there to help you keep your head above water!
Have questions about damage caused by towing a vehicle? Want to learn more about boat insurance? In the same dire situation as in our recent ad? Our damage insurance agents are there for you!