A short guide to fishing in Québec
Last updated on November 25th, 2022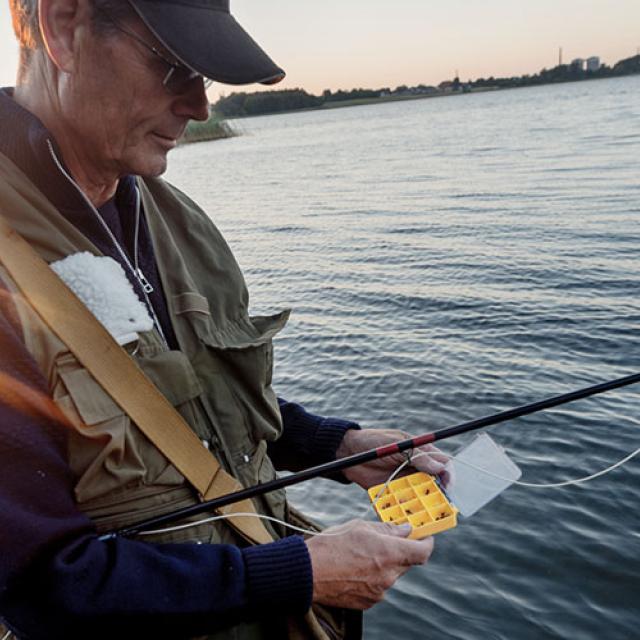 Québec is home to a growing number of anglers, and for good reason. With more than a million lakes and 15,000 rivers and streams, Canada's largest province has room for them all. Québec is also home to over 200 species of fish, which means there's something for everyone, from sportfishing for northern pike and fly fishing for salmon to trout fishing trips for the whole family.
We've put together this short guide to help you make the most of fishing season in Québec. It contains tips for anglers of all skill levels, some idyllic places to cast your line, and a few important reminders for a trouble-free trip.
Tips for getting started
As its popularity increases, fishing is attracting more and more newcomers to the sport. Are you one of them? Welcome to the world of fishing in Québec! If you want to get hooked, it's important to choose the appropriate equipment and type of fish for your skill level getting started. Here's where to begin.
What type of fishing is good for beginners
We recommend line fishing. It's so easy and affordable, you're bound to enjoy it from your first time out. Better yet, you can line fish anywhere fishing is allowed: on a boat, a dock, a riverbank or lake shore, etc. As for the type of fish, trout is great for beginners because it's plentiful and easy to catch.
What you'll need to get started without spending a fortune
You can get geared up for less than $100. For trout fishing you'll need a 6- to 7-foot light to medium action fishing rod, a spinning reel that can hold at least 280 yards of 8-pound monofilament line and a spool of 200 yards of 6- to 8-pound monofilament line. To attract trout, you need lures and fishhooks. The worm-spoon combination is the most effective.
Guided fishing: A good way to start
Québec's many outfitters have plans for all skill levels. Day fishing is a good way to give line fishing a try if you're new to the sport. And if you've already caught the bug and are dreaming of a fishing trip, a guided trip is a great opportunity to learn from people with more experience.
What makes for successful fishing?
Successful fishing isn't just a question of equipment. Your attitude is just as important. Here are some of the traits to cultivate to bring in a good catch.
Patience. Sometimes the fish are shy and you have to wait several hours before you catch anything.
Perseverance. Regardless of the temperature or how many fish you've caught, don't give up. Rather than going home empty-handed, change your strategy.
Attention to detail. A good catch depends on a lot of little details. How the water moves, the time of day, changes in the environment, the type of lure, etc. It's all important.
Optimism. Every fishing trip is a fresh start that brings its share of surprises. A positive attitude is part of the magic.
Curiosity. When they're not on the water, good anglers take the opportunity to learn about how fish behave, new industry trends, and the best places to go fishing. Knowledge is power!
Fishing trends in Québec
Speaking of curiosity and knowledge, with its growing popularity, fishing in Québec keeps evolving. Learn about the latest fishing trends in the province here.
Québec anglers' favourite fish
Speckled trout, also called brook trout, is the most popular fish with Quebecers. Why? Because it bites easily and puts up enough of a fight to please sportfishing fans. Up next is walleye, which is also Canada's favorite fish. It gets its reputation from its delicate flesh and subtle hazelnut flavor, much appreciated by those who combine their love of fishing with an appreciation for fine cuisine.
The fly fishing revival
After falling in popularity in recent decades, fly fishing is enjoying a renaissance with a new generation looking for a more immersive fishing experience. Fly fishing involves more than just pulling and sweeping your line. The constant honing of technique, the intimate relationship with the fish, and the melding of mind and arm as you cast make fly fishing almost like meditation.
Sustainable fishing
In contrast to mass fishing techniques that threaten fishes' survival, sustainable fishing respects the environment. According to Fisheries and Oceans Canada, "sustainable fisheries mean harvesting and farming fish stocks in a way that meets our present needs without compromising the ability to meet our future needs." You can sport fish sustainably by complying with catch limits and following the rules specific to each of Québec's fishing areas. You should also release any fish you don't intend to eat.
Québec's phenomenal fishing spots
It would be hard to choose the most beautiful fishing spot in Québec. Every spot has its own unique appeal thanks to its natural surroundings, varieties of fish, accommodations, and more. No matter what kind of fish you're after, you'll find fishing destinations here where you can both feast your eyes and bring in a nice catch!
Saint-Alexis-des-Monts for speckled trout
There are plenty of places to fish for speckled trout in Québec. But one thing is certain: when a village has a festival devoted to it, it's a sure sign the fishing is good! That's certainly true for Saint-Alexis-des-Monts (in the Mauricie region), where there are plenty of activities and accommodation options to make your fishing trip even better.
The Bonaventure River for salmon
The Bonaventure River flows over 125 kilometers from the Gaspé Peninsula to Chaleur Bay. Its cold, crystal clear waters are home to one of the world's most coveted fish—the Atlantic salmon. The clean-flowing Bonaventure is perfect not just for salmon fishing, but also for admiring the majestic scenery.
The Cabonga Reservoir for walleye and northern pike
This massive man-made lake (677 square kilometers) is in the Vérendrye wildlife reserve straddling the Outaouais and Abitibi-Témiscamingue regions. It is one of the best spots in Québec for carnivorous fish, more specifically walleye and northern pike. There are enough outfitters and nature reserves in the area to please everyone.
Successful fishing trips 101
Have we got you itching to plan a fishing trip? Great! For a successful getaway, just follow these steps and tips:
1. Choose your destination
Many factors come into play when you're deciding where to go for your next fishing trip: the type of fish, ease of access, the accommodation options, the other activities available, how long you plan to stay, etc. This interactive map to Québec's bodies of water is a good place to start.
2. Choose your accommodations
After a long day on the water, it's nice to have a comfortable cottage or suite to come home to. Make sure you choose accommodations that meet your needs and expectations. For example, is there a kitchenette or barbecue so you can cook up your catch at the end of the day? If you're going as a family, are there additional activities available to help ensure an enjoyable stay?
3. Gather your gear
Depending on what is included in your plan (kitchenette, boat, gas, etc.), make a list of everything you need to bring and be sure you have everything packed before you leave home. Many websites provide checklists to help you prepare and avoid unpleasant surprises.
4. Do the paperwork
Sport fishing licenses are mandatory in Québec. Some outfitters and wildlife reserves have fishing licences and permits available for purchase on site. Get yours before your next trip. Few people know this, but a hunting license includes civil liability insurance in case you have an accident. Last but not least, if you plan to go quadding during your trip, make sure your ATV insurance is valid and meets your needs.
5. Follow the rules to avoid headaches
Before you leave, take time to review Québec's fishing regulations. For example, in the summer there is a limit of one fishing rod per person fishing. Also make sure you understand the concept of possession limits and ask the staff at your destination about catch limits and any local rules. A good angler follows the rules.
Fishing in Québec during the pandemic
Fishing trips have taken on a new importance as a way for fishing enthusiasts to take a break from the pandemic. Because fishing is an outdoor activity, you can fish safely if you follow a few guidelines. Here are a few tips to help ensure you can enjoy your hobby this spring and summer without spreading the virus:
Before you start fishing, set clear rules with your partners.
Choose a boat that allows you to keep 1.5 meters between each person.
Practice social distancing when wading.
Use your own equipment and avoid sharing.
Don't leave anything behind: neither your masks nor your disinfectant wipes.
Check the safety rules and measures in place at the outfitting operation or wildlife reserve. Whenever possible, buy your fishing permit and reserve your accommodations online. And don't forget your hunting and fishing insurance.
Happy fishing everyone!