Home insurance: What you need to know before buying a multigenerational home
Last updated on November 24th, 2020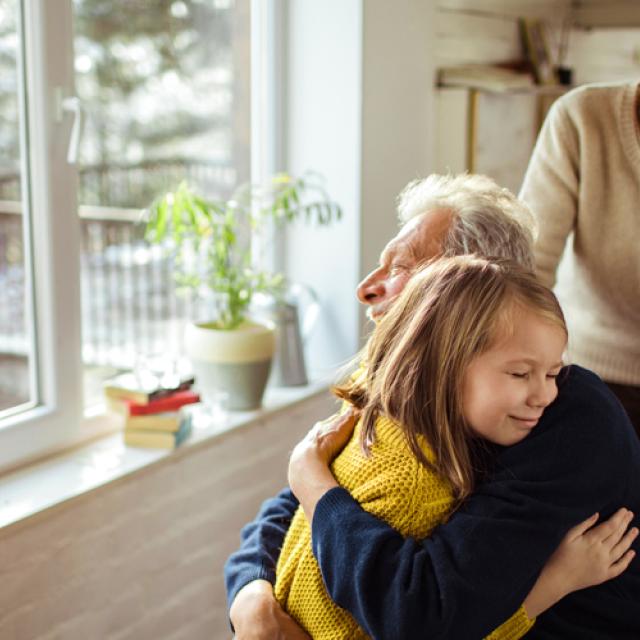 Many mistakenly believe that a multigenerational home is simply a duplex where two generations of the same family reside, each in their own apartment. Not so!
Thinking of buying a property that includes a dwelling or a living space where one or more members of your family could live and allows each of you to maintain your own privacy? To make a sound decision, find out more about what a multigenerational home is and what buying one means for your home insurance.
What is a multigenerational home?
A "multigenerational" home, also known as a "bigenerational" or "intergenerational" home, is a single-family home in which a separate dwelling or living space has been created to allow one or more generations of the same family to live together under the same roof.
Who can live in this space? The occupant(s) must be related through marriage or family ties to the owners of the house. This typically refers to parents or children.
In sum, a multigenerational home:
Is a single-family house
Includes a main dwelling and a secondary dwelling attached to the main property
Falls under municipal jurisdiction
Is designed to allow a number of generations of the same family to live together while preserving their privacy
Different laws for different municipalities
Generally speaking, the house and the "independent" dwelling are considered one address. They share, among other things, the same mailbox. However, according to Revenu Québec, to be considered "independent," the dwelling must be somewhat autonomous. For example, it has to have its own front door, electrical room, kitchen, bathroom, etc.
It's important to be aware that specific aspects of a multigenerational home fall under municipal jurisdiction. So, if you are planning to purchase this type of home, do your research and check with the appropriate municipality when house hunting or converting a single-family home into an intergenerational one. Don't assume that all municipal laws are created equal! They can be wildly different.
For example, in the City of Longueuil, multigenerational homes are allowed in Vieux-Longueuil, but only those with dwellings on the ground floor that do not account for more than 45% or the entire property. In Repentigny, these types of properties are illegal, whereas in Québec City, standard laws apply to certain boroughs. In Greenfield Park, owners are even required demolish the second dwelling when the occupant(s) move out.
Why buy a multigenerational home?
Now that you know more about this type of property, you might be wondering if it's right for you. Below are a few factors that may help you decide.
A multigenerational house has many advantages. First, it's a comforting and compassionate solution for those who would like to give their aging parents an alternative to less private seniors residence.
Considering the aging population, our two levels of government offer tax credits for converting properties into multigeneration homes, as well as for accommodating people over 70. In other words, the owner of a multigenerational home could deduct expenses related to mortgage interests, municipal and school taxes, home insurance, maintenance and renovations, and utility bills. What's more, the occupants of the independent dwelling can contribute to mortgage payments and heating and electricity bills if they can afford it. Plus, having retired parents nearby can make your life easier, if they can help with childcare, maintenance, and cooking.
On the other hand, the main disadvantage of owning a multigenerational home is the potential high cost of creating an independent dwelling, making sure it meets municipal regulations, and getting to a point where you can enjoy all of its advantages. Keep in mind that established multigenerational homes are typically 9% more expensive than traditional homes.
Add to that the potential strain on family relations that comes with a lack of privacy. Things can also get tricky when it comes to selling your multigenerational home. Due to their special design, they can take longer to sell (17 days more than a standard house). What's more, owners of these types of properties, may not be eligible for a capital gains tax exemption when selling the house, because it could be considered as an income property by the authorities.
The pros and cons of a multigenerational home in brief:
Pros:
Makes family members feel safe
Helps strike a better work-family balance
Promotes better family relations and knowledge transfer between generations
Allows residents to share chores and expenses
Is eligible for municipal programs, tax benefits, and some tax credits
Cons:
Must comply with municipal bylaws, which can be severe and strict
Is more expensive to buy and can cost all lot to renovate
May cause family conflicts
Takes longer to sell
Is subject to tax limitations
Lastly, when deciding whether or not to buy a multigenerational home, it's crucial to make sure that you and the family members you want to share a living space with are on the same page and have similar expectations.
Buying a multigenerational home: Good to know
Decided to buy a multigenerational home? Keep in mind that buying (on your own or with your partner) this type of house will have no impact on interest rates or the criteria for getting a
mortgage
. As with any conventional house, getting a mortgage depends on your ability to make payments, the value of the house, and your credit rating.
If the future occupant(s) of the second dwelling are buying with you, it will be considered an undivided co-ownership. You'll need to hire a notary to draw up a contract that details the rights and obligations of each co-owner.
Multigenerational homes and home insurance
Given the particularities of a multigenerational home, it's normal to have questions about home insurance for this type of property. Home insurance will cover the owner's property and furniture for the amount selected and include liability insurance against property damage or bodily injury caused to others. Ask your insurer about the type of coverage they offer for your specific situation.
What about the occupants of the independent dwelling? They must insure their property and furniture independently, e.g., by taking out renters insurance. In case of loss, the occupants can make an independent claim for compensation, according their contract, for the damage caused. When it comes to insurance, nothing is black or white: multigenerational home insurance comes in many forms.
Whether you are looking for a multigenerational or conventional home, it's always a good idea to contact your insurance representative before purchasing a property, so that you know what kind of coverage you need.