ATV lovers: Enjoy your sport in both fall and winter
Last updated on November 16th, 2022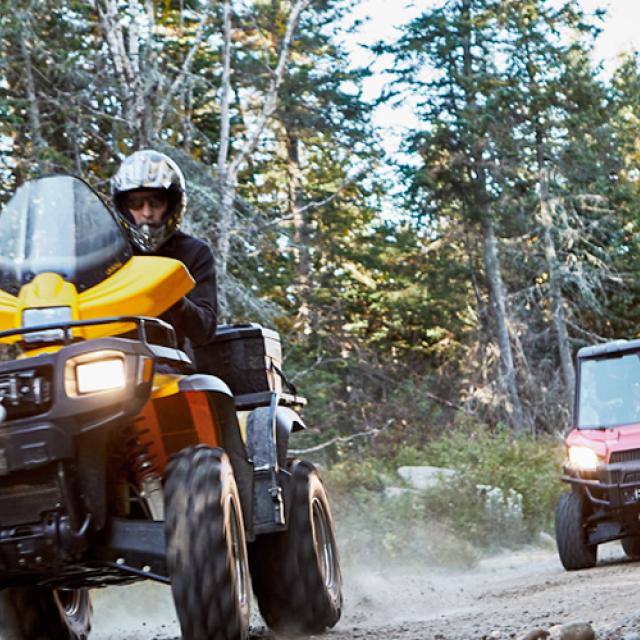 ATV enthusiasts know that to keep riding their quad in winter, they need to adapt their vehicle and driving. It's crucial to have the right accessories and equipment for each season, so you can enjoy great rides all year round.
Quad fans, our tips will help you make a smooth transition from fall to winter! We're there to help you get your recreational vehicle and equipment ready for any season.
Winter quad riding is increasingly popular
Even though the Québec government reported that the coldest day of the century so far in the province was recorded in 2018, the public health expertise and reference centre (INSPQ) predicts that due to climate change, winters will be milder and summers warmer in future. Climate change in Québec is certainly changing the game for quads, which many riders now consider all-season vehicles.
The first ATV clubs to open up their trails to ATVs in winter did so in 1983. Since then, many people have chosen to adapt their quads for all-season riding instead of switching to snowmobiles. According to Fedération québécoise des clubs de quads (FQCQ), more than 60,000 club members ride in winter, with numbers growing by 10% every year. With improved trail maintenance and less snow, the number of quads on the trails in winter will no doubt keep growing in the next years.
How to get your quad ready in the fall for winter
Want to extend quad season in Québec and keep enjoying your sport in winter? Great! Before hitting the trails, make sure your ATV driving is up to the season.
Four season must-haves
1. Equipment
No matter the season, to safely ride your quad, it's important to have the right ATV equipment. A winch, air pump, and battery booster are all excellent tools and accessories to have in case you get into trouble. An ATV helmet, goggles, and gloves are essential to stay safe and avoid getting hurt. Lastly, always carry a small emergency kit with you, including heavy-duty gloves, a tow rope, a first aid kit, a flashlight, a few spare fuses, and a small toolbox. If you like to venture deep into the forest, it's a good idea to bring a shovel, saw, warm clothing, a satellite radio, a compass, and a few bottles of water as well.
2. Maintenance
Whatever the season, proper maintenance is the key to keeping your quad running smoothly. Not only that, your safety depends on it. Be sure to check important things like the battery, oil level, tire pressure, oil and air filters, regularly, and have a tune-up and inspection done at least twice a year.
3. Registration
The law states that you must register an all-terrain vehicle, even if it's only used on ATV trails. Remember that paying your registration doesn't mean that you are fully covered by the SAAQ in case of an accident.
4. ATV insurance
In Québec, all recreational vehicle owners are required to take out at least $1 000,000 in liability insurance. To cover losses and damage to your recreational vehicle, including accidents and theft, your ATV insurance policy must include "collision" and "accident without collision or upset" coverage.
If you have an FQCQ card that gives you access to the club's trails, liability insurance will be included. Be aware, however, that some coverage—like for accidents with or without collision—is only available through private insurers.
Coverage for personal injuries is provided under the public car insurance plan (SAAQ). But, if an accident occurs on private land, injuries will only be covered if the accident involves a moving vehicle covered by the public plan. See the Act respecting off-highway vehicles for details.
You can also take out ATV insurance to cover your equipment, provided you specify its value in your declaration to the insurer.
Quads in winter
Before driving your ATV in the snow, make sure your vehicle and skills are up to the task. Here's what you need to know about winter ATV riding.
1. Equipment
To ride your quad in the snow, you'll need to revamp it a bit for winter. Here are a few things to consider to get the most out of your ATV in winter:
Tracks : You don't need tracks on your vehicle to ride it in winter. Actually, many riders choose not to install tracks because they guzzle double the gas and reduce performance. However, if you're heading off trail, they're essential. It's true that tracks continue to evolve and improve, which could lead many ATV fans to install them on their vehicles in the future.
Tires : Many types of quad tires exist designed for different uses and environments. In winter, you can choose studded tires, which offer better traction, or Holeshot all-terrain tires, which are perfect for riding in mud or snow. Whichever type you choose, it's best to keep the tire pressure low to increase traction.
Coolant : In winter, use coolant that is designed for extreme cold or add antifreeze to it.
Oil : It's better to use a more fluid oil in winter, like 5W40 because it circulates better and lubricates the motor better in the cold.
Emergency equipment : Make sure you have a winch, a shovel, and a tow rope in your trunk. You'll be glad to have them if you get stuck in the snow!
Rear suspension : If you plan to bring a passenger along in winter, tighten the rear suspension so that your quad doesn't pitch up when you accelerate.
Extra fuel : In extreme cold, your ATV may guzzle up to three time more gas than in the fall and summer. Always keep extra fuel on hand to avoid getting caught short.
2. Warm clothes
Proper winter ATV attire is generally the same as for snowmobiles. Use a a multilayered approach (three layers). Wearing several layers of garments, lets you adapt to different conditions.
Wear thermal undergarments and choose a base layer that fits snugly against your skin and is made of polyester to absorb moisture. The second layer adds insulation to keep you warm: we recommend polar fleece because it's both breathable and insulating. The last, outer layer is sometimes called a "shell." It should be waterproof and let moisture out. Good shell materials include synthetics like nylon and Gore-Tex. Most importantly, make sure your clothes are not too tight, as this could make you sweat and hinder the garments' ability to absorb and eliminate moisture.
Choosing the right gloves is also important. Leather gloves are a good choice for winter ATV driving since they will provide insulation and protect your hands if you fall.
3. Helmet
Wearing a helmet is mandatory for both the driver and passenger. If your helmet does not have a visor, you must wear goggles. Worried about foggy goggles? Spray them with an anti-fog solution before setting off. Wearing a balaclava is a good choice to keep your ears warm, just like on a snowmobile.
4. Quad riding in winter
Riding on the snow is not the same as riding on dirt. Just as you would in a car, you need to adapt your quad driving in winter. It's always best to be extra careful because you won't get as much traction from your tires on snow and ice. Here are a few things you can do to adapt your quad driving in winter :
Before your first winter drive, learn about winter trail access.
Slow down to avoid skidding.
Shift your body weight to the inside when turning.
Always ride in 4X4 mode.
Ask your passengers to get off and walk when going up a steep hill or driving on a dangerous path.
Whether or not you have tracks, don't venture off the trails. It's much easier to get stuck in the snow on an ATV than a snowmobile.
Watch out for lakes, rivers, or swamps: if they are not fully frozen, don't drive over them. Accidents can happen all too easily.
Ready to ride in fall and winter? Hit the road with peace of mind. Get a quote for ATV insurance today!