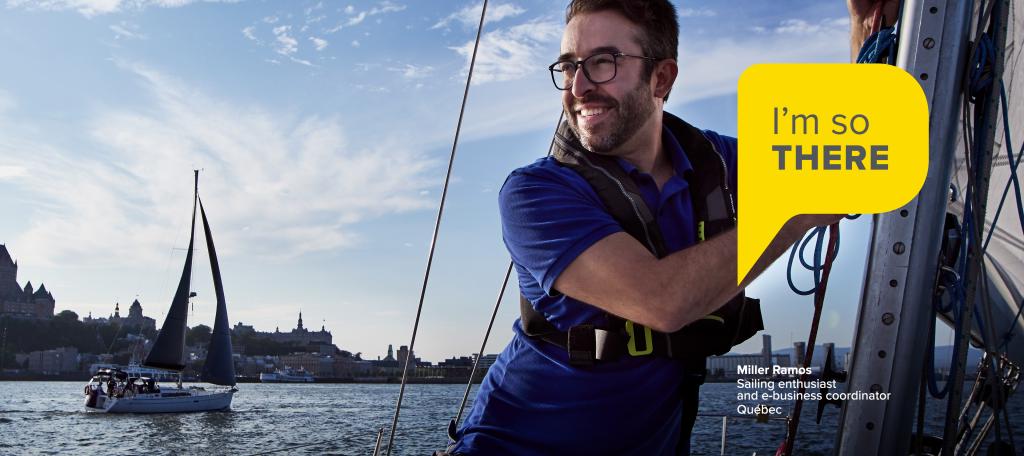 We'll take you THERE with our communications and marketing jobs offered across Quebec. Benefit from a good conditions and work-life balance at the core of a local business that protects people here!
Why do you want to join our Communications and Marketing team?
Joining our Marketing and Communications team means working in a stimulating, collaborative environment where marketing and Web strategies are put to good use on a daily basis.
At Promutuel Insurance, we are at the heart of a business sector undergoing major changes. These major changes lead us to provide several areas of expertise, especially in the digital media (SEO, SEM, graphic design, etc.), and attach importance to the role of each and every one of us. Join us and take part in growth!
---
Managers who really listen
---
A team where your opinion counts
---
A setting where you can reach your full potential
The Promutuel Insurance difference
At Promutuel Insurance, our people thrive, in both their careers and their personal lives: Why? Because here they have stimulating challenges, a healthy work-life balance, and colleagues who really care.
These unique strengths grow from the mutual nature of our organization. We are a federation of 16 mutual associations, with over than 100 service locations across the province and 2,000 people working as one for our insured members. 
Leaders
who listen to their people

A high-growth
sector

A local mutual 
active in the community
PROUD 
170
YEARS OF EXPERTISE
OVER
100
POINTS OF SERVICE
At Promutuel Insurance, I feel listened to; I have the strong feeling that my happiness is taken to heart. Given the tools available and the strategies in place, it is easy for me to share my concerns and ideas with my colleagues and managers. My professional ambitions are important for my organization, but my personal fulfilment and well-being are even more so. In short, I have the impression of being part of and growing up in a big welcoming family.
---
Audrey Thibodeau-Poulin
E-Business Advisor
Québec
Career opportunities
At Promutuel Insurance, the possibilities for projects and a professional career in communications and marketing are both numerous and stimulating.
Image

Complaints Management Analyst
Electronic Affairs Advisor
Marketing Advisor
Copywriter
Communications Advisor
Public Relations Advisor
Graphic Designer
Community Manager
Coordinator – Marketing and Client Experience
Spontaneous application
Can't find the job for you? Send us your resumé, and we will contact you as soon as a position matches your profile.
Find your perfect job in your job family
Learn more about the job family that matches your interests or area of expertise. Consult the page made for you!