Winter sports: Making the most of winter in Québec
Last updated on March 2nd, 2022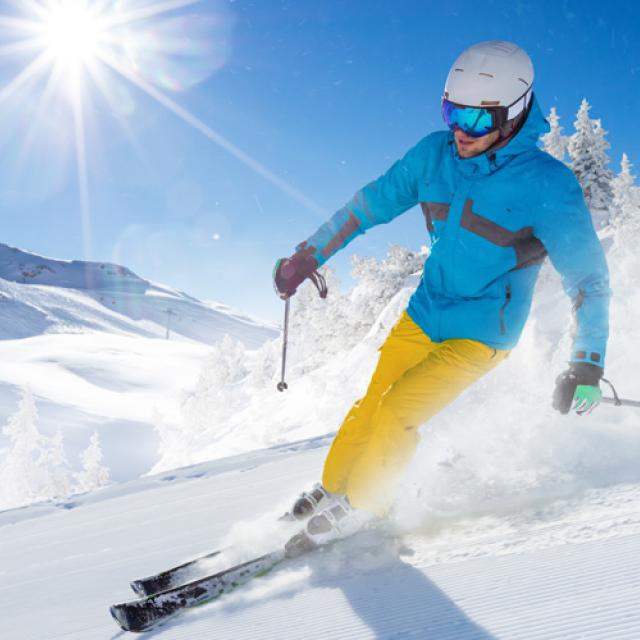 The province is a true haven for winter sports enthusiasts, with vast natural spaces, frozen lakes, majestic national parks, and mountains buried deep in snow. It's true cold weather isn't for the faint of heart, but the benefits of playing outside make it well worth the extra effort. And since we care about your health and wellbeing, we want to keep you moving all year round. Looking for outdoor activities to enjoy this winter? Keep reading for all the inspiration you need!
Winter sports in Québec: A long tradition
Ice hockey may be Canada's national sport, but did you know it originated in Québec? That's right: The first-ever indoor ice hockey game was held in Montréal—in 1875! A cornerstone of Québec culture, hockey has been keeping local ice rinks busy for over a century.
But hockey isn't the only sport that gets Quebecers out and about in the winter months: Snowshoeing, ice skating, and cross-country and downhill skiing have attracted more converts in recent decades. And relatively new activities like paraskiing, ice climbing, fatbiking, and alpine touring have won the hearts of local outdoor enthusiasts, adding to the long list of winter sports Québec has to offer.
Don't stay sedentary when the mercury drops
The benefits of sports—in any season—go beyond physical health. The positive effects of physical activity on our psychological and physical wellbeing are well documented. Exercise can reduce stress, make you sleep more soundly, and give you a self-esteem boost. This is especially true of outdoor sports. After all, there's nothing better than a little fresh air to shake off a long day of working from home!
According to the Québec government, adults and seniors should get at least 2.5 hours of moderate to high-intensity physical activity every week, year-round. Practising a winter sport also gives you a boost of vitamin D, essential to bone health. And getting outside helps counter the seasonal depression that many people struggle with during the bleak winter months.
Fresh ideas for playing outside this winter
If the thought of strapping on your alpine skis isn't enough for you to brave the cold, check out our winter outings for the motivation you need to make the most of the season:
Skating on the Assomption River: The longest natural ice skating rink in Québec, with two 2.8-mile (4.5 km) frozen corridors.
Snow tubing at Village Vacances Valcartier: The classic inner tube slides at this resort just north of Québec City are a big draw. And don't miss the Everest—at a jaw-dropping 110 ft. (33.5 m), it's the highest accelerating slide in North America!
Paraskiing and snowkiting on the Saguenay Fjord: Try winter kitesurfing, aka snowkiting! The winds that whip across the fjord have made Saint-Fulgence world-famous for its perfect snowkiting and paraskiing conditions.
Alpine skiing and snowboarding at Station touristique Massif du Sud: This Chaudière-Appalaches ski area is Québec's highest, at 3,002 ft. (915 m) of elevation. Plus the mountain gets a whopping 20.2 ft. (615 cm) of natural snow a year!
Fatbiking at Empire 47: Minutes from downtown Québec City in the Jacques-Cartier Valley, Empire 47 is the world's most popular place for fatbikes, which have extra wide tires perfect for snowy terrain.
Backcountry skiing at Gaspésie National Park: Off-trail skiing, also called off-piste skiing or touring, is gaining a following in Québec. Swathes of snow and majestic peaks make this park a favourite destination for enjoying this rewarding sport. But if this will be your first foray into the back country, be sure to bring a guide!
Ice climbing at Parc-des-Falaises in Prévost: One of the top spots in eastern Canada for amateur and veteran climbers alike, Shawbridge is the site closest to Montréal for this adrenaline-fuelled winter sport.
Safety is the watchword—especially in winter
Icy surfaces, avalanches, extreme cold…Québec's harsh winter conditions make outdoor winter sports a thrilling—but potentially dangerous—experience.
Alpine skiing and snowboarding are the winter activities that cause the most injuries. But ice hockey also comes with the risk of concussion and even experienced ice climbers have been known to fall from great heights. Accidents can happen in the blink of an eye, so it's important to have all the right gear and be extra cautious when practising winter sports.
To avoid unpleasant surprises, check with your sports association to see if it offers coverage for members. If it doesn't, contact one of our agents to make sure your equipment is insured and you'd be covered if you were to accidentally injure someone while doing your favourite winter activity.
Promutuel Insurance: A cheerleader for local sports
At Promutuel Insurance, we care about the health and wellbeing of our communities. That's why we support sports teams all over the province—from the youngest players to the pros!