What to think about when putting away your winter equipment
Last updated on April 1st, 2022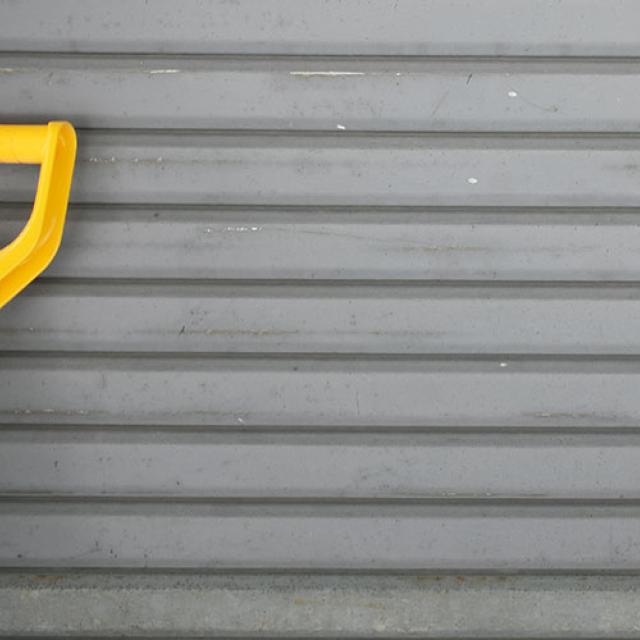 Is the snow in your backyard nearly gone? Are the buds starting to come out? It's time to get ready for spring! Putting away shovels and sleds, storing the snowblower and snowmobile, taking down the car shelter, and getting your spring equipment ready are just a few of the things you need to do to properly store your winter equipment. To help you out, we've prepared a checklist with everything you need to say goodbye to winter and stay organized!
Watch for winter damage
Regularly walk around your property both outside and inside and keep an eye out for potential damage, such as:
Icicles along the roof and gutters, which can be a sign that your roof is poorly insulated
Snow accumulation on your roof, shed, car shelter, pool, or hot tub
Water seepage in the basement, especially through snow-covered windows
Micro-cracks in the foundation or damaged siding, which can be easily repaired to prevent water infiltration
Tree branches broken or damaged by wind, which should be cut back as a precaution (consider calling a tree trimmer for large branches)
Gaps or cracks in the caulking around the windows outside—an inexpensive repair that will keep your heating bill down
Do you see significant damage, water seepage, or breakage? Notify your insurer immediately!
Don't overlook your car and garage
If you park indoors during the winter, take the time to inspect the garage and your vehicle. Because of the moisture on your tires from the repeated melting of ice and snow, your garage may be too damp and your car could suffer.
Make sure your garage is well ventilated and warm enough to dry out overnight. Also, clean the salt and sand off your vehicle to prevent rust and consider having it rustproofed. Now is a good time for a car wash!
Store your snowblower properly
Do you store a snowblower inside or outside? If you don't have room inside, you can store your snowblower outside if you do the following:
Place it on a rubber mat or wooden pallet to keep the tracks from touching the ground.
Cover it with a thick, waterproof tarp.
Disconnect the spark plug.
Put a lock on it to prevent theft!
Have you ever heard of gas stabilizer? It's a very useful product that can extend the life of your snowblower, whether it's stored in a garage, in a shed, or outside during the summer. Filling the tank with gas and adding a stabilizer will prevent the gas from degrading.
Since a snowblower is generally subject to specific limitations, be sure to check with your representative to see if yours is adequately covered by your home insurance.
Tips for storing your snowmobile
Start by giving your snowmobile a good wash! You should never store a dirty vehicle, as dirt can damage the body. Then, as with a snowblower, it's recommended that you fill the tank with gas and add a stabilizer. Also change the oil and remove the battery. Not sure what to do? Call your snowmobile dealer!
Lastly, take the time to call the SAAQ to put your snowmobile in storage before March 31. You won't have to pay any registration fees during the months it's not used. It's always nice to save money!
Tips for tidying up your shed
You probably can't wait to put the shovels away in the shed until next November! Is your shed as organized as it can be?
Here are some ideas to keep everything in your shed neat and tidy:
Always clean items before putting them away, as salt can cause metal shovels to rust.
Don't leave anything on the floor that could be a tripping hazard. Hang items on the walls from hooks to free up space to move around.
Sleds take up a lot of room. Consider storing them out of reach, as you won't need them for a while!
Attach a wooden pallet to the wall. You can easily slide in shovels, skis, and other accessories to keep them from falling down!
Thanks to these simple storage tips, you'll be able to quickly find what you need to get your yard ready for summer and do your spring cleaning.
You're ready for spring!
All you need is nice weather (after maybe one last winter storm)! In six months, you'll be doing the opposite to get the house ready for winter. Until then, remember that your damage insurance representative is there to ensure your property is properly covered, no matter the weather or time of year. There's still time to get good home insurance !