What to look for in snowmobile insurance
Last updated on November 15th, 2022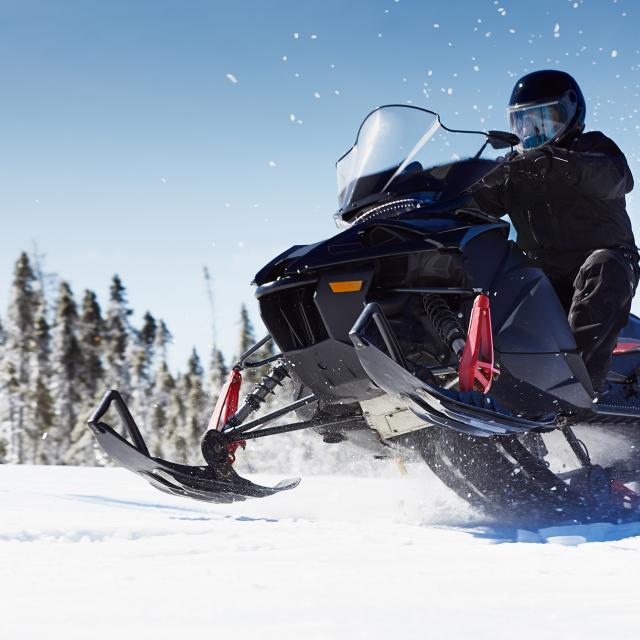 Winter is fast approaching. Considering buying a snowmobile so you can hit the snow-covered trails? Once you find a model that suits you, you'll need to make sure it's properly covered.
To make the most of the season worry-free, here are three important things you should know about snowmobile insurance: what the law says, how to protect yourself in the event of injury, and how to make sure your snowmobile is covered.
1. Snowmobile insurance: What the law says
Under the law, and specifically the Act respecting off-highway vehicles, all snowmobile owners must hold at least $1 000,000 in civil liability insurance. You are required to purchase this insurance from a property and casualty insurer to cover damage or injury your vehicle could cause to others. This is Chapter A in your insurance policy.
What civil liability insurance covers: It covers damage caused to your snowmobile in an accident in Québec for which you are not liable and property damage and bodily injury caused to others in an at-fault accident in Québec or elsewhere.
Penalty for breaking the law: If you violate the insurance requirement, you could be fined $375 to $750.
Recommended coverage: $1 million in civil liability coverage is the recommended amount.
By law, all snowmobile operators must be at least 16 years of age. Plus, the speed limit for snowmobiles is 70 km/h. Visit the Snowmobiles: What the Law Says page on the SAAQ website for more details. 
2. Snowmobile insurance: How to protect yourself in the event of injury
Keep in mind that the Automobile Insurance Act does not provide for any compensation in case of bodily injury in a snowmobile accident. Generally speaking, if you are held liable for injuries caused to someone else, the claims will be handled by your insurer.
Only exception: If the accident occurs on a public road and involves a snowmobile and an automobile, the SAAQ plan applies and entitles the passenger to the same benefits as an automobile passenger.
What if you're injured? It would also be wise to take out legal insurance to make sure you're covered. Why? Because if you want compensation from the person liable for the accident, you will probably have to sue them, which can be expensive. Legal insurance will cover some of the lawyer fees and associated costs.
3. Snowmobile insurance: Making sure your snowmobile is covered
If your snowmobile is seriously damaged in an at-fault accident, fire, theft, etc., you'll want to repair it. To help get it back up and running, you'll need insurance that covers damage caused to your vehicle. Different insurers offer different options for snowmobile coverage.
The four types of basic coverage are listed in Chapter B of your insurance policy:
All perils: Covers damage to your snowmobile, equipment, and accessories caused by any type of risk.
Collision or upset: Covers damage to your snowmobile, equipment, and accessories only in the event of collision or rollover.
Perils other than collision or upset: Covers damage to your snowmobile in the event of theft, fire, hail or glass breakage, for instance.
Specified perils: Covers damage to your snowmobile from risks specifically named in the policy, which means it's more restrictive.
You can also supercharge your basic coverage by adding the additional coverage options that work for you, such as travel expenses and waiver of depreciation.
Take time to decide what you really need—that's the best way to properly protect yourself and your snowmobile. Now you know, and there are only a few more weeks before you can get out and start enjoying this year's snowmobiling season. Happy trails!