What to do in Québec this fall
Last updated on September 20th, 2022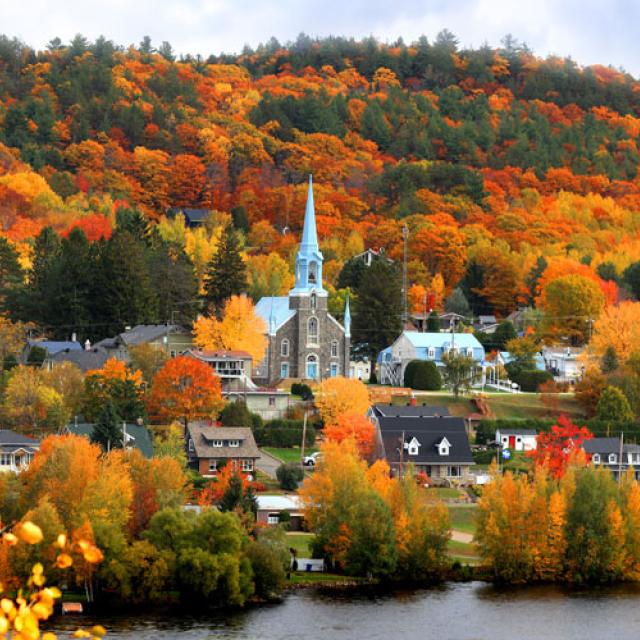 It's hard not to fall in love with fall in Québec! Across the province the trees don their yellow, red, and orange finery, and the scenery is breathtaking. Fall is also full of exciting activities to enjoy with family or someone special, whether you're into culture, farm fare, road trips, or the outdoors. No matter where you live in Québec, here are some great ideas for enjoying the last mild days before winter.
Reap the harvest
Let's face it: apple picking is almost impossible to resist, and not just for the photo ops! It's always fun to discover—and bite into—the many varieties of apples that grow in Québec. There are over a hundred apple growers in the province, cultivating some twenty apple varieties. Some regions, like Chaudière-Appalaches, Île d'Orléans, and Montérégie, are known for their orchards, but you're sure to find a U-pick apple grower near you.
Ever thought of picking your own veggies? Many farms in the Portneuf and Côte-de-Beaupré municipalities even let you come and pick a nice big Halloween pumpkin! La Courgerie in Lanaudière and Centre d'interprétation de la Courge in the Laurentians are among the many pumpkin and squash producers ready to welcome you throughout Québec's regions. You'll find squash and gourds galore to decorate your home and make delicious pies and comforting soups.
Did you know that many local markets across Québec are open until mid-October? They're great for stocking up on fresh fruits and vegetables, prepared products, and fine spirits during the abundant fall harvest. No time to cook? At the markets you'll find sauces, preserves, and condiments to squirrel away so you can enjoy fresh Québec foods even in the dead of winter.
And if picking grapes for a day is your idea of fun, consider helping out at a vineyard. Taking part in the grape harvest is a perfect opportunity to learn more about wine making and rub shoulders with winemakers who love what they do. Since the harvest is weather dependent, opportunities are often advertised at the last minute on the vineyards' social media. If you're in the Eastern Townships or on Île d'Orléans, among other locations, don't miss out!
Enjoy the great outdoors
With its cooler weather and less intense sunlight, fall is a great time for hiking. From Saint-Bruno and Rivière-Éternité to Oka and Lac-Simon, from north to south and east to west, our blog has a list of our favourite hikes in Québec. In addition, Mont-Orford, Fjord-du-Saguenay, and Mont-Mégantic national parks are known as outstanding leaf-peeping destinations. Lace up your hiking boots!
If you prefer driving to walking, the beautiful fall days are also a good time to hit the trails on your ATV. If you want to continue riding in the winter, you'll need to get your quad ready and make sure you're well insured.
It will soon be time to winterize your RV, but not before one final fall getaway! Why not head to Festival des couleurs in Morin-Heights, Lake Memphrémagog, or Gatineau Park in Outaouais to close out the camping season in style?
Hit Québec's highways and byways
With many more beautiful fall days to come, why not take a road trip to another part of Québec? To help you choose a destination, see our blog picks for the most scenic drives in Québec, such as the whale route on the North Shore and famous Route 199 on Îles-de-la-Madeleine.
Pro tip: check the fall foliage map on the Bonjour Québec website to see if the leaves are at their fiery peak where you're headed.
Feather your nest
Getting out is good, but prepping your house for the cold is better! The coming weeks are a good time to do your fall maintenance and prepare your home for the winter from caulking cracks that can let the heat out to storing equipment and outdoor furniture and putting shovels and snowblowers in a convenient spot for when you need them. Keep an eye out for potential water seepage to avoid unpleasant surprises when the snow melts next spring. Also remember the chimney: if you didn't have it cleaned last spring, add it to your list!
If you have a second home like a cottage, consider scheduling a weekend to get it ready for winter. Even if it's a four-season cottage, you don't live there full time so you'll need to take precautions to prevent unpleasant situations—and claims you could have avoided!
After all that work, you've earned a cozy moment by the fire with a pumpkin spice tea or coffee!
We're so excited about what Québec's regions have to offer in the fall (and all seasons!) because Promutuel Insurance is THERE since 170 years, at the heart of communities, with nearly 100 locations across the province!