Snow and ice: when and how to clear it off your roof
Last updated on January 30th, 2023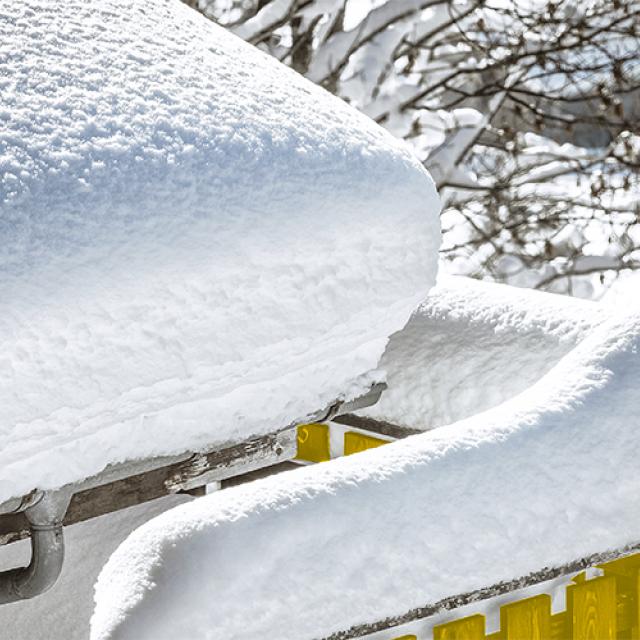 Snow, ice, freezing cold—one thing's for sure, Québec winters are full of surprises! And as usual, we can expect another "normal" winter this year, meaning it is bound to be cold, long, and full of snow. With a winter weather cocktail like this, prevention is priceless.
Although the roofs on most Canadian homes are designed to withstand our snowy winters, special care is needed in extremely heavy snowfall. Every year we see more and more cases of water infiltration and collapse from inadequate snow removal.
The weight of snow and ice buildup, especially on roofs and car ports, can cause serious damage.
Be vigilant and don't wait for problems to arise!
WHEN SHOULD YOU REMOVE SNOW FROM YOUR ROOF?
To avoid hassles, stay on the lookout for:
More than two feet of snow
Ice
Cracks in the walls
Door friction or inside doors that no longer close
Unusual cracking noises
Ceiling deformation
If you see any of these telltale signs, you need to act fast and get the snow off your roof... safely.
It's a good idea to get into the habit of clearing your roof regularly to avoid accumulation. As soon as the first snow falls, you can start adding little walks around the house to your to-do list to give your home some love!
HOW DO YOU REMOVE SNOW FROM YOUR ROOF? 
The Commission des normes, de l'équité, de la santé et de la sécurité du travail website explains how to safely remove snow from all types of roofs, whether flat or sloped.
It's a good place to look before tackling the job.
We took the SnowPeeler roof rake for a spin!
We recently tested out the SnowPeeler roof rake and made a discovery that could make your life easier. It's a completely made-in-Canada tool that could save you a lot of hassle.
It's no secret that clearing your roof takes a lot of time.
The SnowPeeler can be used from the ground to remove snow two to three times faster than conventional rakes. That means you don't have to shovel and lug huge amounts of snow, reducing your risk of injury. With the tool, snow slides right off on a strip of canvas.
The verdict? We loved it and highly recommend it. It will save you time and energy and can be safely used on any type of roof.
Other solutions
Other snow removal solutions include:
Using a roof rake with a telescopic handle from the ground
Working from the roof using the proper fall protection equipment (harness and anchor point)
And if you're not comfortable doing it yourself, not to worry. You can always hire a pro.
WHAT ELSE SHOULD BE CLEARED OF SNOW?
To keep water from getting in, watch for snow piling up near the foundation, windows, edges, and slopes near the ground. These spots should be cleared of snow regularly.
Ice and snow should also be removed from porches, steps, driveways, sidewalks, and emergency exits to prevent falls and make it easy to evacuate in an emergency.
Finally, if you have a car port, don't forget to clear the snow off the roof from the outside using a snow rake.
Désolé, la version de votre navigateur ne permet pas la lecture de ces vidéos.
ARE YOU PROTECTED AGAINST HEAVY SNOW AND ICE?
Promutuel Insurance offers a broad range of insurance products for your home or business so you'll be ready for whatever the Québec winter brings. Contact us to find out more.