Selling your house: How to prepare for a home inspection
Last updated on October 21st, 2020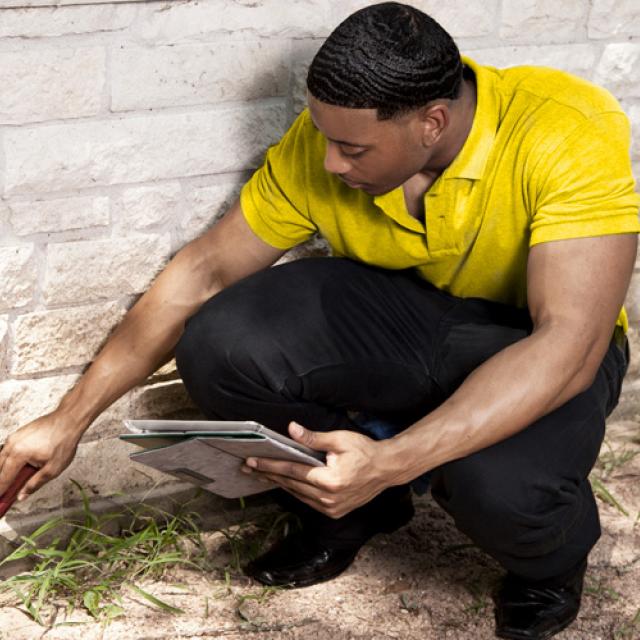 Selling your home? When it comes to closing quickly and getting a fair price, nothing beats a little preparation. Whether it's making your decor more neutral, removing personal touches, or doing a few simple renovations, the work you put in can really pay off! The same goes for the pre-purchase inspection.
The sale of your house might be contingent on items raised in the pre-purchase inspection report, which means that any major problems could cause the buyers to renegotiate or even withdraw their offer, sending you back to square one.
What can you do to get your house ready for the home inspector? What are the benefits of having your home inspected when you list it? Read on! We have the answers you're looking for.
What you need to know about the pre-purchase inspection
Before you start any major renovations and repairs, it's important to understand what happens during a pre-purchase inspection. First, the home inspector will conduct a visual inspection of your property. This means the inspector looks at the things that can be seen with the naked eye to make sure they are sound and compliant. Home inspectors look at the following visible and accessible systems and components:
Structure
Building envelope
Roof
Plumbing
Electrical system
Heating system
Central air conditioning
Interior finishings
Insulation and venting
Other visible and accessible components
Nowadays, inspectors can use thermal imaging to detect problems that are hard to see, like:
Insulation issues
Airtightness issues
Materials with excess moisture
Poor building quality
Water intrusion issues
That said, pre-purchase inspections also have their limitations. Inspections only include defects you can see. There's no guarantee they'll find hidden defects, in other words, defects that make the property unfit for its intended use or that reduce the property's usefulness so much that the buyer wouldn't have bought it or paid so much for it.
Basically, pre-purchase inspections aren't foolproof. They are mainly another careful check of a property by an impartial party with skills buyers don't have.
Preparing your home for the pre-purchase inspection
The pre-purchase inspection report plays a huge part in a potential buyer's decision to buy your house, which is why it's so important to prepare for this crucial step of the home-selling process. Here are some of the things you should check and repair to get ready for the home inspector's visit:
Windows
Clean your windows thoroughly to get rid of any signs of water leaks and lubricate the window cranks. Replacing the windows would cost potential buyers a lot of money, so you don't want them thinking the windows are defective if they're not. However, if they are defective, you should have them repaired or replaced.
Sealant
For many buyers, good insulation is super important. If the sealant on your doors, windows, etc. is in poor shape, replace it with new sealant from the hardware store.
Cracks
The risk of water intrusion and structural problems are two things that might scare off potential buyers. Inspect your foundation for cracks and call a foundation specialist to complete any needed work. You'll be surprised how inexpensive these repairs are, and the benefits are huge.
Plumbing
Over time, galvanized steel pipes can rust. If you have steel pipes, consider replacing them.
Detectors
Make sure your smoke detectors work. If you have a wood-burning heating system, make sure you also have working carbon monoxide detectors.
Carbon monoxide can come from several sources, the main ones being:
Car exhaust in basement garages
Oil or wood furnaces and propane or natural gas heaters
Propane or natural gas appliances like kitchen ranges, refrigerators, or dryers
Lighting
To avoid notes like "Non-functional living room lighting," when a bulb is just burnt out, make sure your lighting works in every room as well as outside and in any outbuildings you might have, like a shed.
Gutters
Because gutters are often the cause of water intrusion, home inspectors will take a good look at them. Clean out any leaves, seal any cracks, reattach any loose parts, and make sure they carry the water away from the foundation and walls of your house. If needed, get them replaced by an expert.
Roof
Replacing a roof is a very expensive renovation, so you definitely don't want negative comments about yours in the inspection report. Home inspectors aren't required to go up on the roof, but they do have to perform a visual inspection. Remove any branches and major snow accumulation (if you're selling in winter), or have a professional come remove any snow if needed.
Yard and exterior
Your yard and the outside of your house are the first things visitors and the inspector will see. Trim your hedges, clean your pool, make sure everything looks good, and touch up your paint if you need to.
Three important things to do before the inspector arrives
It's important you make a good impression on any potential buyers, and the inspector will appreciate your efforts, too. These three little things will make the inspector's job easier—and might just work in your favour:
1. Provide easy access to your water line, electrical panel, shed, garage, attic door, the attic itself, etc.
2. Unlock the doors to the garage, shed, and any other locked storage areas the inspector wants to check.
3. Tidy up by putting away kids' toys and anything lying around to clear spaces out and make it easier for the inspector to move around your property.
Pre-purchase inspections protect sellers, too
Remember those hidden defects we mentioned? According to the Civil Code of Québec, as the seller you must warrant to the buyer that the property is free of any latent defects at the time of sale. In other words, it is illegal to hide any non-apparent defects that you know about from a buyer.
If a buyer finds a latent defect after buying your property, the buyer could use the warranty against latent defects to come after you. Therefore, having your house inspected when you list it is a potential way to protect yourself. The inspection report could serve as proof that the alleged defect was apparent at the time of sale.
Plus, the inspection report will give you an overview of the condition of your home and its fixtures and fittings. It will let you consider any last-minute repairs before showing it to potential buyers, which will make it easier to sell quickly and for a good price.
Important steps to remember when selling your home
Hire a notary : They will finalize the transaction and guide you every step of the way.
Gather all the important documents for your property : renovation records, receipts for work completed, zoning certificates, blueprints, etc.
Prepare for your move : Moving can be difficult and time consuming, so plan this step out so you can save time when you move .
Transfer your utilities : Internet, hydro, phone, cable, water , etc. Let your service providers know what day you're moving out and what day you'll be moving into your new house. That way, you won't pay for the new owners' utilities!
Update your address : Update your address with the government, your bank, your insurance company, etc. to make sure your mail is forwarded to you.
Shop around for home insurance for your new house : You will need to update your home insurance and modify your policy to make sure you have all the coverage you need. It's important for you to shop around for your new home insurance policy before you move to make sure you're covered during the transition period, including your move. It's also a good idea to take out legal insurance like Juripro, offered by Promutuel Insurance, which you can add to your primary home insurance policy for a nominal fee. It provides financial assistance to cover the cost of retaining a lawyer, filing a lawsuit, or being represented in court if necessary. This insurance is useful because it covers litigation resulting from the discovery of a latent defect and other common issues.
As soon as you start thinking about buying a new home, contact your insurance representative, who will be able to help you calculate your new home insurance premium. Your premium will likely be affected by the following factors:
Area (flooded or flood risk areas, unstable soil, risk of rockslides or landslides)
Location (city, protected area, fire hydrants or stations)
Fixtures and fittings (interior and exterior)
Replacement value of the property
Property age and renovation dates
Electrical systems, plumbing, heating, roof, water heater, doors and windows, oil tank (if applicable)
Pyrrhotite or pyrite foundation, vermiculite insulation containing asbestos
Foundation type
Land with undivided co-ownership
New spouse (whom you must declare and add to your new insurance policy)
Gathering information about these factors will also give you a better idea of the specific risks associated with a given property, which might influence your decision to buy it.
Make sure you ask your insurance representative all your questions and provide as much information as possible about the new property. Your representative will steer you toward the best policy for you and offer any discounts if applicable.
Promutuel Insurance offers exclusive advantages like a significant discount for installed leak detection systems and a phone hotline for questions related to legal issues and identity theft.
Contact a representative with your current policy or request a quote for a new home insurance policy from Promutuel Insurance!