Outdoor spring cleaning: Get your yard ready for summer
Last updated on August 1st, 2019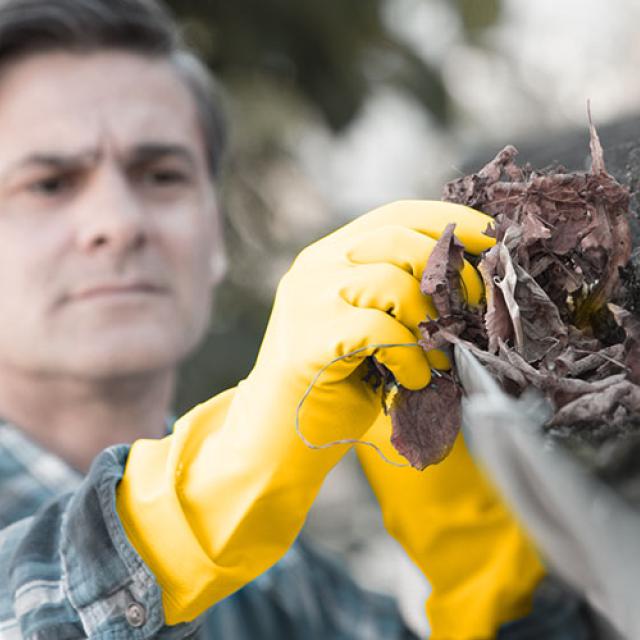 Spring is actually here and things are finally starting to warm up. The snow is melting and, little by little, your lawn and patio are starting to reemerge. Spring cleaning isn't just for inside: Now's the perfect time to get your house and yard spruced up for summer. Follow our handy tips and useful advice to get your season off to a great start.
Lawn: Pick up and rake up
One of the first steps in outdoor spring cleaning is to walk around your property and pick up all the debris: pine cones, last fall's dead leaves, bits of cardboard and other windswept trash, and dead branches from snow-laden trees. If you want your lawn to grow, it needs to be able to breath.
If you don't practice leafcycling, you may still have whole fallen leaves in the yard, which you'll need to rake up. But if you shredded them with the lawnmower instead of raking them up last fall, let them continue to decompose and act as fertilizer.
Be sure to wear gloves when you pick up debris. Watch out for broken glass, rusty metal, and sharp branches. Sort the waste into separate piles so you can dispose of everything properly. Some recycling centres will take scrap metal, for instance. If you compost at home, you can add the leaves to your compost bin or see if your municipality offers green waste collection in the spring.
Flower beds, shrubs, and trees: Clear, prune, and trim
If you have flower beds, now's the time to clean them out. Remove any protective winter covers and then pick the dead leaves and stems off your perennials. Pull up any annuals you plan to replace. Clear the soil of leaves, cocoons, and other harmful debris.
Follow the same steps for your shrubs and hedges. Cut them back if you need to, but be sure to do it when they're dormant (before any buds, flowers, or leaves have started growing).
Always wear work gloves and use sharp scissors or shears for this type of job.
If you have trees, now's a good time to prune them, especially if there are branches touching your house or close to a power line. You may also be able to clear foliage off the roof, which can open things up and let in more light. Important: It's best to leave this type of job to a professional.
Gutters: Clean out and unclog
When all that snow buildup on your roof finally melts, it can leave behind debris that clogs your gutters, which can damage your roof. To clean out your gutters, you will need:
A good ladder
Rubber gloves
A spade or small garden shovel
A garden hose long enough to reach the gutters
And don't forget to wear old clothes: It's a messy job. Use the tools to clear everything out of the gutters and then hose them down. Make sure the water flows where it should.
If you are short on time or don't like working at heights, call a professional.
Windows, patio, and house: Wash, inspect, and protect
Armed with soap, a brush, and a garden hose or pressure washer, clean the:
Patio
Exterior siding
Windows and screens
Garden furniture
Use dry cloths or a good squeegee for streak-free windows. Take the opportunity to inspect your house for areas that are damaged or need repair:
Holes in screens
Worn out window caulk
Cracks in the foundation
Damaged siding
Failing roof
Etc.
Basically, you want to make sure the structure, windows, and roof made it through the winter unscathed. Repair any damage as needed. This is also a good time to do some preventive maintenance, like painting or staining the patio, caulking the windows, and replacing the siding.
Garage and shed: Purge and organize
In theory, your garage and shed should be organized so you can easily find what you need. In reality, with the hustle and bustle of daily life, it's hard to keep these spaces tidy. Spring is a great time to:
Donate or sell items you no longer use
Dispose of products that are too old or can no longer be used, such as oils, paints, batteries, and tires, by taking them to a recycling center
Organize your tools
Oil the door(s)
Etc.
While you're at it, you should clean and inspect your:
Garden tools
Lawnmower
Snowblower
Bikes
Other outdoor equipment and gear
Swimming pool: Clean and prepare
If you have a swimming pool, now's the time to get it ready for splash season.
Run the vacuum cleaner
Clean the inside walls and outside walls (for aboveground pools)
Wash the solar cover
Make sure the filter and heat pump are working properly
Look at what products you have left over from last year
Top off the water as needed
Treat the water
Inspect the:

Canvas
Concrete
Solar cover
Ladder
Diving board
Fence
Other pool equipment
If you don't have a swimming pool but have decided to get one, now's the time to prepare a spot for it.
Once you've completed these steps, you'll be ready to enjoy your yard all summer long. If you discover any damage during your outdoor spring cleanup, contact your insurer because it might be covered by your insurance policy. And if you decide to take the opportunity to do some renovations, install a pool, or purchase new equipment, remember to notify your insurer. .