Our favourite hikes in Quebec to try this summer
Last updated on September 30th, 2020
Does Mother Nature beckon to you, her voice resonating in you from head to toe, urging you to spend the summer outside? We've heard her loud and clear, which is why we've decided to show you our favourite hikes in Québec. They're all perfect destinations for a nature‑filled break with friends and family. So pack your bag, lace up your boots, and let's go!
Parc national du Mont-Saint-Bruno
Saint-Bruno-de-Montarville, Montérégie
Just outside Montréal, Mount Saint Bruno National Park is a stunning natural environment in an urban area, with hundreds of different kinds of flowers, trees, and plants, an orchard, a historical mill, five lakes, and no less than 30 km of footpaths. All these natural features make it a beautiful place for families from the city to relax and explore.
Parc linéaire de la Rivière-Saint-Charles
Québec City, Capitale-Nationale
In the heart of Québec City is a path that many locals tend to forget: Saint Charles River Linear Park. It's a hidden gem that winds along Saint Charles riverfront for 32 km, from the Old Port to the Lake Saint Charles from which it flows. The well-designed pathway offers pedestrians a real scenic treat, with historic sites, a forest, a canyon, a waterfall, a suspension bridge, a marsh, wildlife, plants, and so much more!
Parc nature La Gabelle
Notre-Dame-du-Mont-Carmel, Mauricie
There's a unique natural site in Notre-Dame-du-Mont-Carmel that used to be a trading post for Indigenous peoples and French settlers: La Gabelle Nature Park. From there, you can head out on a 15 km footpath that leads all the way to Melville Island Park in Shawinigan. It's a picturesque walk, perfect for  drinking in the beauty of the Saint Maurice River.
Parc régional des Chutes Monte-à-Peine-et-des-Dalles
Sainte-Béatrix, Lanaudière
Monte-à-Peine-et-des-Dalles Falls Regional Park is a one-of-a-kind destination. With 305 hectares of forest land, two rivers, three waterfalls, and even a canyon, there's enough to fill the 17 km of hiking trails with picture‑perfect moments. An experience you'll want to repeat with friends and family!
Parc national du Fjord-du-Saguenay
Rivière-Éternité, Saguenay−Lac-Saint-Jean
Awe-inspiring. That's a good way to describe Saguenay Fjord National Park. With hiking trails for all levels, the park boasts stunning views of the fjord from both shores. Climb Cap Trinité in the Baie Éternité Sector to reach the famous Notre Dame du Saguenay statue and―you guessed it―an awe-inspiring viewpoint!
Image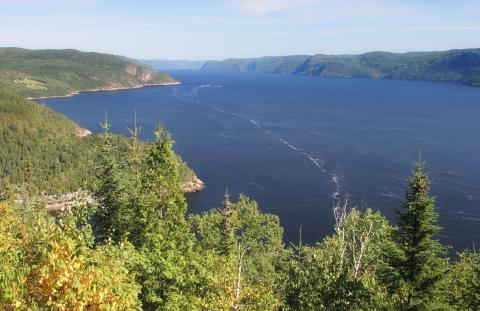 Parc national d'Oka
Oka, Laurentides
Located on the outskirts of the Greater Montréal area, Oka National Park is full of surprises. Head out on well-maintained and accessible trails and delve into the park's unique history and wildlife. Better yet, climb to the top of Calvaire d'Oka for an exceptional view of Lake of Two Mountains and the Adirondacks.
Sentier du Cap-Frontière
Saint-Augustin-de-Woburn, Estrie
The Cap Frontière loop on Mount Gosford is an 18 km hike that takes you to one of the highest summits in Québec. As you hike along the American border, you'll come across breathtaking viewpoints of mountains in Maine, New Hampshire, and Mégantic. A nice reward for all that effort!
Sentier des six saisons
Lac-Simon, Abitibi-Témiscamingue
Near Lac-Simon, Sentier des six saisons has 10 km of marked trails. The footpath winds through different forest environments and has very interesting interpretation panels on Anicinabek practices, customs, and traditions.
Image
Parc Les Salines
Saint-Hyacinthe, Montérégie
Just ten minutes from Saint-Hyacinthe, over 100 hectares of maintained forest and green spaces await at Les Salines Park. With hiking and mountain biking trails, picnic areas, and a water play area, it's the perfect place for family fun!
That concludes the tour of our favourite hikes throughout Québec. Don't wait to head out and explore these trails with friends and family. Nature is even more beautiful when shared. Happy hiking and exploring!