Nine Keys to Happy and Effective Telecommuting
Last updated on November 25th, 2022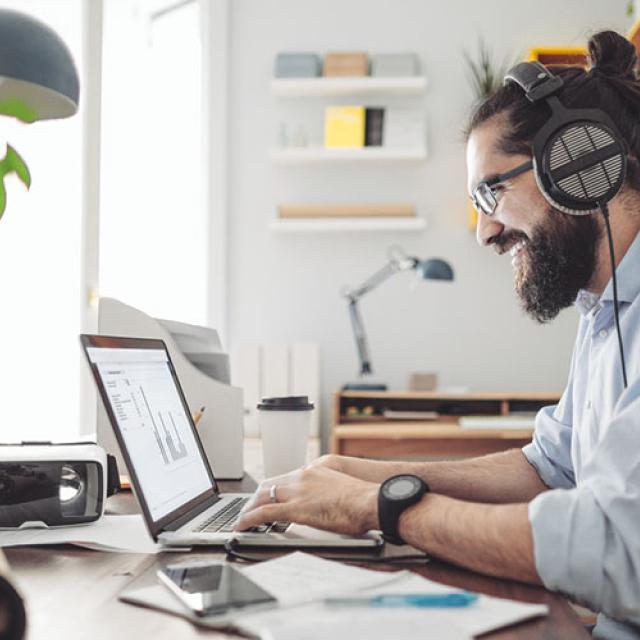 Working from home has become a fact of life for an increasing number of people. Whether it's temporary or permanent, a few days a week or all the time, working from home has its benefits as well as its challenges.
At Promutuel Insurance, we see happiness at work as fundamental. That's why we've put together a personalizable list of tips for happy and efficient telecommuting for you. If you're looking for more ideas, we'll also talk a bit about how we do telecommuting at Promutuel Insurance and share some of our best practices. And if you're wondering how working from home might affect your home insurance—well, we'll talk about that too. Keep reading to find out how to make working from home work for you!
NINE KEYS TO HAPPY AND EFFICIENT TELECOMMUTING
1. Set up a safe, comfortable workspace
The first key to efficient, effective telecommuting is having a proper workspace. This is just as important at home as it is at work. It's your foundation. If you're uncomfortable, you'll find it harder to concentrate, to be productive—to do anything. There's an objective side to this as well as a subjective side.
Ergonomics is something that applies to everyone. The point is to be as comfortable and as safe as possible (to avoid injuries, pain, and muscle tension), ultimately in the interests of efficiency. It doesn't end with finding a comfortable chair. You need to consider posture, distance from your computer screen, elbow height, and other important things. Find out more and ask your employer about getting support for your efforts.
The subjective side of your workspace concerns your preferences, personality, and the possibilities your home has to offer. Do you have a room with good light and a nice view? Maybe you want to use feng shui to create an oasis of tranquillity. Or maybe head to the basement to avoid distractions. You get the idea. Be creative and consider your own needs in setting up your home workspace.
Last but not least, think about security. Security in the sense of being able to protect the confidentiality of the information you're privy to in the course of your work at home, just as you do at the office. This means, for example, making sure that family members and visitors can't overhear your confidential business calls.
2. Set boundaries between work and personal life
A workplace is for work! Successful telecommuting depends on clearly separating your work from your private life. Boundaries should be both physical and psychological. In the interests of productivity, your workspace should ideally be used exclusively for working. It's your office. You go there in the morning and leave at the end of your workday (apart from breaks, of course, which we'll get to later). The ways you separate the two sides of your life in your home will depend on your situation (children, partner, roommate working from home too, and so forth).
3. Make up a routine and schedule
The third key to telecommuting follows logically from the second. Effective telecommunicating depends on certain rules. You can certainly stick with your usual morning routine when you're working from home. But you probably have some extra time on your hands (not having to actually go anywhere is a huge time saver). So why not create a new routine for remote work? If you're on a flexible schedule, you might try taking advantage of the times of day when you're most productive. Are you a morning or afternoon person? Working from home is an opportunity to leverage that and optimize your performance.
4. Organize your workday
To your agendas! Getting organized for working from home is also about effective workday planning. Make a list prioritizing the tasks to carry out and goals for the day, the week, and so forth—the familiar "to-do list." It should also include time for video and phone meetings. Organizing is important wherever you work, but at home it becomes crucial. It takes discipline, which brings us to our next key to telecommuting.
5. Be disciplined
Effective work from home is truly all about self-discipline. It can take various forms depending on your temperament. One thing is for sure—working in pyjamas is not a winning formula. Some people go so far as to dress as if they were going to the office, while others dress down and shift into work mode whatever they're wearing. What counts is your professional attitude. Just remember that people in a videoconference can see you. Of course you shouldn't break your concentration by jumping up to vacuum or try a new recipe. Don't let yourself get distracted. It's all about boundaries, as we discussed earlier.
6. Maintain a healthy lifestyle
Whether you're at the office or telecommuting, always maintain a healthy lifestyle. Especially when you're working from home. We could have made this part of the last point because of the discipline involved, but it's really an overall philosophy that merits separate consideration. It's what will keep you balanced. There's so much to talk about here: healthy eating, stretch breaks, walks, looking into the distance for healthy eyes, and more.
You might also do some of your work standing. It's well known that too much sitting has negative health effects. Ideally, you'll have a home or office work station that adjusts to various positions. But if you don't, there are some simple ways to compensate, such as standing up during phone calls or meetings. Staff at Promutuel Insurance can reserve standing work stations when they're at the office. They can use them to spend a few hours of their workday without sitting down.
7. Stay in touch with coworkers
Telecommuting can be lonely. That's why it's important to touch base with your coworkers and immediate superior regularly. New technology is great for that. It lets us interact in different ways that sustain our sense of belonging and strengthen the bonds between team members. Work includes a human dimension we must not ignore.
8. Hang in there and stay positive
The secret to successful work from home is to really feel you're at work—and glad to be there. Take some time to do the test. Do you feel focused, comfortable, and productive? Consider your answers and adjust accordingly. Most of all, stay positive. Keep in mind the benefits of telecommuting and take action to eliminate or alleviate any rough spots or irritants. Just stick with it and you'll eventually find your own formula for happy and effective work from home.
9. Take it easy on yourself
Sometimes we're our own worst critics, both in life and at work. Be patient and take it easy on yourself. It's great to have high personal standards and be driven to achieve your goals, but it's important to give yourself a chance to adjust to changes and believe in yourself along the way.
TELECOMMUTING AT PROMUTUEL INSURANCE
How does Promutuel Insurance do telecommuting? Whether our employees are at the office or at home, we make work/life balance a priority. It's the master key to happiness at work. Whenever possible, our employees can take advantage of flexible schedules and other options. Working from home is easier when you have more wiggle room.
We also provide ergonomics services and advice out of our Québec City office. We follow best practices for physical and psychological health. Here are some examples:
Online ergonomics training
Support for managers on managing remotely and development of a remote management toolbox
Virtual intake lunch
Weekly virtual team meetings
Gift for employees by mail
Video clip on stress and remote work
Employees working remotely have access to an intranet with a host of resources:
A news feed with up-to-date information on developments within the organization, tips and ideas on a range of topics (like working effectively from home, taking work breaks, staying active and healthy), and contests that promote discussion and positive feelings. Employees can respond to news and comment on it.
Staff birthdays and work anniversaries.
Surveys on a range of topics (favourite pastimes, vacation style, etc.) with percentage results.
Much more.
Teams of course stay in touch remotely and arrange virtual lunches and after-work get-togethers. Everyone's creativity is put to work and new ideas are always welcome.
TELECOMMUTING AND INSURANCE
Did you know that telecommuting has to be declared to your insurance representative? That's because working from home can affect your policy. In some cases, telecommuting can be covered by your home insurance. In other cases however, you might need business insurance as a self-employed homeworker to cover things like third-party and professional liability. Talk to your representative for advice specific to your situation.
Use these keys, adjusted to your situation and personality, for happy and effective telecommuting. And feel free to use Promutuel Insurance's best practices to make working from home work for you. Remember, our insurance agents are there with the best coverage for you!