Keeping Your Home Safe in Snow
Last updated on January 10th, 2020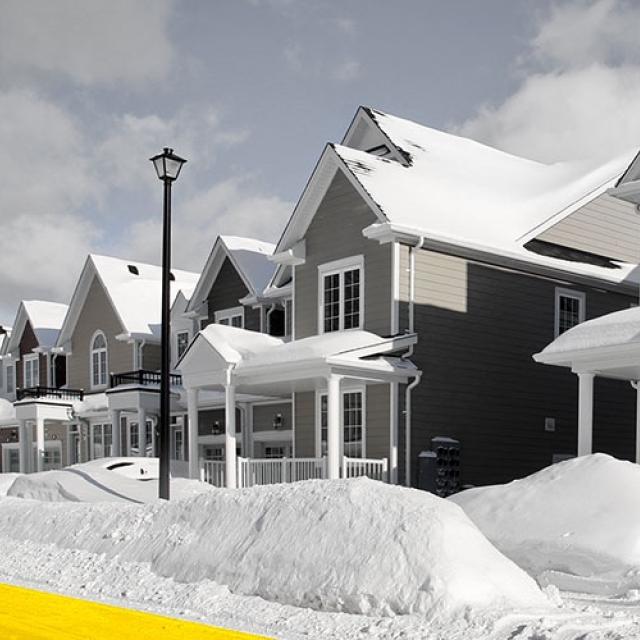 Québec winters are among the harshest in the world. And winter, of course, means snow. It often comes in heaps combined with rollercoaster temperatures—and it brings different types of dangers for your home.
To keep your home a safe and healthy place in the winter, you'll need to do some basic inspection and maintenance. We've created a snow checklist to help you avoid unpleasant surprises and reduce the risk of damage.
Keep appliances clear!
When snow piles up, it can choke things off. Pay special attention to the air intakes and exhaust vents of the following appliances:
Air exchanger
Range hood
Dryer
Bathroom fan
You'll need to remove any snow that has accumulated before it stops them from working properly. If you have a heat pump, keep it clear too. In addition, to properly protect the propeller and fan, it's best to use a snow guard— a mesh cover installed on top of the unit. Snow guards are easy to get from the pump manufacturer and oh-so-handy!
Keep a close eye on the roof
When snow piles up on your roof and isn't properly cleared, it can threaten the roof's structural integrity and cause other problems like water infiltration during melting and, even worse, partial or total collapse of the roof. The watchword? Vigilance!
Although roofs are usually built to withstand the snow loads typical of québec winters, you still need to be on the lookout, especially during blizzards and extreme weather. Also, houses have different tolerances depending on the type of roof: flat or sloped, with vents, chimneys, gables, etc. If you're unsure, a home inspector can help you determine the weight that your home's roof can withstand.
In general, watch for the following signs that it is time to clear your roof of snow:
More than two feet of snow
Ice
Cracks in the walls or unusual cracking noises
Ceiling deformation
Interior doors that are stuck or rubbing
Water infiltration from the roof or attic
The recommended method for removing snow from your roof is to use a telescoping shovel from the ground. For example, you could use the SnowPeeler snow removal roof rake, which allows you to remove snow from your roof safely and efficiently.
If you're uncomfortable doing so, especially if the roof is icy, call in a specialized contractor.
The Commission des normes, de l'équité, de la santé et de la sécurité du travail website explains how to safely remove snow from flat roofs and sloped roofs (in french only). Also, keep an eye on the attic. if heat escapes through the roof due to poor insulation, snow will melt on the roof, which can cause leaks inside the home when ice dams form at the edges of the roof.
The basement and elsewhere
Keep an eye on the basement too! remove snow in front of basement windows and in window wells. this is important for two reasons. First, because the risk of infiltration is high when a home has openings in the foundation near the ground. heat loss through windows and other openings can melt snow, turning them into sieves.
You also have to think about evacuating the basement in case of an emergency. Windows can be used as emergency exits, so they must be accessible year-round. the safety of the people inside the home depends on it. Lastly, you'll want to clear snow and ice from:
driveways
stairs
porches, balconies, and patios
carports
Taking the precautions described in this article can give you peace of mind, knowing you are better protected from the dangers of snow. This leaves you free to stay warm inside...or head out for some winter fun!
feel free to share this checklist with your networks so that friends and family can also put these preventive measures into practice.