How to protect your floors during a move
Last updated on July 15th, 2021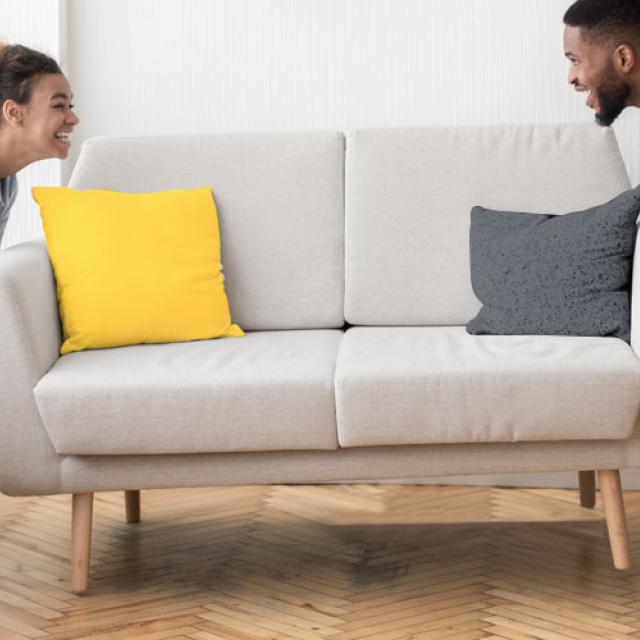 Everyone knows about the risks of damage to your things when you move house. Your belongings are going to be boxed, lugged, and transported from your old home to your new one. That's why there's bubble wrap, furniture pads, and boxes marked "fragile." But the risks to your floors, a lesser priority, are often overlooked. You might be surprised to hear how often a small accident will damage the floor either during move-out or move-in.
Usually you're responsible for paying for the repairs. And they can be costly depending on the type of damage. To avoid an unpleasant surprise that kicks the price tag on your move up a notch, protect yourself with home insurance. If you already have home insurance, your belongings are covered during your move (some conditions apply).
Fortunately, there are also a few ways to protect your floors during the move and avoid any complications from damage. Here are our tips to keep your floors safe during a move.
1. Measure your furniture
Before moving day, take the time to measure your furniture (especially the big pieces) and write down the dimensions. Then compare the measurements with the dimensions of the rooms (front door, stairwells, etc.) in your new home. That way you'll know ahead of time if your furniture will fit in your rooms and also avoid damaging your new floors and walls. Often the listing's measurements aren't quite accurate. If you try to squeeze a large table or dresser through a small space you can leave some nasty scratches.
2. Pack smart
Packing is an important step in your move, so start planning ahead of time. An organized, efficient packing process can help prevent damaging your floors on the big day.
Choose quality materials – Quality products make all the difference. Used cardboard boxes may break, letting heavy objects crash onto your floors. Choose heavy-duty cardboard boxes or reinforce flimsier ones with packing tape.
Break down large furniture – Take large, heavy furniture apart to make it easier to carry and prevent drops. You'll also be able to wrap each piece securely that way.
Cover large items – To avoid damaging walls and floors, experts recommend covering heavy items and furniture. For example, you can wrap the feet of your dining room table with a towel or piece of fabric to reduce the risks of scratching the floor.
Get rid of unwanted furniture – Moving is the perfect time to get rid of old furniture and belongings. Junk removal services will come right to your door and help you clear out pieces from your old place. That way you don't have to carry things you don't want with you to your new home.
3. Wear the right shoes
Sometimes you can mark up the floor if you're wearing the wrong shoes and carrying large, heavy items. Make sure you're wearing appropriate footwear for the job and encourage anyone helping you to do the same. You can even get shoe covers for everyone to wear on moving day.
4. Lift the furniture
This may seem obvious, but it's important to lift, not slide your furniture and boxes. Even just cardboard creates friction that can cause damage and wear and tear to your floors. Make sure you're prepared so you can lift all your furniture, whether you're working alone or with others. If you think you'll need help, hiring movers can be a good solution.
5. Moving equipment
You may have noticed that professional movers use special materials and equipment to transport furniture and boxes. If you're planning to move yourself, you might want to consider renting or buying additional equipment to help protect your floors:
Hand truck – Great for moving heavy furniture such as refrigerators and carrying multiple boxes at a time.
Furniture sliders – These are little pads made of plastic, felt, or rubber that you put under your furniture and heavy items to protect your floors from scuffs.
6. Cover your floors
Here's a simple but effective solution: cover your floors to protect them from damage. Instead of protecting your things, you can cover the floor with one of the following materials:
Rugs – You can use the rugs you have or borrow old ones from friends or family. Identify which areas are most at risk and cover them.
Cardboard – Since you're already swimming in cardboard, tape boxes you don't need to the floor to cover delicate areas.
Plastic – There are a variety of temporary plastic floor coverings available that are easy to use. But be careful—if the plastic is too thin it may not protect your floors from the worst gashes.
7. Hire pros
Moving companies have the experience, equipment, and expertise to prevent damage to your floors. Though not always necessary, it's a good idea to tell the movers which furniture, rooms, or areas you think are most susceptible to damage. That way they can be extra careful with those. Plus when you use a reliable moving company you won't need to rent or buy extra protective materials because they'll be included in the service.