How do you transport an item that protrudes from your car?
Last updated on June 13th, 2023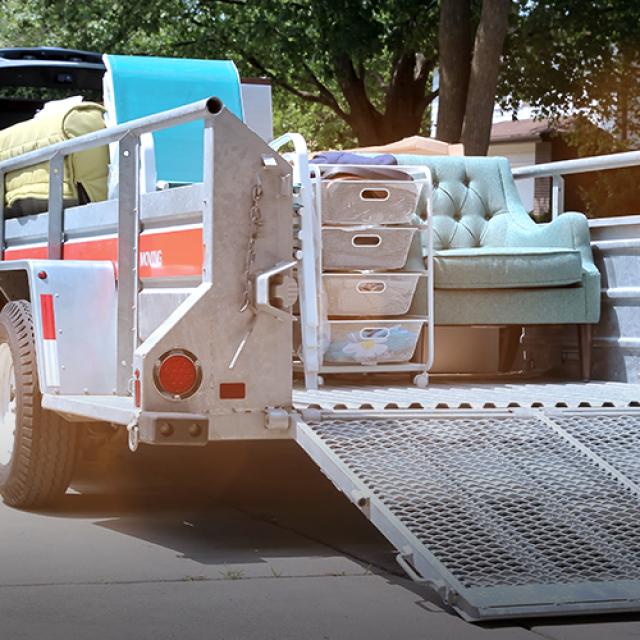 Have you ever had to move a large item with your vehicle? This practice is more common during moving season or when buying furniture or appliances. Another popular practice is carrying bikes or outdoor equipment when travelling with family or friends. So how can you move large items with your vehicle safely and securely? Here are some pointers.
Know your vehicle and its load weight capacity
Make sure you know your vehicle's limitations before attempting to move large items. For example, a sedan doesn't have the same load and towing capacity as an SUV or a pickup truck. 
Ideally, you should always use a trailer attached to your vehicle to move large items. However, before you consider buying or leasing a trailer, make sure your vehicle is fit to tow. Always follow the manufacturer's towing recommendations. You can find this information in the owner's manual. The manufacturer may also suggest key towing accessories, such as a transmission cooler. If in doubt, feel free to check with your dealer! 
Make sure you know how much weight your vehicle can carry. Remember that the towing capacity listed by the manufacturer doesn't usually include the passengers or belongings on board. 
Let's take the example of a three-row midsize SUV with a reported towing capacity of 2,268 kilograms (5,000 pounds). It's towing capacity will be reduced once it has passengers and various items on board. Please check out the towing guide (in French only) to find out if your vehicle is fit to tow. A mechanical inspection of the vehicle is strongly recommended before taking a trailer on the road.
No trailer?
Large items can be transported without a trailer, but be sure to make safety your top priority. 
For example, if you're thinking of strapping items to the roof of your vehicle, such as bikes or kayaks, try to use a special roof rack, if possible. A roof rack cargo box can add some much-needed extra storage space. Roof rack and cargo box retailers will help you pick out the right model for your vehicle based on your needs. 
If you are able to fit a large item into your vehicle through the trunk, make sure it's securely fastened with straps. Attach the item to the vehicle's structure, not anything that may come loose, such as interior finishes or seats. This will reduce the risk of bodily injury in the event of an accident.
There may be times when you need to purchase building materials that will hang off the back of your vehicle. In addition to ensuring that they're properly secured inside the vehicle, have a red flag at the edge of the item to warn other drivers that you're carrying something that protrudes from the back of your vehicle. If you don't clearly indicate that an item is protruding from the back of your vehicle, you risk facing a fine. Don't take any chances—ask your local hardware centre for help if needed. And check if home delivery services are available.
If you're considering moving or towing items with your vehicle as part of your job or business, you must notify your damage insurance representative, whether you plan on doing it regularly or occasionally. They will make sure you've got the right car coverage, so that you can drive worry free!