Fire in your back yard: Are you covered?
Last updated on August 2nd, 2022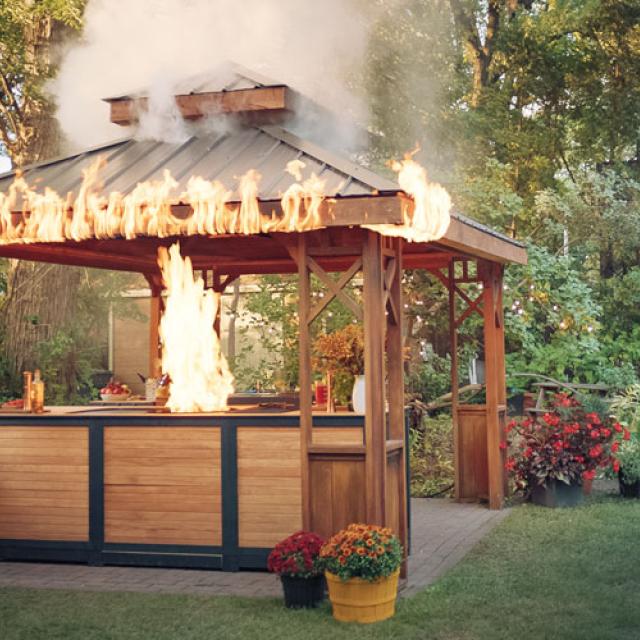 Patio season is all about barbecuing. And, with the tantalizing aroma of food cooking on the grill comes an increased risk of fire in your back yard, your summer haven of peace. The last thing you want is for your outdoor space to go up in flames if a delicious grilled duck turns into a fiery nightmare. But accidents can happen to anyone, even the best grill masters!
The question is how can you reduce the risk of fire in your back yard and what happens in the unfortunate event that a fire does break out? Does your home insurance cover the stuff you have outside your home? Find the answer to your questions here.
Residential fires in Québec
Did you know that, according to Ministère de la Sécurité publique du Québec, more than 15 household fires are reported every day? Of these, 51% are related to human error, and cooking appliances (including BBQs!) are the main sources of distraction leading to these incidents. As a result, each year, insurance companies provide an average of $540 million in compensation for property losses caused by residential fires.
Talk about some scorching stats—literally! But what happens if you become one of the statistics and a fire breaks out in your back yard? Read on to find out more.
Beware of your BBQ!
You now know that cooking is cause of most household fires. The best way to avoid this scenario is to develop safe cooking habits—both in the kitchen and outside at the BBQ. Here are some BBQ safety tips to help reduce the risk of fire in your back yard:
1. Good maintenance habits
A well-maintained BBQ is a safer BBQ! Every BBQ season should begin with a thorough cleaning and inspection of your cooking device. Clean and check the burners, fittings, hoses, cooking grate, and burner box. To identify potential gas leaks, apply a soapy solution to fittings and hoses. If you see bubbles, that means there's a leak and you need to have it repaired.
Also watch for signs of corrosion and rust that could allow propane or food oil to leak out. If the tank is dented or more than ten years old, replace it.
Throughout the summer, be sure to regularly maintain your BBQ to reduce the risk of fire. Clean the grill after each use and empty the burner box frequently.
Good to know: When the components of a BBQ are in good condition, the flame is blue. If it is yellowish, it may be a sign that the burner is improperly installed or that the hoses are blocked.
2. Instructions for use 101
Cooking with gas involves significant hazards, both for explosion and fire. In addition to the manufacturer's instructions, here are some tips you can follow to enjoy your BBQ safely:
Set up your BBQ in a safe place, at least one metre from the walls of your home and outside structures, on a stable surface far from combustible materials, doors, windows, and trees, in a ventilated area away from children. Use extra caution when near a combustible siding (such as vinyl) as more than one metre of clearance may be recommended.
Start and shut down your BBQ properly: First open the lid, then the tank, and then one of the control knobs. Next, press the ignition control—but no more than twice! To turn off the BBQ, close the tank first and wait for the flame to go out before twisting the control knobs to the off position. Clean the grill, allow it to cool, and close the lid.
Last but not least, never use your BBQ indoors or under a roof, even if it's just a portable burner.
3. Cooking safely on the BBQ
First, never leave your BBQ unattended and ask your children to keep a safe distance away while you are cooking food. Be sure to use accessories specifically designed for the BBQ, such as long-handled tongs, brushes, oven mitts, etc. Avoid spraying your food with oil during cooking, wearing long sleeves, and leaning over the grill to smell the food.
4. What you can do to prevent fires
Here are some additional tips to help you prevent your BBQ from causing a house fire:
Have a portable fire extinguisher (with an ABC rating) on hand.
Always store the propane tank outdoors, away from major heat sources.
Stay alert: Over 40% of kitchen fires are caused by distraction.
If the BBQ does not turn on, turn off the power source and wait for the gas to dissipate before attempting to turn it back on.
5. What to do in case of fire
If a fire starts in your BBQ and gets out of control, call 911, evacuate the premises, and wait for the fire department. Don't try to turn off the propane tank valve or you may burn yourself. Your safety is the top priority!
Lastly, your BBQ is not the only thing that can start a fire in your back yard. Chemicals and flammable items in your shed, electrical systems, outdoor fireplaces, cigarette butts, and even vegetable gardens that have dried up after a spell of hot, dry weather can also start a fire in your back yard. Keep a careful eye on them!
Does home insurance cover your back yard?
Short answer: It depends on your form. Generally, the detached structures of your home, such as your shed and garage, and any property on the insured premises are usually covered by your home insurance. Certain exclusions may apply, such as for swimming pools and spas.
However, these structures can increase the value of your insurable assets. To make sure you will be fully compensated in the event of a disaster, you need to inform your representative if you have any of these items and indicate their value. Also, remember to contact your representative whenever you add a new outdoor structure to your property! That way they can adjust the amount of coverage on your home insurance policy accordingly.
Have questions about your home insurance and applicable coverage for property in your back yard? Contact one of our insurance representatives for guidance now so you can enjoy your outdoor facilities with total peace of mind!