Cool ATV Accessories You Can't Live Without
Last updated on November 16th, 2022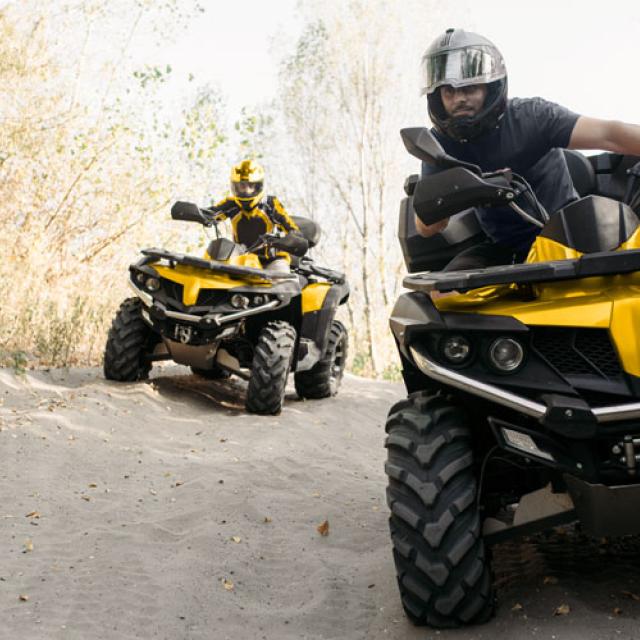 Are you an ATV enthusiast who's always on the hunt for the latest and greatest accessories? Or maybe you're a thrill seeker who just got an ATV and can't wait to rev it up and hit the trails? No matter what your situation or the type of ATV you ride, this article has something for you. Take a look at what we've discovered!
Getting out of a jam
Riding your ATV means getting out into the forest and mountains, far from the hustle and bustle of the city. But that seclusion also means you need to be able to get yourself out of trouble if you get into a jam so that your dream excursion doesn't turn into a nightmare. Lucky for you, there are ATV accessories designed for exactly that!
The must-have winch
If there's one accessory an adventurous ATV rider doesn't want to leave home without, it's the winch. If you or a buddy gets stuck in some mud, you'll need a winch to get back out. Be sure to choose the right pulling power, wire or synthetic rope, and other accessories (open block pulley, shackles, gloves, etc.) for your winch so you can safely get the most out of it.
They range in price, but you can get a quality winch for between $200 and $350. The well-known brand WARN has several models. The Superwinch Terra 35 is another good option. Do some research to find the model that's best for your ATV, needs, and budget!
Air pumps, battery chargers, and other troubleshooting accessories
A flat tire or breakdown can quickly put at end to the fun. That's why you should carry a 12-volt air pump and battery charger with you. It's also a good idea to have a toolkit with you so you can repair tires, belts, or anything else that breaks down. And while you're at it, pack an emergency kit, lots of water, a flashlight, and a filled gas can—you can never be too careful!
Safety, convenience, and fun
It's good to be prepared for any situation, but you also want your rides to be safe, efficient, and fun. And for that, you need the right ATV accessories!
Safety equipment
Choose your helmet, gloves, glasses, and face mask carefully. There's something out there for every taste and every budget. Style is important and there are lots of different trendy accessories out there, but make sure you think about safety and comfort too! Do some research to find the gear that's right for you. You may also want to invest in safety boots and a jacket. And speaking of protection, a dry box for your wallet, phone, and other objects you don't want to get dirty or wet is a smart investment.
Storage
Even if you're packing light, there are still a few things you'll need to take with you when you head out for a ride. A cooler is very handy for storing food and drinks. YETI coolers are very popular among ATV riders. As for the rest of your gear, there are all kinds of handy cargo nets, saddlebags, and boxes out there to store your stuff. Shop around!
Handy gadgets
Lots of people swear by adjustable, universal smartphone holders. You can adjust the holder so your phone is within reach and you can see the screen. RAM, Tigra Sport, and Choetech mounts come highly recommended. And how about a little music to go with your nature? There are speaker systems out there designed specifically for ATVs. A portable light system or an LED light bar is also an excellent investment. Obviously, this list isn't exhaustive. You can add to it based on your own tastes and needs!
ATV Insurance 
Don't forget about insurance! Québec law requires every road vehicle owner to have third party liability insurance. You can also insure your ATV against damage. There are various basic warranties and additional coverage you can get. At Promutuel Insurance, for example, we offer 15% off to owners of two-seater ATVs.
We hope these suggestions for ATV accessories were useful. We're HERE to make your life easier so you can focus on what's important—the exciting adventures that await you. Choose the insurance coverage that meets your needs and hit the trails with peace of mind. Ask us for an online ATV insurance quote today!