Check out our favourite ATV trails across Québec!
Last updated on November 16th, 2022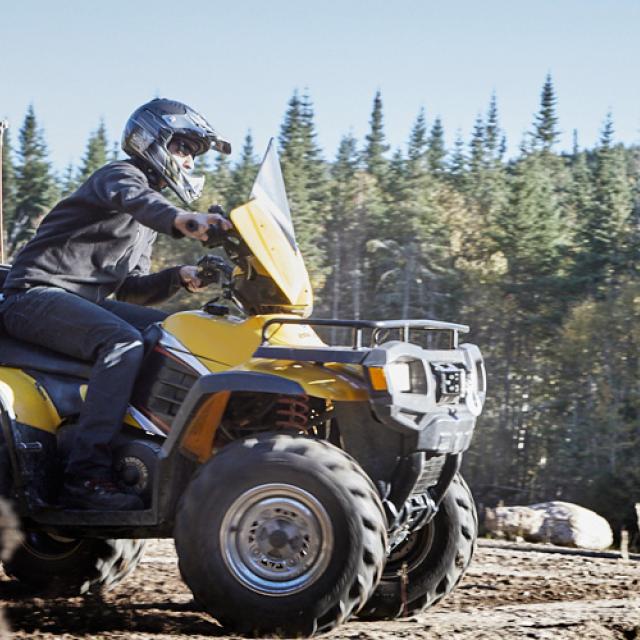 Fall means dazzling colours, the crunch of leaves underfoot, earthy smells, and the comfort of a hot drink after a jaunt in the great outdoors. No wonder ATV enthusiasts can't wait for it! Plus, Québec is a rider's paradise with thousands of kilometers of trails.
We're giving you the lowdown on our favourite trails in Québec to help you decide where to go for your next ride. The province has an incredible range of trails, so this list isn't exhaustive. But we hope it will inspire you to head out on an ATV adventure of your own.
QUÉBÉQUAD AND THE QUAD ROADS
Québec has:
Over 60,000 ATV riders
Over 25,000 km of federated trails
A world-class network of safe, well-maintained trails
Over 3,000 volunteers in 120 clubs and almost 1,600 trail security officers
Before you set off on the open trail, it's important to have the latest information. The Fédération québécoise des clubs quads is your go-to source. The QuébéQuad website contains everything you need to know about access rights, ATV clubs, events, trail closures for hunting, and more.
You should also check out The Quad Roads, which has over 5,700 kilometers of trails across 40 routes, developed in collaboration with five partner regions. The interactive map makes it possible to plan rides efficiently and includes nearby attractions. Riders in Québec are spoiled with a plethora of destinations and superb scenery.
ATV TRAILS ACROSS QUÉBEC
We can't wait to tell you about some of our favourite trails for your fall riding pleasure. Here we go!
Labelle's trails in the Laurentians
There are no less than 2,000 km of trails in the Laurentians. Montrealers don't have to travel far to access the vast region's natural reserves, lakes, mountains, and forests. It's a popular riding destination, and the Upper Laurentians are especially well known.
Did you know that the trails in the town of Labelle are considered by many to be the best in the region and even in all of Québec? Check them out if you've never had the pleasure. Club Quad Iroquois is a great source of information if you're planning a trip. It even has charming cabins so you can warm up and grab a bite to eat. If you're interested in staying in the region, the Laurentians has a wide selection of outfitters, bed and breakfasts, and inns.
Lac Taureau Regional Park Trail in Lanaudière
ATVs are a big deal in Lanaudière. With over 1,275 km of trails, there's something for everyone. You can choose from all sorts of scenery, including plains, mountains, waterfalls, the St. Lawrence River, lakes, wildlife reserves, and more!
Our favourite is the 160-km ride in charming Lac Taureau Regional Park. Head to Saint-Michel-des-Saints for a loop around Lac Taureau. It's one of the largest bodies of water near Montreal. Auberge du Lac Taureau, Auberge le Cabanon, the Baie-du-Milieu campsite, and more are located along the way. And don't hesitate to contact the Matawinie Quad Club for more information or a group tour.
Notre-Dame-du-Mont-Carmel to Saint-Georges-de-Champlain in Mauricie
The ATV trails in Mauricie will keep you coming back for more! The region has lots to offer, including views of the Mauricie Valley and the Cap-de-la-Madeleine area from Mont Carmel, the stunning waterfalls around Mékinac, and more.
Like loops? Here's a day-long one for you in Notre-Dame-du-Mont-Carmel. Head north to Saint-Tite, then keep going to Lac-aux-Sables. Stop for a snack and enjoy the gorgeous views. You won't be able to wipe the smile from your face. Head back east via Saint-Adelphe, Saint-Séverin, Hérouxville, and Saint-Georges-de-Champlain. We bet you'll love it so much that you'll head all the way to La Tuque next time around.
Route 1 leaving from Sainte-Anne-du-Sault in central Québec
There are over 1,275 km of top-notch ATV trails in central Québec. Riders love it for being welcoming and peaceful. A variety of routes, each with its own unique features, will keep you coming back again and again!
Here's one of our favourites—Route 1 of the region's Quad Road. It's a 150-km ride that starts at the La Belle Québécoise restaurant in Sainte-Anne-du-Sault. You'll ride across the St. Lawrence lowlands and admire picturesque rural scenery along the river. Stop on the way at Quai de Sainte-Angèle, a natural site with a superb panoramic view of the river.
Heavenly trails in Saint-Aimé-des-Lacs, Charlevoix
Charlevoix is synonymous with breathtaking scenery. It's a UNESCO World Biosphere Reserve and a magnet for outdoor explorers. Charlevoix on an ATV? Without a doubt! ATV trails have been specially designed for safety and are home turf for registered QuébéQuad clubs.
Our number one trail in Charlevoix starts at Saint-Aimé-des-Lacs and is a little slice of heaven! To plan your trip, contact Club pour les véhicules tout-terrain du Grand Charlevoix, which maintains 127 km of trails. The Paradis du Quad club is also based in beautiful Saint-Aimé-des-Lacs and offers half-day to three-day tours. Why not stay lakeside at Gîte au p'tit paradis and enjoy a view of the mountains?
Gatineau Park, Outaouais
Nicknamed the green lung of Outaouais, Gatineau Park is huge, with 361 km³ of breathtaking fall beauty. There are all sorts of trails for all sorts of riders (easy, medium, and difficult) that access various vantage points on the park's rich, unique biodiversity.
For a medium-difficulty ride, we suggest trail 72, which starts at parking lot P17. It's about a 10 km loop near La Pêche. Keep an eye out for the exquisite wildflowers. Plus it's a great opportunity to visit Wakefield. You'll be back for a second visit, guaranteed.
Panoramic trails in Chaudière-Appalaches
ATV enthusiasts have lots to like in Chaudière-Appalaches, including over 1,200 km of trails that wind through all sorts of natural sites and attractions in a region that includes over 200 km of St. Laurence River shoreline.
Our favourite trails in the region form a grandiose 69-km panoramic crowd pleaser. Circuit de la Tour stretches from the St. Lawrence lowlands to the Notre-Dame Appalachian Mountains. It starts at Centre sportif le Jasmin in Tourville. You'll catch breathtaking views along the way, including remarkable 360° vistas at the Lac Trois-Saumons observation tower. You'll ride through woods and open countryside, plus there's food and accommodations at either end. In fall, the colours make for a truly unforgettable ride.
There you have it! We hope you enjoy our favourite trails as much as we do and that they inspire plenty of great rides. We're here to look after you while you're out having fun. That's why we offer great prices on ATV insurance that fits your needs. Don't hesitate to contact one of our agents or request an online quote for ATV insurance!