Accidents and Breakdowns: What Are the Most Common Repairs?
Last updated on November 3rd, 2020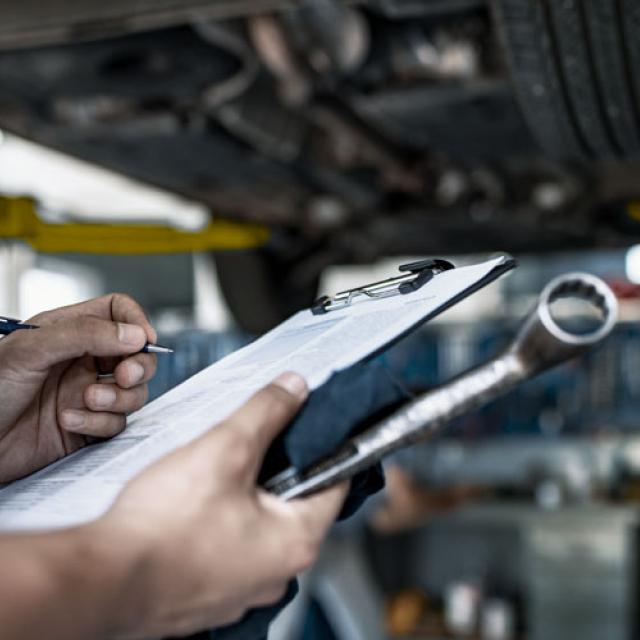 Owning a car is convenient and sometimes essential, but it comes with many responsibilities and expenses, especially regarding upkeep. Whether caused by normal wear and tear or a collision, any damage to your car must typically be repaired to ensure its longevity.
Every day your car is exposed to many risks, including fender-benders, potholes, and wintertime hazards. What are the most common repairs, and which are covered by car insurance? We'll review the most common types of breakdowns and their consequences, as well as insurance coverage options so you can better maintain your vehicle with less hassle.
Breakdown Causes and Consequences
While some breakdowns are caused by human error and negligence, many others are outside of your control. See below the leading causes of damage to your car and related repairs.
Accidents
1. Distracted driving
According to law enforcement, distracted driving is the leading cause of roadway accidents. Eating, drinking, looking at a cellphone, and chatting with passengers while driving are all distractions that may cause accidents.
2. Drinking and driving
According to SAAQ, drunk driving causes an average of 110 fatalities, 260 serious injuries, and 1,800 minor injuries annually. Yet this significant cause of accidents is among the most easily avoidable.
3. Speeding
Speeding has many impacts on driving: reduced field of vision, increased stopping distance, longer emergency manoeuvre time, skidding risk, and more powerful collisions.
Some studies indicate that if every motorist reduced their speed by just 5 km/h, roadway accidents would decline by as much as 15%.
4. Driver fatigue
Fatigue is one of the top causes of Québec roadway fatalities. On average, it leads to 78 deaths and 8,532 injuries annually, with the resulting accidents typically occurring in the afternoon or at night.
The fact remains that proper rest is the only cure for driver fatigue. You should listen to your body and stop to refresh yourself physically and mentally, just like you refill your gas tank.
The Most Common Accident-Related Repairs
Roadway accident damage naturally varies according to collision severity. While fender-benders might cause a few scrapes, a major collision could result in the total loss of your car. Typically, automotive bodies, windows, and windshields are damaged in roadway accidents and require repair or replacement.
Winter
Winter weather conditions like snow, black ice, and ice storms pose serious roadway hazards in Québec, where there are as many as 30% more car accidents in winter.
To prevent winter accidents, thoroughly clear snow from your windshield and windows (or risk fines of $100 to $200). During the colder months, be sure to allow for a greater stopping distance and know that the safety of your tires is essential. Lastly, be sure to adjust your driving to road conditions, as speed is the leading cause of winter accidents.
Typical Winter Repairs
It's important to perform preventative maintenance on your car ahead of winter. Once temperatures dip below 7°C, switch out your tires for winter ones or purchase new ones if they appear worn, according to your mechanic's recommendations. Checking your battery and brakes in the fall will also help you have a safe winter.
Potholes
In Québec, spring is a time of renewal...and potholes. These roadway crevices—the enemies of all vehicles alike—are especially hard on tires, wheels, and suspensions. If a pothole is unavoidable, at least slow down to minimize potential damage.
Common Pothole-Related Repairs
When you hit a pothole, a lot more than your tire is impacted. Along with changing a damaged tire, you might have to replace a lost hubcap or a wheel that's bent, cracked, or broken; repair your suspension and its parts (the steering arm and tie rod); and even change your shock absorbers as their longevity might now be compromised. Your car insurance will not cover pothole damage unless it is sudden, direct, or accidental.
Roadway Rubble
Along with potholes, thawing roadways give rise to another threat: rocks. On average, insurers in Québec receive over 180,000 claims annually for cracked windshields.
Typical Rubble-Related Repairs
The most common damage caused by rocks is definitely cracked windshields. Depending upon the damage to your windshield, you can either replace it or have it repaired. A specialist will make the appropriate recommendation in their assessment.
Normal Wear and Tear
A car, if well-maintained, can last a very long time. Regular maintenance is essential not only to extend your car's use but to ensure your safety while driving it. Normal wear and tear is excluded from auto insurance coverage—all the more reason to keep your vehicle in tip-top shape from the start!
Common Wear-and-Tear-Related Repairs
When you have the oil changed, ask your mechanic to inspect all of your car's major parts and equipment. Among the most common wear-and-tear-related repairs are replacement of the brake discs and pads; the air, oil, fuel, and passenger compartment filters; and the antifreeze, windshield wipers, tires, lights, and belts.
You should also replace the battery, alternator, clutch (where applicable), and starter at certain mileage milestones.
Vandalism
Your car may also be vandalized by graffiti, keying, dents, cut tires, and theft.
Common Vandalism-Related Repairs
The most common vandalism-related repairs involve the body, paint, windows and/or mirrors, and tires. Depending upon the severity of the damage, it might be necessary to repair or replace those parts.
Protect Your Car from Vandalism
Auto insurance is mandatory in Québec. In addition to accident coverage, it may also cover necessary repair-related expenses for your vehicle.
Auto Insurance Coverage
Auto insurance provides two-fold protection for third party liability and damage to your vehicle. Basic protection covers third party liability, which is required by law. Blanket protection provides the owner with four (4) different coverages in case of damage:
Comprehensive
Collision or upset
Risks other than collision or upset (fire, theft, vandalism, hail, flooding, etc.)
Specified risks (e.g., fire, theft)
You can also choose any additional coverage you may need, including replacement cost (subject to depreciation), travel expenses, civil liability for damage to vehicles not owned by the named insured (e.g., rented or borrowed), and accident-related expenses.
Request a car insurance quote from Promutuel Insurance or contact your representative to discuss your policy today and drive with peace of mind.