Image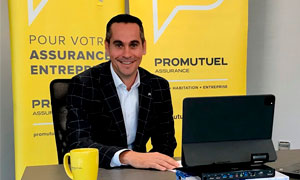 Promutuel Insurance Centre-Sud has teamed up with Traversée internationale du lac Mégantic as official presenting partner for the next three years!
The news was announced at a Zoom press conference on June 11 by André Gagnon, Personal Insurance Operations Manager. We're proud to help sustain this major event. Our support is a testament to our deep attachment to te region and our desire to help make life more normal and festive for the community. This partnership allows us to provide significant support to the Traversée and to Lac en Fête - Mégantic.
The Traversée is celebrating is 20th anniversary this year and is now firmly established as a sporting and cultural event that shines a spotlight on Lac-Mégantic and our entire region.
This year's event is a hybrid version, but no less exciting! We look forward to being THERE from August 5 to 7--in the heart of our local community.
Six shows will be held on the Promutuel Insurance stage at Parc des Vétérans. Boaters can purchase reduced-rate tickets to catch the shows from the lake on a giant screen. The main shows will also be presented in virtual mode for all ticket holders, so that you can catch top notch entertainment in the park, on the lake, or direct from your backyard!
Thursday August 5, 2021:
Friday August 6, 2021:
Saturday August 7, 2021:
Rodeo Drive Country Band
Marjo
Be there!
Information: lacenfetemegantic.com/