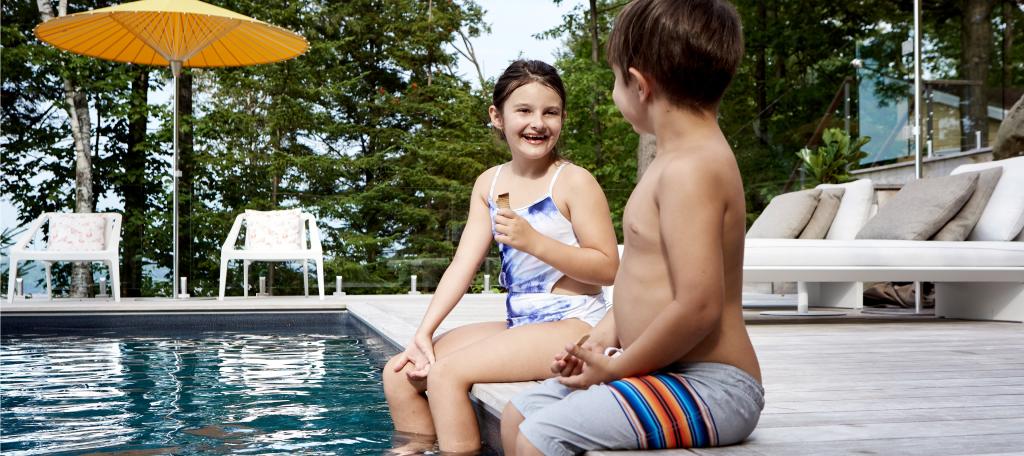 There to insure your pool or hot tub
Having a pool or hot tub can be lots of fun, but it can also mean big problems if you don't have the right coverage. At Promutuel Insurance, we're here to provide home insurance that fits your needs and handy advice to help you enjoy your property with peace of mind.
Main risks
Image

Damage caused by pool leaks, rupture, overflow, or sudden, accidental tipping
Property :This damage is covered under the "Property" section of your home insurance.

Third-party property : This damage is covered under "Civil liability."
In both cases, it's always a good idea to check how much coverage you have to make sure it fits your situation and the value of your belongings.
Image

Damage to your pool and pool equipment, including damage caused by the weight of snow and ice in winter
To get coverage for this type of damage, you need to add an endorsement to your insurance policy. It's important to contact your damage insurance representative to make sure you're eligible for the coverage.
Coverage tailormade for your pool
Did you know that you need additional coverage if you have a pool outside your home?
Above-ground pools and hot tubs
This coverage is not included in your basic home insurance policy, and neither is the surrounding patio, if it's not connected to your home. That's why it's so important to add an endorsement to your policy. You need adequate coverage if anything happens to the pool, water heater, or related equipment.
These pools aren't covered by your home insurance, except for certain wordings. You still need to make sure you have enough insurance to cover any potential damage, or make sure you have added the in-ground pool endorsement.
Third-party liability damage is covered by your basic home insurance policy.
Depending on the age of your pool and equipment, depreciation may be applied to your claim, as per the terms of settlement and based on the age of the pool structure or the number of winters it has been in service. Ask your insurance representative about our current compensation rules.
Preventing damage
Some damage isn't covered, even with good home insurance and the right endorsement. This includes damage caused by gradual wear and tear, poor installation or materials, natural ground movement, and vermin. That's why you should always take good care of your pool or hot tub.
Check out our blog for some handy tips: How to make sure you're protected with pool and hot tub insurance
Don't forget to contact your damage insurance representative if you're having a new pool or hot tub installed. It's also a good idea reach out when adding a new patio or related equipment like a water heater or filter.