Some local businesses to support
Last updated on October 28th, 2022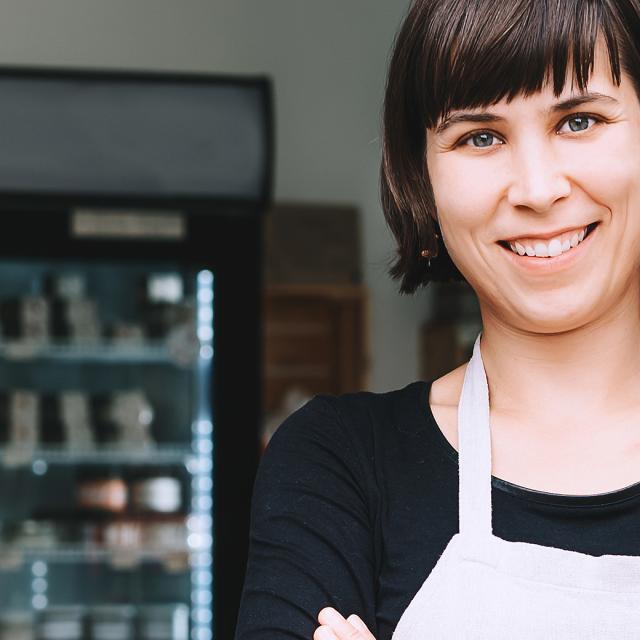 Talk about the local economy and the importance of encouraging Québec producers, manufacturers, and retailers has been growing in recent years. The more you hear, the more you want to get involved, but where to begin? Here are a few Québec businesses well worth discovering.
What exactly is a "local" product?
Before we go any further, it's important to note that companies are required to use accurate and meaningful labelling information when they make claims about their products' Canadian origins.
In Canada, you'll find two labels: "Product of Canada" and "Made in Canada." What's the difference? The "Product of Canada" label requires a higher threshold of Canadian content (raw materials, processes, manufacturing, etc.) than the "Made in Canada" claim.
The Competition Bureau assesses these claims and is responsible for taking action in the event of false or misleading labeling.
Québec has also created various certification labels of its own, such as "Aliments du Québec" and "Meuble du Québec," to guide Québec consumers in their choices.
What about the "100% local" claim?
If producers or retailers tout their products as being 100% local, you can ask about the origin of the ingredients as well as product processing and packaging.
The idea behind the "100% local" claim is to be able to retrace production steps to verify that materials are sourced and processed as close as possible to the point of sale—i.e., in Québec or elsewhere in Canada.
Showcasing some of our favourite businesses
To inspire you to support local businesses, we have selected some of our favourites to share with you.
Sykes & McGee Inc.
Not far from Granby is a lovingly appointed little antique shop with a uniquely welcoming atmosphere. Owners Mark and John set out to create a serene and appealing space where customers would feel right at home. Mission accomplished with Sykes & McGee Inc.
The shop also offers furniture upcycling services, painting workshops and handcrafted soap. Explore and let your creativity run free.
Get to know them on social media:
Vignoble du Mouton Noir
European wines have a reputation for quality. But did you know there's a winery not far from Montréal producing some exceptional wines of its own? The years of training and hard work put in by Daniel and Chantal since they acquired Vignoble du Mouton Noir in 2005 have really paid off. Today they craft lovely local wine that Québec consumers are sure to appreciate
You can share in their passion by joining in vineyard tours and tastings, or even take part in the grape harvest. Their winemaking skills are showcased in various restaurants and shops from Beauce to Montréal.
Feel free to support them on social media:
La Fée Gourmande
Looking out over the St. Lawrence River in Kamouraska, La Fée Gourmande is well worth a stop for its ice cream bar and chocolate shop, where Samuel and Andréanne invite you to explore chocolate in its many forms:
Cooking chocolate
Gourmet chocolate
Chocolate desserts
Chocolate spreads
You can even book a tour to feast your eyes and get a taste of their creations!
Want to stay a while in Kamouraska to enjoy the picturesque village and surrounding area? The owners also have two fully equipped apartments available for rental accommodation.
Follow them on social media:
Les Boissons du Roy
In 1987, Françoise and Normand bought a farm in Sainte-Anne-de-la-Pérade. Today they grow strawberries and raspberries, not to mention blueberries, blackcurrants, asparagus and rhubarb, making for a great selection of products.
Les Boissons du Roy produces pies, jams, jellies and muffins, as well as alcoholic beverages that go great with chocolate or cheese.
You can pick your own berries onsite, buy produce and goodies at the kiosk, enjoy a bite at the snack bar, or take advantage of the online store to satisfy your taste buds at home.
Check out the Facebook page to learn more: Les Boissons du Roy
Microbrasserie Côte-Du-Sud
This local microbrewery in Montmagny is run by Sylvie, whose passion for all things beer has been going strong for over 10 years. Her beers and her pub menu feature locally sourced ingredients, a testament to her commitment to the buy local ethos.
If you're visiting La Microbrasserie Côte-du-Sud for the first time, you're sure to be offered a tasting paddle. All you have to do is enjoy!
As an active contributor to the community, the microbrewery is also celebrating Montmagny's 375th anniversary with a beer specially crafted for the occasion!
Get to know the team on social media:
Ferme La Rabouillère
Ferme La Rabouillère in the Montérégie region is a haven of peace and tranquility where visitors are welcome.
Whether you want to hold a reception on the farm, entertain guests at home with La Rabouillère products, stop by for a visit, stay a day or two, or buy locally made products, owners Pierre, Jérémie and Marie-Claude will go out of their way to meet your expectations.
Visit their Facebook page for more information: Ferme La Rabouillère
La Maison Lavande
When Nancie and Daniel created La Maison Lavande in 2009 as a place where families could get together, it was a dream come true. Today, their beauty products, fine foods and lavender farm offer visitors a taste of heaven!
Visit their website for breathtaking photos of La Maison Lavande in Saint-Eustache just outside Montréal—a little piece of paradise well worth seeing at least once in a lifetime!
Fall in love with the location on social media:
Miellerie de la Grande Ourse
Not far from Amos, discover David, Sandra, Geneviève and Daniel's passion project: Miellerie de la Grande Ourse. The proud owners built this honey house with their own hands and now welcome guests for beekeeping safaris where they share their passion for beekeeping and honey making with their visitors.
Keep the fun rolling and visit their shop where you'll find a selection of honeys, spreads and candles guaranteed to appeal to your senses.
Get to know them on social media:
La Belle Excuse
Greek-born Aristo founded La Belle Excuse in the suburbs of Montréal, the city he now calls home. There he bottles and processes imported olive oil from his own olive grove in southern Greece. Oil, cosmetics, specialty products… Aristo's is so passionate about olives that he could talk about them for hours!
Check out La Belle Excuse's recipes on the website. They'll have you itching to cook up a delicious feast to enjoy with your loved ones.
Explore La Belle Excuse on social media:
Do you have a local business of your own? Remember to insure your property and commercial vehicles properly to ensure you're covered in the event of damage. For coverage tailored to your needs, check out our business insurance options and don't hesitate to contact one of our advisors.