Satisfy your sweet tooth in Quebec this spring!
Last updated on March 25th, 2022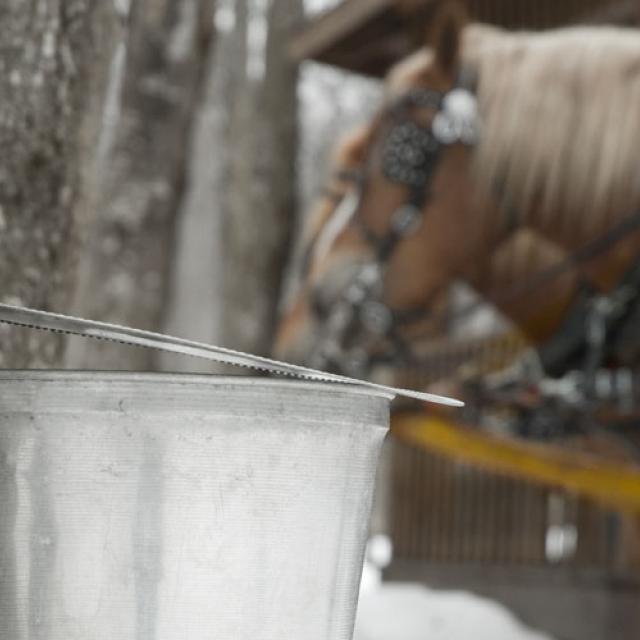 Finally! Spring has arrived, and with it our favourite tradition: sugaring season. With sugar bushes all over Quebec, we've decided to share our favourite ones for this popular family activity. A word to sweet tooths: reading this could very well make you hungry! Happy exploring!
BAS-SAINT-LAURENT
DOMAINE ACER
Auclair
Love wine as much as maple syrup? For a truly epicurean experience, visit Domaine Acer. The maple and winemaking expertise of the owners of this estate—where maple sap is transformed into wines, syrups and fine products—is sure to appeal. You'll also love the country atmosphere. Visit the Economuseum, sample the alcoholic spirits and delicacies made from maple on-site, and indulge in sweet treats at the lovely shop.
What we love: Its original approach to maple, which aims to enhance it through noble products revealing all its finesse and complexity
SAGUENAY/LAC-SAINT-JEAN
ÉRABLIÈRE AU SUCRE D'OR
Laterrière
Érablière Au Sucre d'Or, in operation since 1965, is a family-owned business dedicated to perpetuating Quebec traditions and offering premium-quality maple products year after year. And that's exactly what it does with its maple-themed brunches and dinners, plus all-you-can-eat taffy sampling, inflatable games, and lively music performed by a folk singer.
What we love: the year-round guided tours to learn more about maple manufacturing and the history of the sugar bush
CAPITALE-NATIONALE
CABANE À SUCRE CHABOT
Neuville
One of the most popular sugar shacks in the area is Cabane à sucre Chabot, a spring tradition. Accessible by car or snowmobile and even on horseback, it offers a true taste of local folklore, including traditional meals, taffy on snow, outdoor activities, a warm atmosphere, and everything that makes families happy!
What we love: The outdoor activities and facilities for toddlers
CABANE À SUCRE LECLERC
Neuville
With its festive atmosphere and rustic setting, Cabane à sucre Leclerc offers a sweet welcome with its traditional meals, varied menus, maple taffy, horse-drawn sleigh rides, interpretive tours, dancing, games and entertainment for the whole family. Just like the sugar shacks of yesteryear!
What we love: Their famous meat pie and old-time pea soup that make our mouth water just thinking about them
MAURICIE
DOMAINE DU SUCRIER
Saint-Boniface
If you're looking for a sugar shack that is truly for the whole family, look no further than Domaine du Sucrier! With a seating capacity of 85, the establishment is run by a father-mother-daughter team. Needless to say, you'll be made to feel right at home. This is traditional food at its finest. The sugar bush is in a 25-acre forest, where you can walk off your meal (snow shoes optional) and see how the maple sap is collected. It's also a great opportunity to learn more about how the golden liquid is made by visiting the small observation centre adjacent to the sugarhouse.
What we love: The desserts, pancakes (fried!), maple syrup dumplings (far too rare nowadays), and toast cooked on the wood stove
ESTRIE
ÉRABLIÈRE JEAN-MARC GAREAU
Township of Hatley
In the heart of the Township of Hatley, Érablière Jean-Marc Gareau welcomes you to its large sugar shack, with the rustic style and family-friendly atmosphere we love so much. Traditional meals, syrup and maple taffy… Come relive that great classic outing from your childhood—the sugar shacks!
What we love: The warmth and simplicity that bring us all together
ÉRABLIÈRE BERNARD
Granby
Want to combine gourmet pleasures with outdoor activities? Head to Granby and visit Érablière Bernard! In addition to a menu featuring some 100 dishes made with its delicious maple syrup—to enjoy on-site or take home—the establishment offers a host of fun packages to entertain the whole family. A walking trail, an evolving mini village, the making of taffy cones—there's so much to do (and taste!) at this sugar bush!
What we love: The Sentier du Trotteux & Bucket Lunch, a 1.5-km trail where you can enjoy a picnic meal, prepared by the restaurant, in the heart of the forest
MONTRÉAL — LAVAL
PERLES ET PADDOCK
Griffintown, in Montreal
Who said you have to leave downtown to indulge your sweet tooth this spring? That is certainly not the case with Perles et Paddock, back with the restaurant's famously decadent sugar shack brunch. The menu offers traditional Quebec dishes updated with modern influences, all served in an urban decor in the heart of downtown Montreal.
What we love: A vegetarian menu option that allows everyone to appreciate the richness of maple, regardless of diet
OUTAOUAIS
SUCRERIE DU TERROIR
Val-des-Monts
If a rustic-style sugar shack is what you prefer, Sucrerie du Terroir is the place for you! With its predominantly wood decor, staff dressed in traditional costumes, and its sleigh rides, you'll feel like you're enjoying a meal back in time. Of course, it's "all you can eat" with all the traditional dishes, including some with a modern twist like the "light" baked beans or the buckwheat pancakes.
What we love: The dinner shows with folk singers on Friday and Saturday nights—and the all-you-can-roast marshmallows!
DOMAINE DE L'ANGE-GARDIEN
L'Ange-Gardien
Located 20 minutes from Gatineau, Domaine de l'Ange-Gardien is, as its name suggests, a sprawling property, with a campsite and various other attractions, including snowtube slides, a traditional sugar shack, and a sugar bush. Visitors are welcome to visit the sugarhouse, where sap is boiled and maple syrup is produced the old‑fashioned way. As for the meals, they're as traditional as they are copious. If you're looking for a more sophisticated experience, try the premium menu!
What we love: The sugar shack/tube slide package (weather permitting) and walking the sugar bush trails to watch the sap drip into the buckets
ABITIBI-TÉMISCAMINGUE
ÉRABLIÈRE TEM-SUCRE
Duhamel-Ouest
Érablière Tem-Sucre makes products from the maple sap of its sugar bush, as well as from the sap of many other sugar bushes in Témiscamingue. Syrups, sauces, spices, butters, chocolate sweets—its list of maple-flavoured delicacies is long and tantalizing! Even if you can't indulge your sweet tooth on-site, you can enjoy the establishment's creations at home by purchasing its scrumptious products online!
What we love: The wide variety of maple products that guarantees something for all tastes, both sweet and savoury
CÔTE-NORD
CENTRE DE VACANCES FERME 5 ÉTOILES
Sacré-Cœur
For a sweet-tasting vacation or just a memorable day with the family, the Centre de Vacances Ferme 5 Étoiles is the place to be. Enjoy a traditional lunch or dinner, some delicious maple taffy on snow, folk song entertainment on weekends, a free tour of the animal shelter's many occupants, and a host of special activities for the kids! Want to make the fun last? Extend your stay at one of the establishment's accommodations.
What we love: The sugaring season package, which includes on-site accommodations for one or two nights, a traditional meal at the shack, and several activities with the shelter's animals
NORD-DU-QUÉBEC
CENTRE DE VILLÉGIATURE MARINA CHIBOUGAMAU
Chibougamau
Every weekend in April, Centre de villégiature de la Marina Chibougamau comes alive with the joys of the sugaring tradition. On the menu is a traditional home-made, all-you-can-eat sugar shack meal, maple taffy on snow, and multiple activities for kids, including a giant inflatable structure.
What we love: The view of Lake Chibougamau that makes the hearty meal even more enjoyable
GASPÉSIE — ÎLES-DE-LA-MADELEINE
MA CABANE EN GASPÉSIE
Mont-Joli
Ma Cabane en Gaspésie is, more than anything, about the love of maple syrup! Nestled in the shadow of the Chic-Choc Mountains in Matapédia Valley, this sugar bush features a dream location that gives its 100% Gaspesian maple syrup a unique flavour. The distinctive maple sap harvested in this land of sea and mountains is used to make hundreds of fine products sold at its four shops and 200 retail outlets throughout Quebec. You could even say that Ma Cabane en Gaspésie is a source of pride for all Gaspesians!
What we love: Its maple cream puffs, for which it is renowned across the province
ÉRABLIÈRE ESCUMINAC
Escuminac
Located in the Chaleur Bay region, Érablière Escuminac is not open to the public but offers a wide range of maple and birch products for sale online and in various fine grocery stores throughout the Gaspé Peninsula. The owners of the sugar bush are dedicated to producing organic syrup of uncompromisingly high quality thanks to their more than 35 years of expertise.
What we love: Its line of maple syrups bottled in the manner of great wines, something new and exciting in the industry
CHAUDIÈRE-APPALACHES
ÉRABLIÈRE MICHEL LAPOINTE
Beauceville
Every spring for 17 years now, family-run Érablière Michel Lapointe has been inviting maple syrup lovers to come enjoy a hearty meal in its warm and friendly sugar shack. The new building with its old wood and grand design is the perfect place to indulge your sweet tooth, as a couple, with family or among friends.
What we love: The all-you-can-eat-buffet formula and the equally unlimited taffy on snow
ÉRABLIÈRE MARCEL VIEN
Sainte-Claire
Located just 35 minutes from Quebec City, Érablière Marcel Vien has been the pride of Bellechasse since 1976. This typically family-friendly establishment features a bucolic setting for experiencing all the goodness of maple products and local specialties. Freshly renovated, it's the dream venue for a divinely sweet wedding reception, a memorable private party, or simply a hearty family meal.
What we love: The culinary workshops by Madame Vien that will have you cooking and baking with maple like a pro
ÉRABLIÈRE LANDRY
Cap-Saint-Ignace
A visit to Érablière Landry is about more than just music, dancing, or taffy on snow! Your sugar shack experience is all the sweeter because of everything you'll learn about maple syrup production from the Landry family. They're passionate about maple products and eager to share their love of maple with you. For the 2022 season, the sugar bush is temporarily closed, but you can still buy its delicious products online!
What we love: The contagious passion of this family devoted to their interpretation centre on maple products and their history
LANAUDIÈRE
CABANE À SUCRE ALCIDE PARENT
Saint-Ambroise-de-Kildare
At Cabane à sucre Alcide Parent, everything has been designed to delight and amuse big and small eaters alike. After the traditional meal (served all-you-can-eat style) and the taffy on the snow, you can enjoy many family activities, such as visiting the petting farm, hiking in the sugar bush, collecting maple sap, viewing an old-fashioned boiler, tasting the maple "reduction," etc. In short, everything to properly enjoy sugaring season!
What we love: The great activities for kids, such as the petting farm and the outdoor games
CABANE À SUCRE JACQUES GRÉGOIRE
Saint-Esprit
Cabane à sucre Jacques Grégoire has so many stories to tell about Quebec's oldest traditions. And the Grégoire family has been telling them to all their visitors for over 75 years now. Of course, they serve typical sugar bush meals, with offerings that are always delicious—and served all-you-can-eat! All that includes fun activities for the whole family, including a petting farm, a tractor ride, entertainment, hiking, a guided tour of the evaporator, and many other surprises!
What we love: This enchanting sugar shack's storied know-how
LAURENTIDES
BISTRO LA DENT SUCRÉE
Saint-Eustache
Grandpa Roch and his grandson Cédrik are waiting for you at Bistro La Dent Sucrée. An unusual sugar shack that offers quite the gourmet feast: no fewer than 7 courses, to enjoy with family, friends, and colleagues.
What we love: The unique character of the 100-year-old barn (and the know-how that comes with it)
DOMAINE LABONTÉ DE LA POMME
Oka
A sugar shack in an orchard? You heard right! Better still: a "maple apple shack." A local delight, offered by family-run agritourism farm Labonté de la pomme. Enjoy this one-of-a-kind experience in a breathtaking setting overlooking the Oka Valley.
What we love: The unique experience and flavours of a sweet orchard
MONTÉGÉRIE
ÉRABLIÈRE L'AUTRE VERSAN
Sainte-Hélène-de-Bagot
Charming, welcoming, and cheerful as can be, Érablière L'Autre Versan is the perfect place to savour a traditional sugaring-off meal. You'll even find a shop with a wide selection of maple and fruit delicacies, including syrup, jellies, dressings, pastries, and candies. In short, everything to tickle the family's taste buds!
What we love: The welcoming boutique with its wide selection of maple and fruit products
ÉRABLIÈRE SAINT-HENRI
Sainte-Marthe
Built in the 1940s, Érablière Saint-Henri originally contained only 40 taps and now has 19,000. What makes its syrup unique is the maple sap's evaporation by reverse osmosis, a purification process that allows only water molecules to pass through. Of course, it's possible to savour the refined taste of the sweet elixir in a multitude of traditional dishes prepared on-site, no matter the occasion!
What we love: The folk music that accompanies the delicious meal, Saturday and Sunday nights during sugaring season
CENTRE-DU-QUÉBEC
ÉRABLIÈRE PRINCE
Saint-Wenceslas
A 30-minute drive from Trois-Rivières on the south shore of the St. Lawrence, Érablière Prince has been welcoming maple lovers for 40 years. Enjoy a hearty traditional meal served with a smile and spend a memorable day with the family. Hike along the trails, visit the petting farm and the red deer farm, explore the small settlers' museum, or take a sleigh ride. There are enough activities to keep you busy all afternoon and burn off all that sugar!
What we love: Observing the red deer, the rabbits, the trails in the woods, and the atmosphere
So, does one of these sugar bushes whet your appetite? If so, be advised that sugar shack reservations are filling up fast! Don't put off booking your spot—the owners will be delighted to welcome you. Here's wishing you and your loved ones a great sugaring season!