Québec Public Markets: Our Top 12
Last updated on June 11th, 2019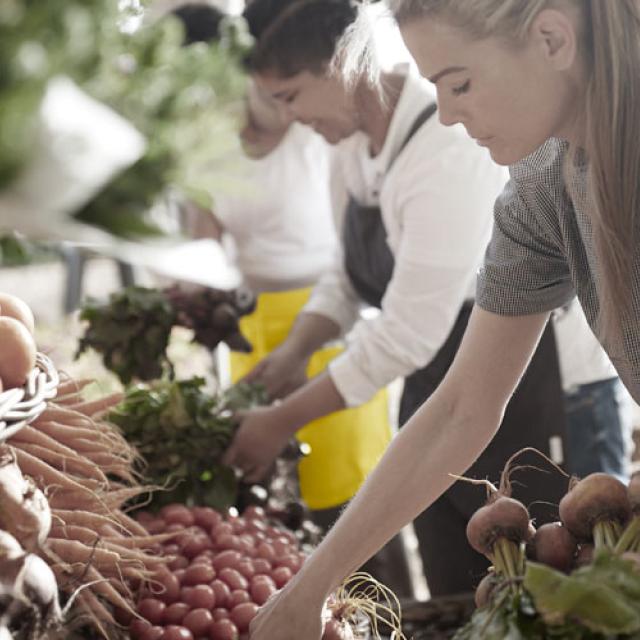 Just like that, summer's finally here. Time to get outside, discover new things, and eat good food. Or check off all three at once with a trip to the market. All throughout the province, there are public markets where you'll find top-quality fresh food in a fun and friendly atmosphere.
Ready to be inspired? We've made it easy for you with this list of our 12 favourites. Let's go!
1. JOLIETTE PUBLIC MARKET
Place Bourget
Saturdays from June 1 to October 12, 2019, 9:30 a.m. to 2: 30 p.m.
The popular Joliette Public Market is back in 2019 for its fifth season. Some twenty local producers will be there with an exciting array of products: meat, fruit, vegetables, spices, honey, wine, bread, prepared foods, and much more!
What we love: the healthy, ready-to-eat fare. There's even something for dogs and cats!
2. MATINÉES GOURMANDES
Greater Saint-Hyacinthe
Saturdays, June 8 to September 7, 2019 (except between July 14 and August 9), from 9 a.m. to 3 p.m.
Matinées gourmandes are back and better than ever, featuring ten communities in the Les Maskoutains RMC. The season starts in Saint-Hugues and ends in Saint-Hyacinthe, with markets in Saint-Liboire and other fine villages. Everywhere you go, you'll find an impressive variety of delicious, delightful products to try.
What we love: As a travelling market, Les Matinées Gourmandes gives more artisans and producers a chance to go out and meet their customers.
3. VIEUX SAINT-EUSTACHE MARKET
Rue Saint-Eustache, between Rue Saint-Nicolas and Rue Lemay
Saturdays, June 29 to September 28, 2019, from 9 a.m. to 1:30 p.m.
Good food and smiles await every Saturday at this market with more than 40 stalls, set in the heart of Saint Eustache's historic neighbourhood. Shop for fresh or ready-cooked products, eat at the market, hear live music from local acts, watch cooking demonstrations, discover regional products, pick up some flowers, and more besides!
What we love: This market's hustle and bustle makes it feel more like a street festival.
4. AMOS PUBLIC MARKET
Parc de la Cathédrale d'Amos
Thursdays, June 27 to September 26, 2019, from 11 a.m. to 4:30 p.m.
Stock up on fresh local products at the Amos Public Market! Here you'll find fruits and vegetables that were picked that very morning. It doesn't get any fresher than that! There are all sorts of local specialties in the spotlight, and they're all delicious. Children's activities make this market a favourite with families.
What we love: The healthy living initiative. Shoppers can use special healthcare dollars for their purchases at the market.
5. LOCAVORE MARKET
Route 222 in Racine
Saturdays, June 1 to October 19, 2019, from 9 a.m. to 1 p.m.
The Locavore Market in Racine is a sure fire favourite! Here you'll find a vast array of local products from passionate vendors who belong to the Locavore agri-food cooperative. Ask them about what they do—they'll be more than happy to tell you about it.
What we love: the Maison du marché next door. Stop in year round for a coffee or to sample some of the artisan cheeses.
6. GODEFROY MARKET
Avenue Descoteaux, Bécancour
Saturdays and Sundays, May 18 to October 27, 2019, from 9 a.m. to 5 p.m.
For 25 years, the Godefroy Market has been THE place to go for a huge assortment of products and irresistible delicacies you can buy direct from local vendors. It's a foodie's paradise!
What we love: the wide variety of entertainment, for a total of 50 days of market fun!
7. BAIE-SAINT-PAUL PUBLIC MARKET
Rue de la Ferme
Sundays, June 23 to October 13, 2019, from 10 a.m. to 2 p.m.
Pick up fresh, local produce as you stroll through the Baie-Saint-Paul Public Market, located on the square in front of Le Germain Charlevoix Hotel. Be sure to check out the artwork and catch a musical performance.
What we love: the easy-going, authentic vibe.
8. LES BOIS-FRANCS PUBLIC MARKET
Boulevard Jutras Ouest, Victoriaville
Les Bois-Francs Public Market is the perfect place to buy fresh fruit and vegetables as they come into season: rhubarb in May, blueberries in July, asparagus from May to June, and more. There's also a huge array of other products typical of a market of this size, along with yummy, fresh-cooked food.
What we love: the convenience! It's open seven days a week, 8 months of the year.
9. SAINT-RAYMOND PUBLIC MARKET
Place de l'Église
Fridays, July 19 to September 27, 2019, from 4:30 to 7:30 p.m.
Hop on over to Saint-Raymond Public Market for the best products in Portneuf! A warm welcome awaits at the fifteen or so stalls, where friendly vendors are eager to show you what they do.
What we love: ending the week with a stop at the market.
10. VIEUX-AYLMER PUBLIC MARKET
Rue Principale, Gatineau
Sundays, June 2 to September 28, 2019, from 10 a.m. to 3 p.m.
The Vieux-Aylmer Public Market's mission is to promote regional agriculture. And it's doing a fine job! Here you'll find more than 35 stalls selling food and handicrafts. Come for the huge selection and impressive creativity.
What we love: the family vibe, making it perfect for picnics.
11. SOLIDARITY MARKETS
Montréal, Sauvé, Frontenac, and Cadillac metro stations
Hours vary. Check before you go.
Montréal's solidarity markets are designed to improve access to healthy food and bring local producers and consumers closer together. Fresh, nutritious food is sold at affordable prices at three different metro stations in a spirit of mutual support and community building.
What we love: the spirit of solidarity, which chimes with our mutualist values.
12. GRAND MARCHÉ DE QUÉBEC
Commerce building, ExpoCité
All day, seven days a week
On June 14, 15, and 16, don't miss the highly anticipated opening festivities of Grand marché de Québec, which may just become the top foodie destination in the greater Québec City area. There will be no fewer than a hundred local growers and producers, food courts, a host of activities, and much more! We can't wait!
What we love: the architecture, inspired by the markets of the world's greatest cities.
Did we whet your appetite for a visit to your public market? It's a great way to support local producers, since the people selling at the market are often the same people who grew and produced the food. So get out there and join the local economy! Do your bit and share the list so your friends and family can, too.