Our favourite fishing outfitters in the Québec City area and Mauricie
Last updated on April 14th, 2021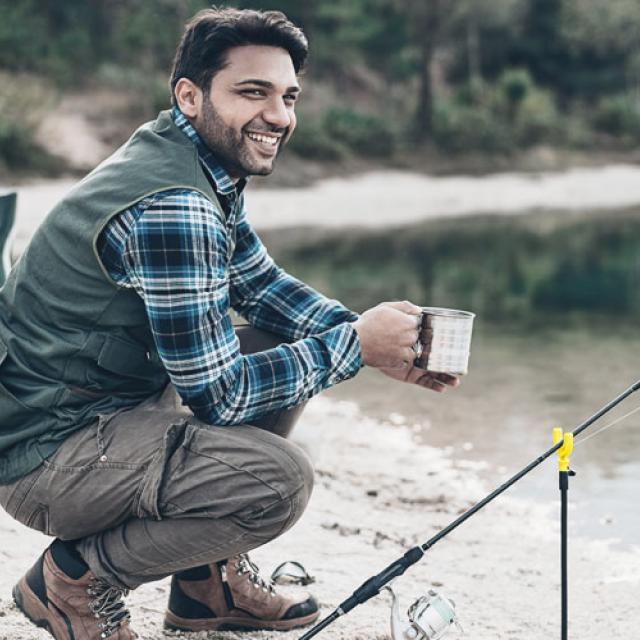 Hunting and fishing run deep in this neck of the woods. In the Québec City area, you can find excellent trout fishing just minutes from town. As for Mauricie, its 4,500 lakes and 25 rivers make it a go-to destination for anglers of all skill levels looking for variety and an experience to remember.
Planning a fishing trip in the Québec City area or Mauricie this spring or summer? Here's a list of our favourite outfitters and some tips for an unforgettable fishing trip.
Our favourite fishing outfitters in the Québec City area and Mauricie
Between the two regions there are more than 70 outfitters to choose from. Specialties include trout fishing near town and combo packages for fishing and black bear hunting. Whether you want to take the whole family or head out with friends, you'll find the perfect package at one of our favourite outfitters below.
Well-stocked lakes and the best of the great outdoors
Species: Smallmouth bass, brook trout, yellow perch, lake trout
Three lakes in this park are stocked with brook trout: Lac Noir, Lac Caribou, and Lac à la Truite. You can also fish for Arctic char, yellow perch, and lake trout in Lac en Cœur and Lac Long, which are not stocked. This outfitter doesn't sell day passes, instead offering packages with accommodations for three days and two nights. You can rent a cottage or stay at a campsite, as you prefer. This park is also a paradise of watersports, whitewater rafting, rock climbing, hiking, and more.
Fishing 15 minutes from town and fun for the whole family
Species: Brook trout, rainbow trout
This place is a favourite destination for urban anglers, since it's just 15 minutes from downtown Québec City. Choose a day pass, a guided outing, or an accommodation package. It's the perfect spot to introduce little ones to the sport, since there are experienced guides on hand with safety tips and pointers on technique. Extend your visit with a picnic or stop to say hi to the horses and huskies. You can also rent a cottage to stay onsite and soak up the outdoors to the max!
ATV trails and brook trout fishing on the lake
Species: Brook trout, native brook trout, golden rainbow trout
This Mauricie outfitter in Saint-Roch-de-Mékinac is not only easy to get to, but also offers access to ten lakes, one exclusively. Eight cottages are available to rent for an extended stay. Day rates with discounts for kids 17 and under make this an affordable destination for families. And quad fans have it made with kilometres of trails to explore between fishing excursions.
Fishing + black bear hunting combos and family vacations
Species: Brook trout, lake trout, rainbow trout, splake
Located between the village of Saint-Roch-de-Mékinac and the Matawin River, this outfitter in Mauricie has exclusive rights to 35.9 square kilometres of woods and waterways. They offer multiple fishing packages, including a five-day family package and a fishing + black bear hunting combo. Four- to five-star accommodations include a lodge, cabins, and campsites. There are tons of activities on offer, including free ones like the petting zoo, canoeing and kayaking, Montagnard Falls, an introduction to fishing for kids, and hiking.
Modern cabins and flyfishing
Species: Brook trout, native brook trout, rainbow trout
"Genessee" takes its name from the Iroquois word for "beautiful valley." True to its name, this outfitter offers charming stays and ten square kilometres of nature to explore on Côte-de-Beaupré, just 30 minutes from downtown Québec City. Accommodation options include cabins with a fishing licence for the lake and a boat equipped with lifejackets. Flyfishers looking for a more challenging outing will be thrilled with the fishing on the Montmorency River. Exclusive access to stocked Arc-en-ciel Lake is available at an additional fee to make your fishing experience even more memorable. Wildlife watchers will also love seeing moose, white-tailed deer, and black bears in their natural habitat.
Our top tips for an unforgettable fishing trip
Decided on an outfitter in the Québec City area or Mauricie for your next fishing excursion? Now you just have to pack up the essentials and make your final preparations. Here are a few tips for a successful fishing trip:
Choose your accommodations carefully. There's a reason they call it sport fishing. When you turn in for the night, you'll want to be comfortable so you can fully recharge your batteries. Pick lodgings that are appropriate for all members of your party, young and old.
Get the lowdown on the rules: Outfitters are subject to regulations and quotas based on where they're located. Follow them to avoid headaches and ensure the fish populations remain sustainable.
Bring all the necessary equipment. It can mean the difference between a successful fishing trip and coming back empty handed. Many websites have helpful packing lists for a worry-free trip.
Plan your meals: Cook up your catch for a hearty and delicious dinner after a long day on the water.
Don't forget your ATV insurance! The start of fishing season is the perfect time to get out your quad. Before you hit the trails, make sure your ATV insurance is still valid and provides enough coverage.
Happy fishing!