Our favourite fishing outfitters in Outaouais
Last updated on April 15th, 2021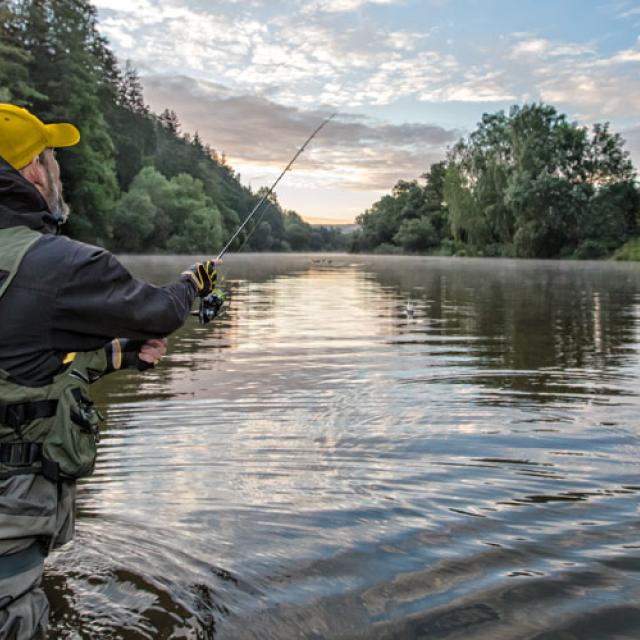 With 15,000 lakes, some 12 rivers, and the Cabonga and Baskatong reservoirs, Outaouais is a dream destination for avid anglers. Magnificent mountain valleys, rugged beauty, and endless wilderness provide the perfect backdrop for a fishing trip you won't soon forget.
Planning a fishing trip to spectacular Outaouais this spring or summer? Here's a list of our favourite outfitters and some tips for an unforgettable fishing trip.
Our favourite fishing outfitters in Outaouais
Outfitters in Outaouais are serious about preserving nature and providing top-notch hospitality to fishers, hunters, and outdoor enthusiasts. A full 80% of the region is made up of forests and bodies of water, so you're in for an unforgettable wilderness adventure. Whether you're planning to fish with family or friends, these outfitters have packages that will fit your needs.
Kenauk Nature – Notre-Dame-de-Bonsecours
Private lake and massive site
Species: Largemouth bass, smallmouth bass, pike, brook trout, yellow perch, lake trout, rainbow trout
Looking for a 5-star cottage on a private lake? Look no further than Kenauk Nature, near Montebello. This 265 square kilometre site is dotted with 65 lakes—each one teeming with a range of species—making it the perfect setting for an unforgettable fishing trip. All sorts of cottage packages are available, including a "fall romance" offer for couples, and catering is available upon request. Onsite activities include swimming, water sports, and an introductory forest survival class. Plus you can rent a mountain bike to explore the large network of trails.
ATV way station and family fun
Species: Smallmouth bass, walleye, brook trout, landlocked salmon, yellow perch, lake trout, golden rainbow trout
Pourvoirie Club des Douze is a family affair. Two generations of owners share their infectious love of fishing and their gorgeous, 14 square kilometre slice of heaven, which includes numerous lakes. Daily fishing passes are available, and accommodations and meal packages come with single rooms, studios, or cottages. Families love the reduced rates for children. It's also a destination of choice for ATVers. Trails run right through the site, so you can ride in and out of your accommodations.
Adventure package and 17 exclusive lakes
Species: Pike, walleye, brook trout, lake trout, whitefish, native brook trout, yellow perch
With over 140 square kilometres of natural terrain, Bryson Lake Lodge is truly a nature lover's paradise. Open from May to the end of October, it has 17 lakes teeming with a range of species. It has cottages, campsites, and suites to suit all hunters, anglers, and outdoor enthusiasts. Day passes are available, along with a wide range of fishing packages for families and longer adventures. Bryson Lake Lodge is also a prime destination for ATVers, who can park their vehicles steps away from excellent fishing and accommodations.
Tips for an unforgettable fishing trip
Decided on one of Outaouais's best outfitters for your next fishing excursion? Now you just have to pack up the essentials and make your final preparations. Here are some tips for a successful fishing trip:
Choose your accommodations carefully. There's a reason they call it sport fishing! When you turn in for the night, you'll want to be comfortable so you can fully recharge your batteries. Pick lodgings that are appropriate for all members of your party, young and old.
Get the lowdown on the rules: Outfitters are subject to regulations and quotas based on where they're located. Follow them to avoid headaches and ensure the sustainability of fish populations.
Bring all necessary equipment. It can mean the difference between a successful fishing trip and coming back empty handed. Many websites have helpful packing lists for a worry-free trip.
Plan your meals: Cook up your catch for a hearty and delicious dinner after a long day on the water.
Don't forget your ATV insurance! The start of the fishing season is the perfect time to take out your quad. Before you hit the trails, make sure your ATV insurance is still valid and provides enough coverage.
Happy fishing!