The most scenic drives in Québec
Last updated on May 17th, 2021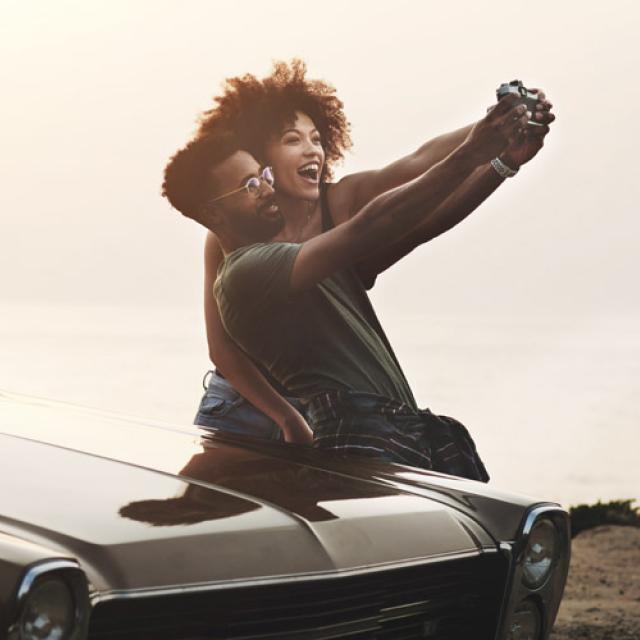 The backroads of Québec are full of scenic wonders that will make for the perfect country drive this summer. Delight in plentiful discoveries and lovely landscapes with your family, as a couple, or simply enjoy them on your own.
And don't forget: before you hit the road, make sure you're covered and have up-to-date car insurance that meets all your needs. Be an insured and informed driver!
1. The New France Route (Québec City)
Travellers have trekked the New France Route connecting Côte-de-Beaupré and Old Québec City since the 17th century! Many heritage sites await, including Montmorency Falls Park and the shrine of Sainte-Anne-de-Beaupré. Beginning in Québec City's Beauport district, the route winds its scenic way through the towns of L'Ange-Gardien, Château Richer, and Beaupré and concludes where Cap Tourmente rises from the St. Lawrence shoreline. Farms and vineyards along the way make it an ideal road trip for foodies.
2. The Whale Route (North Shore)
The road from Tadoussac to Natashquan spans more than 800 km along the St. Lawrence River. You may spy more than a dozen different types of whales and marine mammals along this "Whale Route" as it's called. There's no better road trip for those who love nature and the great outdoors. Be sure to stop by the Marine Mammals Interpretation Centre and the Mingan Archipelago National Park Reserve.
3. Scenic Mountain Drive (Charlevoix)
A great day trip awaits on Charlevoix's scenic 121 km drive through the mountains featuring two magnificent Québec national parks (Hautes-Gorges and Grands-Jardins) . If you can take the time, stop for a hike at Mont du Lac des Cygnes, Traversée de Charlevoix, or Mont des Morios. One more thing: with Charlevoix's reputation for great food and local produce, the area also serves up foodie delights all along the renowned Flavour Trail.
4. Chemins d'eau River Drive (Outaouais)
The Chemins d'eau River Drive runs for 278 km on Highway 105 and Highway 148 along the Ottawa and Gatineau Rivers. Don't miss Parc Oméga, where you can go on a driving safari to see bears, elk, wild boar, and even wolves. Also don't forget to visit Parc national de Plaisance National Park with its scenic waterfall and many heritage sites and museums. It's a great place for a picnic!
5. Summit Drive (Eastern Townships)
Majestic! There's no other word to describe the breathtaking panoramas of Summit Drive. Start your journey by taking Route 257 and Highway 112 to Mont Ham, which overlooks the entire area. You'll wind your way through quaint villages and over hills and valleys before arriving at Mont-Mégantic International Dark Sky Reserve to enjoy the province's most sublime night skies.
6. King's Road (Lanaudière)
Believed to be the oldest road in the province, King's Road starts in Lanaudière, runs through Mauricie and finishes in Québec City, mostly via Route 138. This used to be the road that linked Québec and Montréal in days gone by. You'll encounter many historical sites along the way (Maison Rosalie-Caron, Moulin seigneurial de Tonnancour, Manoir Boucher de Niverville) as well as numerous vineyards. Your drive will also take you through Trois-Rivières' historic old town!
7. The Beauce Route
Route 173 follows the Chaudière River through the heart of the Beauce deep into maple syrup country. Make time for culinary stopovers, including a visit to the famous Vachon cake factory! You'll also love the spectacular river views at Parc des Rapides-du-Diable as well as the Perrault covered bridge, the longest one in the province.
8. Fjord Route (Saguenay)
Routes 172, 175, and 372 form a giant "U" around the Saguenay Fjord, one of the world's few inland fjords. Regardless of where you start, be sure to stop by the village of L'Anse Saint-Jean, one of the region's most picturesque, as well as Fjord-du-Saguenay National Park, Parc Aventures Cap Jaseux, and the village of Sainte-Rose-du-Nord. And, of course, treat yourself to a whale-watching cruise!
9. Navigators' Route (to the Lower St. Lawrence)
Pick up the Navigators' Route from either Trois-Rivières or Québec City and follow it along the shoreline to the enchanting Lower Saint Lawrence. Can't-miss sights and magnificent panoramas fill the length of your trip along Route 132. Take several days to experience it all: Grosse-Île Historic Site, Isle-aux-Grues, Seigneurie des Aulnaies, the picturesque village of Kamouraska and, of course, Bic National Park.
10. Route 199 (on Îles-de-la-Madeleine)
Route 199 offers 90 km of breathtaking views from Cap-aux-Meules to Grande-Entrée, connecting all the Îles-de-la-Madeleine. Along the way, visit the red cliffs of North Dune Beach, take a side road to Île Boudreau, and stop for a swim at the beaches of Grande-Échouerie or Pointe-aux-Loups. Scenic wonders are everywhere you look.
Whether you escape for a day or embark on an epic summer road trip, make sure you map it out. Plan an itinerary, set a budget, check what your insurance covers, and take all necessary precautions. Finally, never overestimate your ability to drive for long periods of time: drowsy driving and any resulting accidents can really ruin a vacation. On that note, happy trails, and have fun exploring Québec!