Halloween 2020: 10 ways to celebrate differently
Last updated on October 23rd, 2020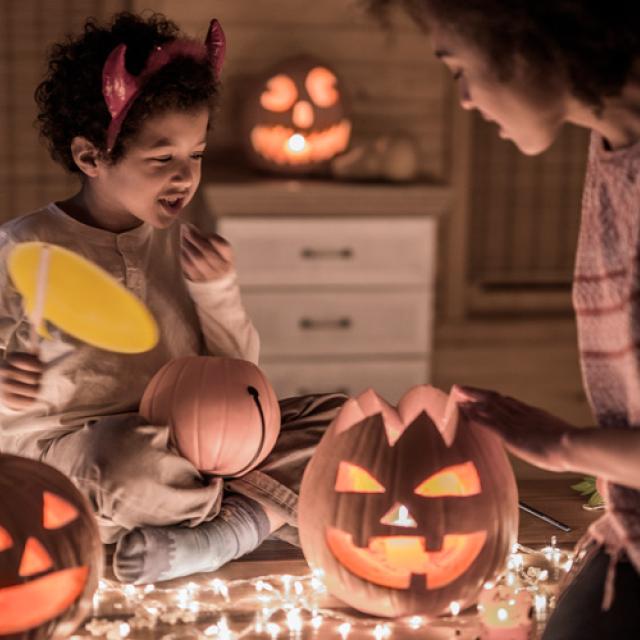 Even though we live with the effects of the global pandemic every day, it hits even harder on holidays. COVID-19 has forced us to change how we celebrate, but that doesn't mean it has to spoil the little joys and festivities we all need during these trying times.
As the leaves change colour and the days grow cooler, it's easy to be swept up in the fun and excitement of Halloween. Because of the health measures this year, we have to reinvent the holiday that's so special for kids and costume lovers of all ages.
To help do just that, we've gathered 10 cool and creative ideas for a truly memorable and safe Halloween any time—even during the pandemic!
10 ideas for reinventing Halloween
Carving pumpkins is great, but there are so many more ways to create an enchanting (and eerie!) atmosphere at home. Pandemic or not, our 10 creative ways to celebrate Halloween are sure to deliver thrills and chills for friends and family.
1. Take decorating to the next level
The new lockdown is an opportunity to up your game when it comes to decorating for Halloween. This year, decorate the inside of your home too. Create a spooky decor perfect for those upcoming Halloween activities with spider webs, strings of lights, pumpkins, and more. Let your and your children's imagination run wild as you transform your home into a haunted house!
2. Stage a candy hunt
Kids love scavenger hunts, so why not turn trick-or-treating into a search for sweets inside and outside your home? Their eyes will light up whenever they find a piece of hidden treasure!
3. Cook up a frightening feast
Enjoy Halloween with all the senses and titillate the taste buds with a splendidly scary supper. With tons of monstrous recipes online, why not entertain the little ones with a spooky supper, served with an equally creepy zombie punch!
4. Make your own costumes
Take advantage of the time at home to set up a costume shop with your kids. Recycle old clothing, gather up fabric paint, glue, and paper and have them help you design easy-to-make costumes . Even better, decorate protective masks for Halloween and make people smile whenever you go out!
5. Hold a Halloween movie night
To entertain the whole family, there's nothing like a scary (but not too scary) movie night! Just light the candles in your pumpkins, turn off the lights, serve popcorn in candy bags, and curl up in front of a spooky movie. Enjoy the show!
6. Have a costume parade
If your little ones love to dress up but can't go door-to-door collecting candy, organize a small-scale costume parade in your neighbourhood. Get neighbours involved if you can to make it a special event. The kids will love it!
7. Celebrate Halloween virtually
The pandemic has forced lots of our socializing and activities to go virtual, and Halloween is no exception. A number of Québec municipalities are encouraging their residents to celebrate virtually this year. One of them is Notre-Dame-du-Mont-Carmel in the Mauricie region, where a committee is putting Halloween activities on Facebook. A costume dance video contest, a drawing contest, and more are planned for the kids. Visit your municipality's website to see what's on tap!
You can also throw a virtual Halloween for your extended family or friends. Host a trivia game or costume contest on Zoom or another video communication platform.
8. Hold a scary drawing contest
Get your kids' creative juices flowing with a scary drawing contest. Reward the winner a bag of candy. Hang the masterpieces in your windows for even more Halloween flair!
9. Set up a ghoulish makeup studio
Who says you have to be a makeup artist to decorate your kids' faces? Have fun as a family with easy Halloween makeup looks . Capture the moment in pictures and challenge your friends and their families!
10. Team up with the neighbours
Following social distancing rules, reach out to people in your neighbourhood to plan a safe party. Join forces to arrange a costume parade, a house decorating contest, or COVID-safe trick-or-treating. Make sure you follow the rules imposed by the government.
Hold COVID-safe trick-or-treating
Traditional trick-or-treating isn't the safest activity during a pandemic, but the government is allowing a new kind of trick-or-treating this year, under certain conditions and in compliance with health measures to prevent the spread of the virus.
For one thing, trick-or-treaters can be accompanied only by members of their household. In addition, people giving out candy must keep a distance of 2 metres from trick-or-treaters. To do that, the government suggests putting small bags of candy in a basket and letting kids help themselves, one at a time.
Be resourceful
Feeling inspired to build a candy zipline or a no-contact dispensing tube? There are lots of fun options!
Keep your distance
Maintain a distance of at least 2 metres between groups of children. Stay more than 2 metres away from the door when trick-or-treaters stop by.
Wear a mask
Have your children wear a protective mask when trick-or-treating. If you are giving out candy, wear a mask as well.
Clean the candy and be patient
Remind kids not to touch the candy they've collected. Before letting them dig in, clean the candy with a disinfectant wipe. Or set the candy aside for 72 hours without touching it.
Hygiene reminders for a safe Halloween
We care about your safety and that of your loved ones. Please review these pointers:
Follow the instructions issued by public health authorities and your municipality.
Use our ideas and the government's guidelines for COVID-safe trick-or-treating.
Remind your children of the importance of frequent handwashing.
Avoid celebrations in confined spaces with people outside your family circle.
With all these ideas and tips, you're sure to have a safe and spooky celebration. Happy Halloween!