Fishing in Quebec: Our favorite outfitters
Last updated on April 23rd, 2021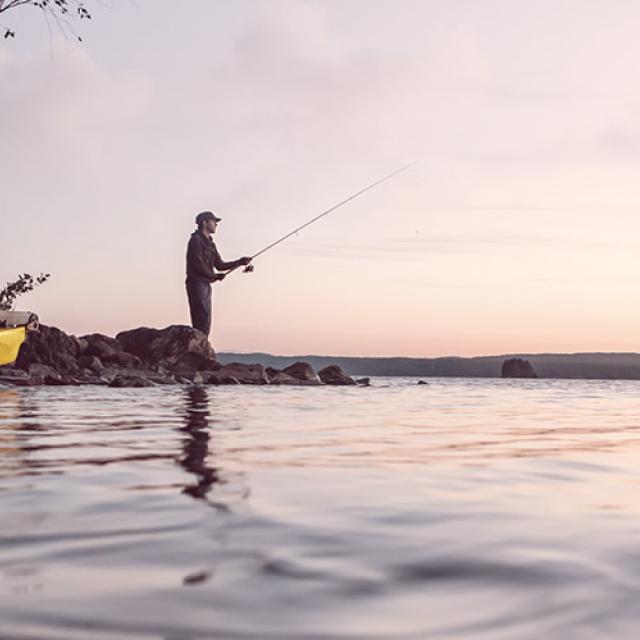 With more than a million lakes, 15,000 streams, and over 200 species of fish, Quebec is one of the best places on earth to fish. Canada's largest province is a paradise of speckled trout (also called brook trout), walleye, northern pike, Atlantic salmon and more—and the perfect destination for fishing enthusiasts of all skill levels.
Affordable and relaxing, fishing is gaining in popularity. Whether you are new to the sport or a fishing fan from way back, check out our ten favorite outfitters below plus our tips for making your fishing trip in Quebec this spring or summer truly memorable. Then cast off in our vast province teeming with fish!
Fishing: 10 of our favorite Quebec outfitters
Quebec Outfitters lists more than 325 outfitters where you can go day fishing or get a vacation package of several days (European or American plans). If you're looking for a great place to take a fishing trip with your family, friends, or just the two of you, you're sure to find the perfect outfitter below. 
Camping in teepees, ATV, and speckled trout

Species of fish: native brook trout
Quebec Nature is 130 kilometers from Saguenay, on Lake Portneuf, bordering Northern Quebec and the James Bay area. In addition to its log cabins and cozy inn, this outfitter offers visitors teepees to camp in for a truly unforgettable experience. American, semi-American (including dinner at the inn), and European fishing plans are available. A host of activities awaits you: quadding, water sports, mountain biking, and wildlife observation. Rumor has it that the biggest speckled trout in Quebec are caught here.
Lac Oscar
–
La Tuque, Mauricie 
Nature friendly with species-based packages

Species of fish: brook trout, native brook trout, lake trout, northern pike, walleye
With more than 40 years of nature-friendly activities, the Lake Oscar outfitter gives fishers access to thirty lakes on 243 square kilometers of exclusive hunting and fishing grounds. What makes this outfitter particularly attractive? Its European-plan fishing packages based on the fish type, for a personalized, optimum experience. You can fish streams, rivers, or lakes, depending on the species and type of fish. A well-being package is also available for those who want to unwind in nature and cultivate calm in a 4-star chalet at water's edge. Day fishing is also possible.
Watch Hooké's video on fly fishing at the Lake Oscar outfitter here.
5-star accommodations and 7 sportfishing species

Species of fish: smallmouth bass, northern pike, walleye, brook trout, native brook trout, lake trout (lake char), whitefish, splake
With 50,000 acres, 40 lakes, 7 sportfishing species and 5-star accommodations, the Beauchêne nature reserve has everything it takes to please. No matter what kind of fishing vacation you're looking for, you'll find it here. The 3-night packages vary depending on the type of accommodation, but they all include access to all 40 lakes, fishing rights, a boat, and meals. Enhance your stay by renting a raft or taking a kayak trip to explore this corner of paradise.
River fishing and stays on a private island

Species of fish: catfish, walleye, yellow sturgeon
Want an extraordinary experience? If so, Domaine de l'Île au canot is the perfect outfitter for you. You can fish on the St. Lawrence River and end your stay on a private island in the Isle-aux-Grues archipelago. The ferry ride alone (from Berthier or Montmagny) will add a touch of magic to your trip. Guided fishing is available here on Quebec's biggest body of water, the St. Lawrence. This outfitter is also known as the ideal place for snow goose hunting and nature interpretation.
Quadding, yurts, and a wide variety of fish

Species of fish: northern pike, native brook trout, brook trout, yellow perch, smallmouth bass, landlocked salmon, whitefish 
The wide variety of fish in the multiple lakes and rivers on this Lanaudière outfitter's 35-square-kilometer grounds really make it a standout. You can explore area lakes on a quad (yours or a rental) and ride on trails 40 and 45. With day fishing packages, a European plan with accommodation in an authentic yurt, a modified American plan (2 meals per day), and a family plan, Pignon Rouge Mokocan has something for everyone. Companies can even hold group nature retreats! The numerous on-site activities—mountain biking, swimming, water sports, hiking, and more—will add to your fishing experience.
Unusual accommodations, natural beauty, and day fishing

Species of fish: smallmouth bass, brown trout, rainbow trout
Au Diable Vert is an outdoor paradise located in an alpine meadow at 1,000 feet. It offers magnificent views, a unique landscape, and daily fishing on the river. It's also the ideal spot to try unusual accommodations such as rustic cabins perched in trees or on a cliff. The myriad activities include water sports, hiking, VéloVolant, swimming, and many more! Dogs are welcome.
Kenauk Nature
– Notre-Dame-de-Bonsecours, Outaouais 
Private lake, vast nature reserve

Species of fish: largemouth bass, smallmouth bass, northern pike, brook trout, yellow perch, lake trout, rainbow trout
What would you say to a 5-star chalet just for you on the shore of a private lake? That's what you'll find at this outfitter not far from Montebello. With 65 lakes teeming with various species of fish, this 265-square-kilometer nature reserve is the perfect place for a remarkable fishing trip. Kanauk Nature offers a selection of European plans with accommodation in a chalet, including a "fall romance" offer for couples, as well as an American plan on request. In addition to fishing you can swim, enjoy water sports, watch white-tailed deer, and rent a mountain bike to explore the trails.
Seeded lakes in an outdoor paradise

Species of fish: smallmouth bass, brook trout, yellow perch, lake trout
Three of the lakes in Portneuf Regional National Park—the Noir, the Caribou, and the Truite—are seeded with brook trout. You can also fish for arctic char, yellow perch, and lake trout in Lac en Cœur and Long Lake, which are not seeded. This Portneuf area outfitter does not offer daily fishing but has a European 3-day/2-night plan. You can rent a cabin or camp out, whichever you prefer. This park is also an ideal spot for water sports, inflatable rafting, rock climbing, hiking, and much more.
Boat access and ancestral inn

Species of fish: brook trout, native brook trout
Accessible only by boat, this inn dating from the 1870s is one of the most prized outfitters in North America. A variety of packages are offered for fly and ready-to-fish speckled trout fishing. Stay in one of three inns, a chalet, or a teepee, and pick from a multitude of activities including canoeing, wilderness survival training, paddle boarding, indigenous culture interpretation, bear watching, and more. You'll be immersed in Quebec's culture and pristine nature—at the Seigneurie du Triton!
We can't talk about fishing in Quebec without mentioning an outfitter specialized in Atlantic salmon fishing. With their exceptionally clear, cold water, the Bonaventure, Petite Cascapédia, and Cascapédia (the three rivers Camp Bonaventure visitors have access to) offer extraordinary fishing quality. This is a favorite spot for fly fishers looking for action. The 2- to 7-day packages are all available on an American plan. The cozy lodge will make your stay very comfortable and even more unforgettable.
Dreaming of fishing Atlantic salmon on the Cascapédia? Watch this Hooké video!
Our hottest tips for a memorable fishing trip
OK! You've selected one of these Quebec outfitters for your next fishing trip. Now all you have to do is gather up the essentials and make your final preparations.
Here are a few tips for an unforgettable fishing trip:
Choose your accommodations carefully: As the experts will tell you, fishing is a sport! You want your group to be comfortable at night so they can recharge their batteries. Choose accommodations that meet the needs of everyone, both young and old.
Check the rules: Each outfitter is in an area subject to different regulations and quotas. Follow your outfitter's rules to avoid trouble and ensure the species' survival.
Make sure you have the necessary equipment—it can make a real difference. Several websites provide lists of things to take to help you pack for your trip and avoid unpleasant surprises.
Get a fishing license, which is required for sportfishing in Quebec. Did you know that the license includes civil liability insurance in case you have an accident?
Are you a real enthusiast with as much equipment as a fishing supply store? To protect your equipment, think about getting hunting and fishing insurance.
Plan your meals: Take full advantage of your catch by planning tasty fish-based meals that will be a treat at the end of a long day on the water.
Don't forget your ATV insurance! The start of the fishing season is the perfect time to get out your quad. Before heading off on the trails with your recreational vehicle, make sure your ATV insurance is still valid and still meets your needs.
Happy fishing season!