Insuring a motorcycle in six easy steps
Last updated on November 16th, 2022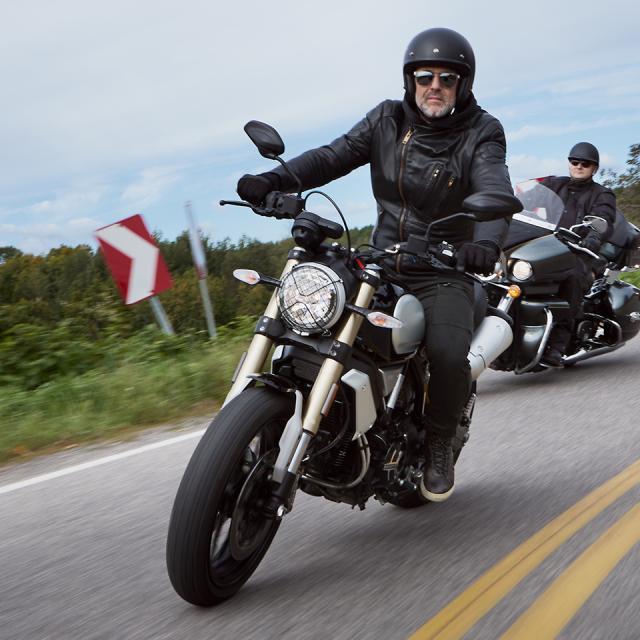 If sunny days give you the urge to break out your bike and ride free on the open road, you'll want to be able to enjoy the ride with complete peace of mind. And that means insuring your motorcycle. Here are six questions that will help you choose the right insurance.
DO I HAVE TO HAVE MOTORCYCLE INSURANCE?
Yes, insuring your motorcycle is mandatory. In Québec every owner of a road vehicle must have third party liability insurance. It will cover you for physical or bodily damage caused to another person if you get in an accident with your motorcycle.
WHAT IS THE BASIC COVERAGE INCLUDED IN MY MOTORCYCLE INSURANCE POLICY?
Third party liability insurance: Coverage starts at $50,000 and can go up to $1 million or $2 million depending on your needs. For example, if you frequently travel to the United States, it may be a good idea to take out $2 million in coverage. If you cause damage to others or if you ride outside Québec, you will be better protected that way.
Other coverage options: In addition to third party liability, there are several other types of coverage available. The most popular are:

Collision or upset: Covers damage to your bike in an at-fault accident. This coverage is not required in Québec but it may be useful when travelling outside the province.
Perils other than collision or upset: Covers damage to your bike in the event of theft, fire, hail, or glass breakage, for instance.
WHAT ADDITIONAL COVERAGE MIGHT I NEED TO ADD?
You can take out additional coverage to be better protected or have extra services available in the event of a problem. For example, at Promutuel Insurance we offer the following endorsements:
Travel expenses: In the event of an accident with your motorcycle that prevents you from using it, this coverage provides reimbursement for taxi or public transit expenses.
Waiver of depreciation: Provides coverage without depreciation in the event of a total or partial loss. This endorsement is available for 48 months after you receive your motorcycle.
WHAT FACTORS INFLUENCE THE PRICE OF MY MOTORCYCLE INSURANCE?
The primary factors are:
Motorcycle :

Make and model of your bike
Engine capacity (CCs)

You (or any driver):

Gender
Age
Driving experience

The coverage and deductibles you've chosen
HOW CAN I SAVE ON MY MOTORCYCLE INSURANCE?
Combine your insurance to save money. For example, at Promutuel Insurance we offer discounts of up to 10% if you combine your car insurance and motorcycle insurance. You can even save up to 20% if you combine motorcycle insurance, car insurance, and home insurance.
PLANNING A ROAD TRIP TO THE STATES?
Check if your third party liability limit meets the minimum requirements of the state(s) you plan to visit.  If you want, you can contact your insurance representative to increase your liability coverage limit.
Check if the length of your trip exceeds your coverage period in your policy. If it does, call your representative to find out if you can get a coverage extension.
Last but not least, visit the SAAQ website and watch these short videos , which will help you ask the right questions when preparing to take a trip on your bike.
Now you know how to get proper insurance for your motorcycle at the best price based on your habits and needs. Once you do, you'll be able to hit the road knowing you're ready for anything!